Grow your brain
Man Up and Sew
A sewing series for the man who wants to do it all.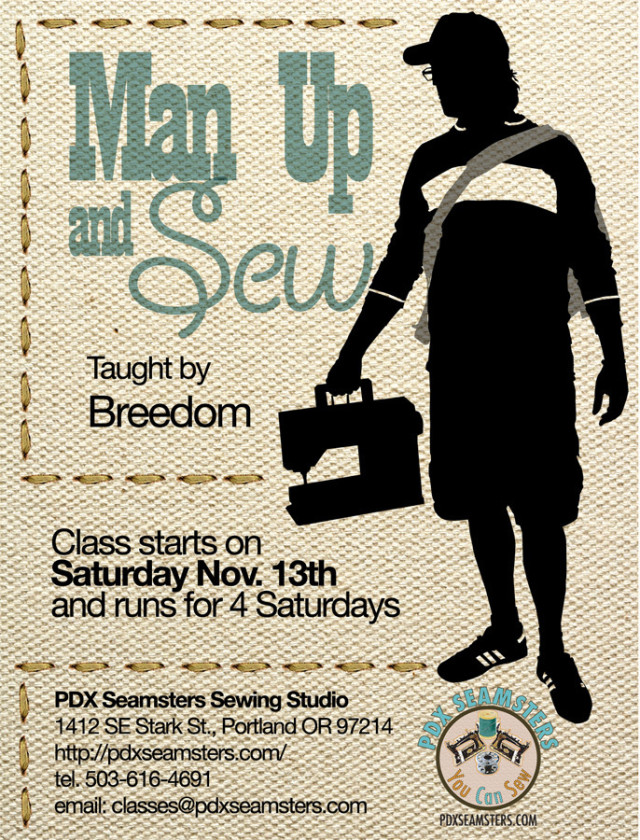 Alright men, this one is for you. If you have ever wanted to fix your own hems, put together a Halloween costume or just have an obsessive compulsion to master all machines in the world, you need to Man Up and Sew. Man Up and Sew is a new 4 part series of classes brought to you by PDX Seamsters designed to teach the Y chromosome how to work a needle and thread. Each class is broken down to easily digest the sewing basics bit by bit.
Week 1: Man Up: Learn to Machine Sew.
This class is all about machine sewing basics. You leave knowing the many parts of your machine and what they do. We'll cover how to wind a bobbin and how to thread the machine. Get acquainted with the wide variety of stitches your machine is capable of. Learn about easing and how to make a super rad mini-pillow.
Week 2: Man Up: Hardwear and Hand Sewing.
Learn how to sew on a button, hook, eye, and bar the right way. You'll learn a bunch of hand sewing stitches and when it's appropriate to use each of them. Swing Tacs, Whip Stitch, Running/Basting Stitch, Back Stitch, and Cross Stitch. We'll go over when to use specific thread types, hand sewing needles and the importance of finding the right thimble.
Week 3: Man Up: Buttonholes, Zippers, and Casings
Learn how to prepare and mark fabric for a buttonhole. Conquer the buttonhole machine stitch. Install a centered zipper. Learn how to make a drawstring casing.
Week 4: Man Up: It's all in the details.
Now that you know your way around a sewing machine, let's talk details. Continuous biased tape, piping, 2 variations on a seam, 2 gathering methods, sewing a traditional dart PLUS a super secret darting method!
Classes start this Saturday, November 13th, and run consecutively for the next month. Instructor Bree Perry, told me it was filling up fast so this is the time to get on board. And FYI, men who know how to sew are very sexy.
For more information and to enroll online:
PDX Seamsters – Man Up and Sew