Insider Info
Pretty Candy
Q&A with local jewelry designer working to dress up your neck.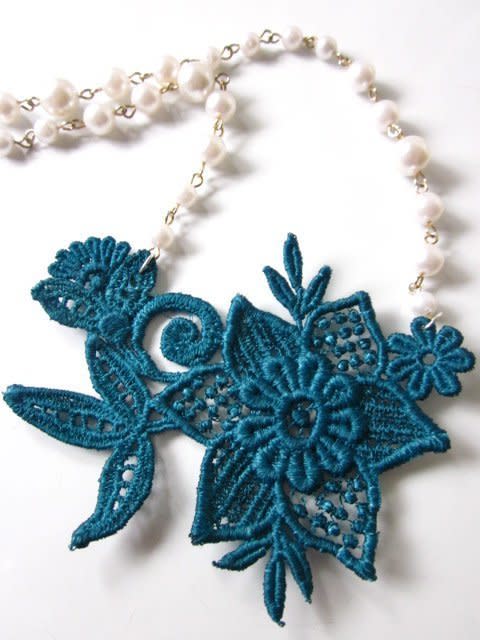 On any given day you could find Marley Gaddis belting out classic American folk songs on stage with volume infinitely bigger than her petite frame, playing the jaw harp, smiling sweetly at her newlywed husband, writing grants for a conservation organization, or locked in her studio making piece after piece of jewelry from vintage lace for her prettycandy line. It's good timing too, with lace being one of the top trends for the year and showing no signs of stopping it's an interesting way to incorporate the trend without having to take it head to toe. I caught up with Marley and asked her a few questions about her line.
Q. What inspired you to get into jewelry design?
A. I have always loved thrift stores, and a couple years ago started purchasing secondhand jewelry that I would disassemble and combine with other pieces to create necklaces and earrings for myself. At the time I was cycling through a variety of hobbies (photography, knitting, a brief/laughable stint with mosaic tiling, etc.) but didn't really consider jewelry making to be a hobby – just something I did occasionally if I stumbled across an interesting item that called out to me. Late last year I was at the Knitt'n Kitten and came across this lovely row of large stitched flowers that looked as though they may have been cut off the bottom of a tablecloth or curtain. I immediately wanted one on my neck! I bought the row for $0.25, took it home, cut it into pieces and colored one of the flowers with some electric blue dye I had left over from a previous crafty experiment. I stiffened it with Elmer's glue and wore it out to a friend's bachelorette party. Another friend (who is a hair stylist) was there that night and asked me if I could make a few more for him to use in a print campaign for his salon (The National Beauty). At the time I had also begun making denim cuffs with photos on them (WristPants) as gifts for friends, and had given one to the bachelorette that night. Talk of the necklace moved to the cuffs, and the same stylist friend ordered 100 of them on the spot to put in the VIP gift bags at the Q Center's Winter Gala. And prettycandy was born.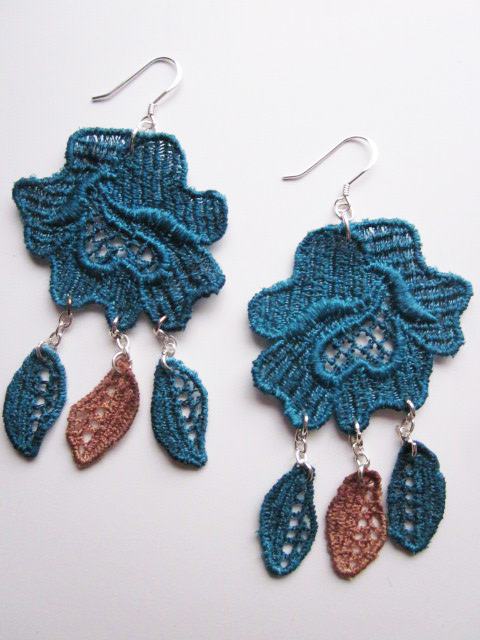 Q. So what made you drawn to the vintage lace above anything else?
A. After the edging from the tablecloth was used up, I started scouring thrift and antique stores for vintage lace pieces or appliqués that I could fashion into necklaces. I discovered a treasure trove of them from one vendor at an antique mall in my neighborhood, and pretty much snatched them all up. I have since found that these are not always easy things to find. I have a couple of sources for new appliqués and Venise lace that I use for many of the "Neck.Lace." pieces, but still buy up vintage whenever I can. You never know what you are going to find, and they definitely make for some one-of-a-kind neckwear.
Q. Tell me what your goals are for prettycandy.
A. As far as plans for prettycandy…my new plan is to make a plan! I have been just sort of reacting to opportunities as they have presented themselves, still thinking of what I am doing as a hobby (albeit one that comes with a small business license). As I get busier, I realize that I need to be more proactive and deliberate, and really think about what I want this venture to look like. I am very committed to my day job and need to find smart ways to help prettycandy thrive without burning myself out. I have some really fun ideas that I am excited to explore (such as custom WristPants that feature customer's photos – an idea I plan to launch soon and run for a limited time before the holidays) and am always experimenting with new styles of Neck.Lace. and expanding my color palette. I have recently started making earrings out of the appliqués as well, and have had a great response to those. Bottom line – I just feel incredibly fortunate to have stumbled onto a "hobby" that I enjoy and feel passionate about, and that people really seem to like!
Check it out - prettycandyjewelry.com