Fashion Frenzy
Breaking News: The Portland Collection
Pendleton gives Portland designers a turn behind the wheel.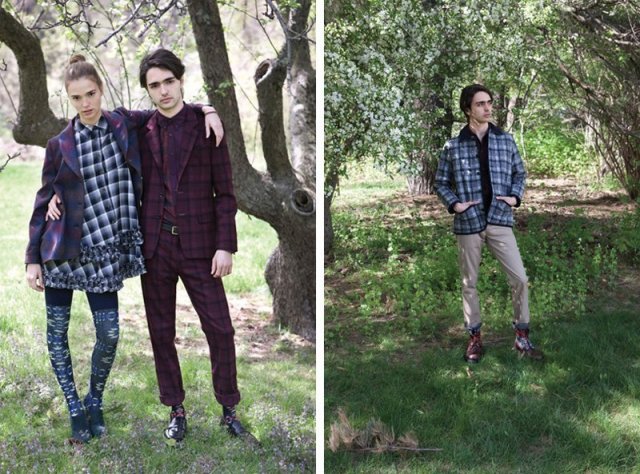 In the past, I have not been the best secret keeper. I'm getting progressively better as I get older, but there is something exhilarating about being the one to tell a secret so it's always an internal struggle. That's why I'm quite proud of myself for keeping my mouth shut about this one as promised, but the cat is out of the bag now (thanks WWD) so these jaws are ready to flap!
Pendleton Woolen Mills will be releasing a new collection for autumn 2011 entitled: Pendleton, The Portland Collection. Designers for the hometown line going big will be a threesome effort with one leg provided by John Blasioli (stylist for The Decemberists/ designer from A Broken Spoke). The rest of the creative effort comes from the wisely chosen design pair behind Church & State, Nathaniel Crissman and Rachel Turk. These two have been busting their hindquarters in this town for years with their modern aesthetic and are well deserved of the recognition to come. Plus, they are fairly adorable. At a party in their design studio two weeks ago they were dressed in his/hers matching Pendleton plaid outfits and looked like salt and pepper shakers. The Portland Collection is trying to snag a more youthful customer for Pendleton with slimmer fits and hip designers while still using the plaid that makes them famous and it looks like they might be able to pull it off.
This whole thing triggers a bigger question: Is "Portland" becoming the newest trend? With collections being named after us, our designers dominating television screens on Project Runway and Portlandia, an entire show dedicated to spoofing our quirks, what will be next? My emotions on the subject fluctuate between swells of pride for my favorite city on earth getting recognition as a place that cultivates art and design. This is usually immediately followed by flashbacks of how Seattle was so popular during the grunge days I saw stickers in the UK that simple said the word "Seattle," and no one in the city could get a parking space with the influx of tourists. Only time will tell how the world receives this Rose City revolution, but if we become the next big thing please remember that was a secret I told a long time ago.