Q & A
Locket 2 You
Five questions with local locket makers.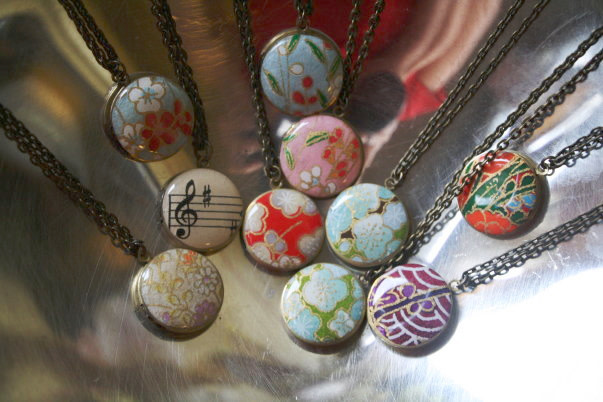 When I was little I threw pennies into wishing wells, scrunching my eyes closed, sending one of my standard rotating wishes out into the universe. The first was that it would feel like my birthday every day (glad that one did not come true, I'd be older than Methuselah). The runner up was wishing for a locket that had my name engraved, so I could carry a picture of my cat in it. Don't judge, I was seven.
The locket is one of those pieces of jewelry that can be worn from a tiny tot to the aged and wise. Scott and Miranda McCarty know all about the sentimental attachments to lockets and they tapped into it by creating Locket 2 You. The Portland husband-wife duo formed the company last year and in that short time are nearing the 200 mark with wholesale accounts, can be seen in People Magazine gift guide (the Country edition!) and are poised to open their first retail store in a matter or weeks. I had them on my radar after hearing buzz around town, but a visit to their booth at Crafty Wonderland left me strongly in the fan category and finally the owner of my own locket (cat picture has not been inserted…yet). Scott pleasantly managed to answer some badgering questions even while battling the flu.
Q. What inspired you to begin designing lockets?
A. Miranda had a craft business named Button Envy where she made resin covered jewelry. One day she came across a lot of vintage brass lockets. Initially, there was no resin on the first lockets but that soon changed once we saw the results.
The lockets were a huge hit at craft shows and we knew we had an opportunity to develop a full time career/life around making lockets. Locket 2 You was founded in January 2009 and we have just been growing ever since.
Q. How is it working in a husband-wife duo team?
A. It is easier and harder than you may think. While in the studio making lockets we talk about family stuff all the time. What's for dinner tonight? Did you sign the permission slip for the school trip? Then while we are doing family stuff with the kids, we have to answer emails and check on supply orders. There isn't a wall between us as a couple and us as business partners. We just kind of shift from one to the other through out the day. I think most small business owners are like that.
Q. Walk us through the process of creating one of your pieces.
A. The process always starts with wanting to make a connection with people. Our most successful locket designs trigger an emotional response with the person wearing the locket. We may not know the exact path that emotion takes with an individual but we want the wearer to feel positive good energy. Thus our unofficial tag line: Thwarting evil one locket at a time!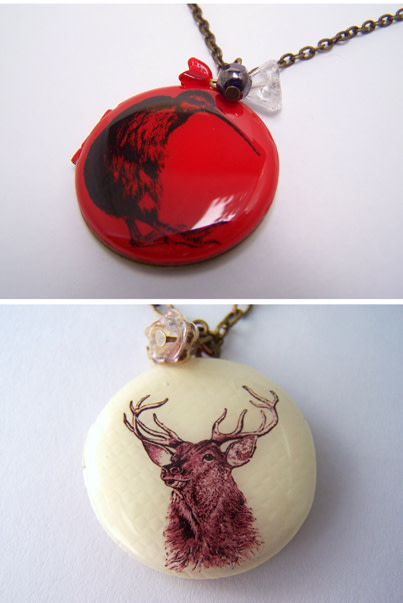 Q. Are your lockets limited run pieces or do you just keep adding to the giant pool of designs?
A. We have hundreds and hundreds of designs that we have made for our lockets. We will be rolling out new designs and new lockets throughout 2011. There are several lockets that we have sold in the past that were limited runs and have become collector items to a few of our loyal fans. We are working on a new series to debut at POOL trade show in Las Vegas this February.
Q. It's almost time for New Year's; do you have any big goals for Locekt2You in 2011?
A. Our biggest goal for 2011 is the opening of our first retail store. It's in the Kenton neighborhood in North Portland at 2020 N. McClellan St. The store will carry all of our lockets as well as other handmade goods from artists across the country. We are also redesigning our website, logo and packaging. The aim is to solidify the Locket 2 You brand and to continue to grow with our 180+ wholesale customers.
Editors Note: The store will be opening in February; we'll keep you informed of the exact date! In the meantime you can get a locket at Locket2You.com