Check It Out
Thar She Blows!
The latest trend in hair-styling blows into town
After romping around in the pouring rain on NW 23rd pretending to shop for other people, my locks were looking a bit frizzy, slightly sopping, and (after checking myself out in one of West Elm's display mirrors) I noticed my bangs were plastered to my face in an especially unattractive way. Probably not the best look for making a first impression, but a perfect time to head to my appointment at the Pearl's newest addition, and perhaps Portland's next beauty phenomenon, Blowout, A Blow Dry Bar. The idea is to style women (and men) with perfectly coiffed hair, any day, for any reason, (i.e. hot date, job interview) or for no reason at all.
(Note: Sadly, hearing the term "blowout" triggers thoughts of Pauly D from The Jersey Shore, making me more than slightly apprehensive about the whole ordeal. Thankfully, aside from an excessive use of product, the two blowouts are of a different breed.)
When I arrived at 128 NW 12th Ave., "Girls Just Want To Have Fun" was a-bumping on the stereo while Blowout co-owner Tara De La Rosa showed me around the space, which was decked out in white, pink, gray, and black and adorned with cute extras like vanity mirrors that spin aside to make it easy to chat with your girlfriends over a cocktail. (On Mimosa Sundays, it's $32 for a blowout and mimosa…tempting.)
The lovely ladies set me up with the "Blowout Luscious" package, which is a step up from their signature service, and features the addition of a deep conditioning treatment and 10-minute neck and scalp massage along with the blowout. My stylist, Tia, helped me decide on "the flirt" look, and according to the photos on the menu, I should have come out looking like Jessica Alba or Mandy Moore…we didn't quite get there. But, my Vanilla Bean Deep Conditioning treatment did leave my hair smelling like a deliciously fragrant candle. So, there's that.
After the shampooing and deep conditioning, Tia got to work on the blow dry; she explained every tool, technique, and product she used to groom me for my theoretical fancy night out (bowling, duh). She started by blowing my hair straight back (to remove all excess moisture). She then used a thick round brush to pull small sections of my hair up and out (to create volume) and then used the brush and dryer to smooth it out. Who knew hair styling was such a science? She pinned small sections of my hair up (a roller effect) to create wave, and then wrapped it up (literally, heh) by wrapping chunks of my hair around a flat iron (to create even more wave). There's a glossing station to polish your lips on the way out, and the "Blowout Bosses" even snap your photo and upload it to Facebook so you can show all your friends!
The whole process took longer than I had planned, and when I left I felt a little like Shirley Temple; but maybe this was intentional, because by the time I got home (20 minutes later), my too-curly style had quickly assumed the role of being half-curly, half-straight. My limp hair is partially responsible for this, but I was convinced the five products used to enhance and preserve my look would have had me lasting a little longer than 20. To break it down, if I had a date with Prince William I would totally splurge on the "Bombshell," (the menu says it will make jaws drop!) but for nights at the bowling alley I think I'll just dig out my pink Barbie blow dryer from middle school and give it a whirl.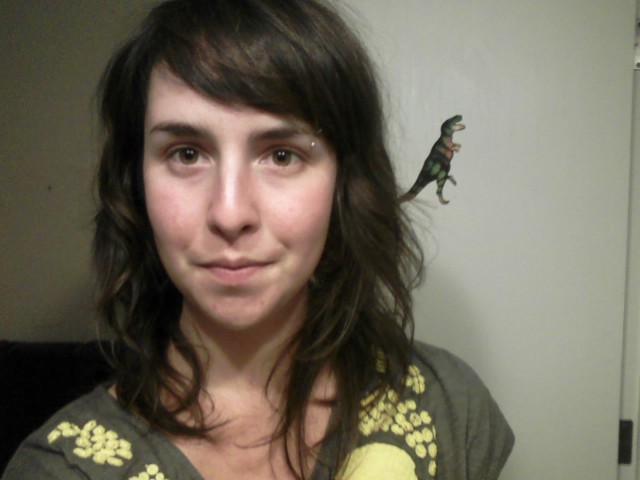 I do think this is the perfect way to snag some girl-time with friends or to bond with Mom, though. (My mom thinks mother/daughter manicures were fun; she's not going to know what hit her.) But, am I going to insist on starting all my evenings out with a $32 blowout? Not likely…I think I'd rather spend it on cocktails.
To book an appointment for you and your gal pals (or boy pals! Blowout features a "Sir Blowout"), visit secure-booker.com or call the bar at 503-887-7396.