Q&A
Portland Black Lipstick
Learn a little more about natural make up that gives you an unnatural look.
When I think of lipstick colors, my mind jumps to thoughts of cherry red, coral pink or maybe a sassy orange. What doesn't usually pop into my brain are the words Bugs Blood, Irony, Pewter Cauldron, or The Black Lagoon. Well thanks to Kim Damio, creator of Portland Black Lipstick Company (PBL), my eyes have been opened to a world beyond the traditional lip choices.
Not quite sure if you are ready to venture into a world of kooky lip color? Before you dismiss the idea as strictly for costumes I can tell you the metallic Irony color, coupled with a shiny pink gloss, got me several compliments the other night. And just today I saw a picture of Debbie Harry from Blondie rocking some hypothermia blue lips. It might not be for every day, but it's definitely fun to play with. I talked with Damio about how this unusual idea all came to fruition.
Q: What prompted you to start making your lipsticks? And why in the off kilter color ways?
A. I got into natural cosmetics back in the 1990s and was disappointed that there were no natural black lipsticks—or green, blue, etc—there just didn't seem to be anything like that out there. I had to resort to filling my lips in with natural black eyeliner!!! I started experimenting on my own and eventually worked out a black lipstick that was natural, opaque and comfortable to wear. After that, I expanded my color range.
Q. Who do you imagine as your customers?
A. That's actually a hard question, because I started off just making things for myself and my friends. I am continually surprised and pleased at the diversity of my customer base! More and more people seem to be interested in using natural products, which is great. A lot of the people who contact me are looking for a specific color of lipstick, or other sort of makeup, that they can't find on the market. These requests are sometimes for a specific event or costume, but often it's for their day-to-day look.
Q. Can you walk us through how your items are made?
A. It depends on what I'm making. On the simplest level, lipstick is just pigment and/or dye suspended in a base made from oils, waxes, and fats. I usually focus on mixing the colors first and, when I like the shade, then blend it into my lipstick base. After that there's a period of trial and error when I adjust the proportions and wear it around (or test it on my friends) to see if I need to tweak the formula. Every color/mineral compound behaves differently, which keeps things interesting!
Q. Are there any colors you have tried that didn't work?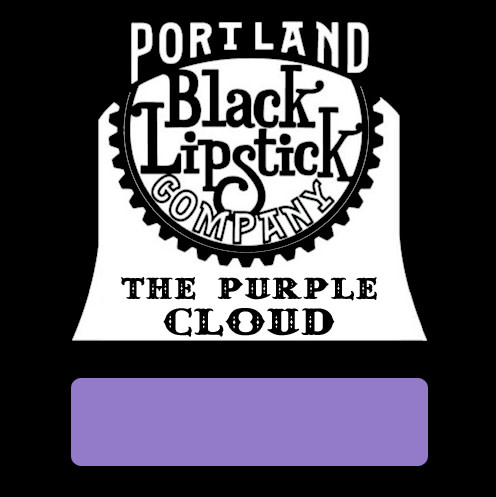 A. There are colors that are really difficult to make both opaque and comfortable to wear. Whites, golds, yellows…those colors are the hardest to work out, I think. Also, bright reds and greens can be challenging if you are using only natural pigments and dyes. I've started to think of it as a challenge now—to try and match any color. Sometimes I pick something up at random and try to match the color, just to see if I can.
Q. What are your future plans for PBL?
A. Well, there are some new colors I'll be releasing this Spring and Summer—some metallics, a bright yellow, and something silvery-green I've been calling 'Mackerel.' Also, I'd really like to make more historical cosmetics and start putting research and development information on our website so anyone who is interested can learn more about the process and about cosmetic history generally.
You can currently find Portland Black Lipstick products at Mystique (Pioneer Place), Meghan the Existentialist Hairdresser at the Gypsy Rose Salon on E Burnside, Sword and Fern, the Portland Design Collective and online.
PortlandBlackLipstickCo.com