Q&A
Portlandia Red Carpet and After Party Pics
An interview with Carrie Brownstein getting to the important things in life: skorts.
Friday night was the world (yes world) premiere of the long awaited Portlandia. Our own Carrie Brownstein and director Jonathan Krisel were in attendance, as well as a heap of "Portland famous" peeps. Fred Armisen couldn't make it because of a little show called Saturday Night Live that required his attention. I took my stab at claiming the red carpet interviewer crown and bopped around at the after-party taking pics of Portlanders celebrating Portlandia (in Portland). Aren't you glad I like to share?
Eden Dawn: Hi Carrie, I'm Eden Dawn, the fashion editor for Portland Monthly.
Carrie Brownstein: Hi, nice to meet you. You have two people. (Laughs) You're doubling up. (Referring to my Culturephile counterpart, Anne Adams)
ED: Oh, we have two different beats! She's culture and I'm fashion… I saw episode one today and I thought it was really funny
CB: Thanks!
ED: You're welcome. I felt that, obviously, the wardrobe was a really important part of your characters. Was that something you and Fred write in? Or is that something your trust to your stylist?
CB: We have a really wonderful wardrobe and costume designer named Amanda Needham and she, I mean her expertise and fashion acumen and just her creativity really helped Fred and I discover who these characters are. We'll go into the fitting and we'll have three options and you'll put something on and suddenly you know exactly who you are. Like that farm couple.
ED: I thought those dresses were hilarious.
CB: Yes they were too, but before that I was wearing I was wearing this skort that was like a batik.
ED: Yes I saw it! With the like balloon top?
(Both laugh)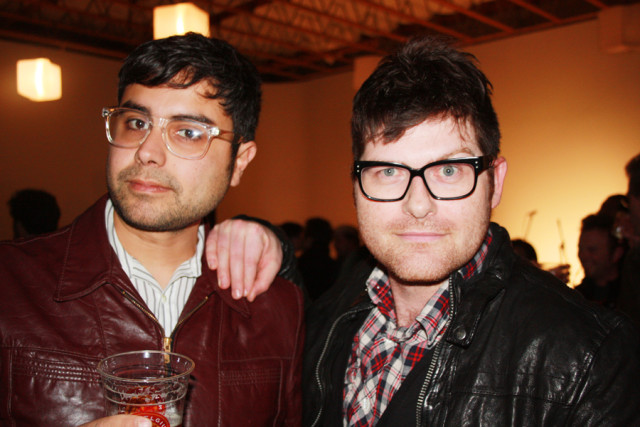 CB: Yeah, beautiful. But you put that on and you are immediately not yourself. I mean you don't want it to be as simple as that, but you want to have a way of finding all the improvise. I mean we know essentially we (our characters) are Peter and Nance, we're going to this restaurant, but the wardrobe is so important with reaching the specificity that we want to with these characters. And being able to separate them from another set of people. And being able to find something within us that feels different to us when we put on that wardrobe. So we do have input and certainly Jonathan Krisel, our director, has a lot of input. But we worked with just a really creative, nimble crew. I mean also the props department and the art department also helped us find our characters. But yeah, wardrobe was amazing how much it helped us find out characters.
ED: It's so important.
CB: Yes.
ED: I can't really imagine that Farm skit not in the perfect outfit.
CB: They loved getting together the kind of polygamist costumes.
ED: The cult-esque dresses?
CB: Yup!
(Eden begins giggling)
ED: Did you keep anything from that? The Nance skort?
(Carrie laughs)
CB: The Nance skort has been retired. Although I think we might still have that somewhere. I could have worn that tonight, but it makes me feel so gross. There is something about your inner thigh when you are wearing a baggy batik skort that you just want to be numb from the waist down after that.
(Both laughing)
ED: Sadly, I know. So was the stylist local?
CB: Yup. So Amanda Needham is local, she works on a lot of film shoots and commercial shoots. I mean, I think she's the best. And she had two assistants: Nikki Demetris and Sovigal Farben. They worked harder than anyone, running all over town.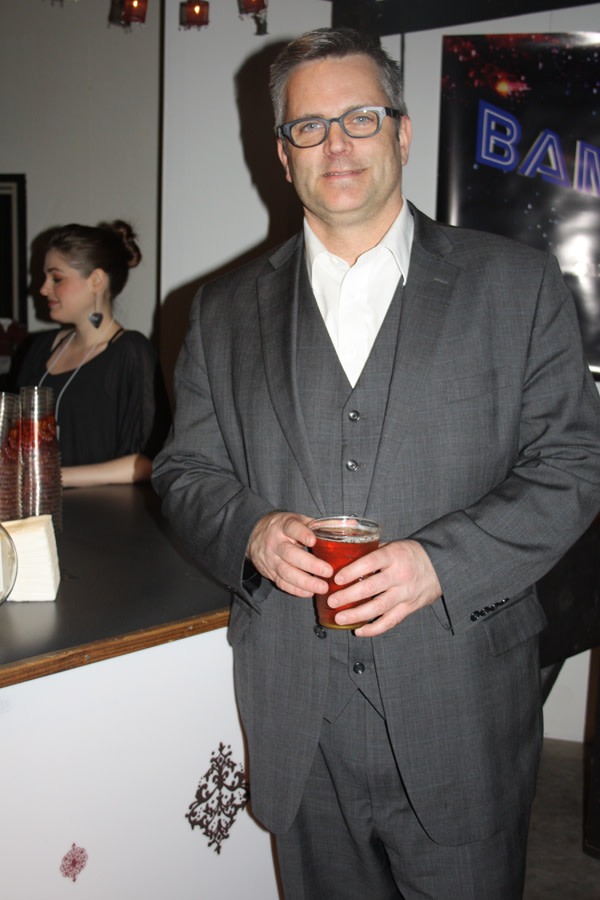 ED: So everything they pulled was from all over town? Thrift stores?
CB: Yeah. Tons of thrift stores obviously.
ED: I could recognize. (Laughs) But it fits your characters! It's Portland….
CB: Yes. So tons of local designers, tons of thrift stores.
ED: I thought it looked great. And not too sound too Joan Rivers, but who made your dress?
CB: I don't even know!
ED: It's beautiful! I really love it.
CB: Umm we can check the tag. I've never been asked this question.
ED: Ha, I feel like I should get some Botox and put on sequins or something.
(A press agent checks Carrie's tag and says it is Yana K – a Russian born designer with high end designs across the country)
CB: I can't say exactly where I got it, but I can at least say I did not get it from Forever 21. (Laughs) It's from a New York designer, I believe.
ED: It's really amazing. I also do have to tell you I was wearing those exact same tights earlier (sheer black with a polka dot print), but then I looked in the mirror and looked like I had a bad case of chicken pox (I was wearing a dress with dots also). But they look great on you.
CB: I love your dress! But I can see how you would feel that way.
ED: It was a lot of dots.
CB: The double dot.
ED: I looked like I had a disease.
CB: And I like this. (Touches the sleeve of my blazer). I think I tried it on at Nordstrom the other day, is that where you got it?
ED: (mumbles under breath) Ummmm, it's Forever 21.
CB: Hey, I'm telling you I like Forever 21! But I knew I couldn't wear it tonight.
ED: I know, and I'm the fashion editor at a magazine… But I didn't think anyone would be asking me! I thought I was safe.
CB: Hey, I like to throw it back at you
(Both laugh)
ED: Gosh, alright. Well thank you.
CB: You bet.
(Thus concluding the most professional interview of all time)