I'm Special
The Art of Weddings
This bridal blast comes but once a year.
We are officially in the future. 2011 is here and though I am disappointed we still haven't invented the hover boards from Back to the Future II, I think this year has a lot of promise. On the style front, it's a whole new opportunity to take risks and try new things. And for some, the time to focus on the one outfit that will be reflected upon for many years to come: a wedding dress.
If you are a bride-to-be (or closely know one) your world can easily become consumed in the hunt for the outfit that captures the essence of you on that special day. This search does not have to consume you. There are thoughtful people in this city who are making an effort to put the fun part back into wedding planning, particularly Alexis Turk (owner of Jasmine Photography). Turk created The Art of Weddings six years ago as a showcase for some of our tip top wedding vendors to come to one space with the brides and bridesmaids while throwing a seriously swanky soiree.
Sounds like the same deal as the thing at the Convention Center? Not really. This one is a little more independent, a little more exclusively chosen and a lot less panic inducing. Turk had that all in mind during her planning stages, "The backbone of the event has always been to provide a fun, relaxed and visually stimulating environment for couples to walk away feeling inspired for their wedding day". In addition to the low stress atmosphere and top notch vendors, 2011's line up will include complimentary cocktails by Sake One, hors d'oeuvres by The Art of Catering and Devil's Food Catering, a complementary pour by Noble Estate Vineyard & Winery and fashion show featuring bridal designs by Portland's own Sarah Seven, Stephanie D Couture, and Charlotte's Wedding. I'm not even penciled in to attend any weddings yet this year, but I'm excited to go for the fashion show alone (still secretly hoping I can make it fashionable to tromp around in wedding dresses daily, they're so pretty!). Plus I have an odd fascination with centerpieces.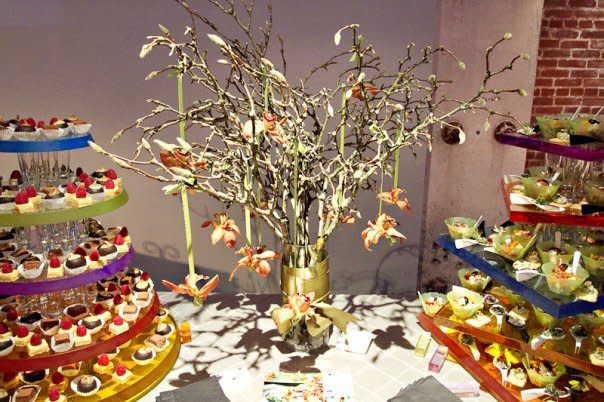 The annual event is this Thursday, January 6, 2011; Doors at 6 pm; Portland Center Stage at The Armory (128 NW Eleventh Ave.) Tickets are a mere $12, purchase online and bring print out to the door. Coat check on site. The fashion show will march down the aisle at 8:00pm, but the first 200 people through the door receive a gift bag. (Ooh!)