Be there or be square
Junk to Funk
Celebrating 5 years of turning trash into Trashion!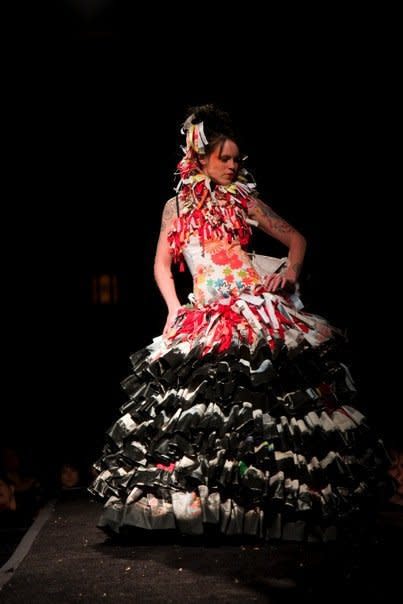 If you look at coffee filters and see white roses, or braid the rubber bands from your newspaper into yarn, then you're a Junk to Funk kind of person. The oh-so-Portland organization that has brought us dresses from disassembled bicycle parts and gum wrappers is celebrating its 5th anniversary this weekend and you are invited.
Saturday, Feb 5th, a gallery installation showcase featuring new recycled fashion garments from their top "House of Trashion" designers will be set up so you can experience trashion off the runway up close and personal. There have been some changes at Junk to Funk in the last year, namely straying away from the typical runway show into new programs that will expand the mission throughout the year.
What are those new programs you say? Well, it includes:
• Trashion for Business: Designers create garments out of business waste stream as a unique way to tell their sustainability story.
• Trashion Event Entertainment: A smaller version of our runway show unique sustainability based entertainment for other's events.
• Youth Trashion Art and Edutainment: Summer camps and school programs to inspire youth towards creative re-use in fashion and conscious consumerism.
• New independent projects and events such as installations and guerilla fashion shows.
Go and check out the crafty minds at work and help celebrate 5 years of trashion and consumer education.
Junk to Funk Trashion Collective Presents "Transformation"
When: Saturday February 5th, 2011
Where: Boothster 521 NE Davis Portland, OR
Time: Gallery will be open from 7:00PM-11:00PM
Suggested Donation: $10.00-$50.00
All bar proceeds go to support SCRAP.
www.junktofunk.org