Q&A
Pendleton: The Portland Collection – Q&A
The first interview Pendleton and its Portland Collection designers have given!
Last month I published news that Pendleton was releasing The Portland Collection with three local designers giving a facelift to the brand: John Blasioli from A Broken Spoke and Rachel Turk and Nathaniel Crissman from Church & State. Since that date I have been on my hands and knees begging Pendleton and the designers to give up a mini-interview. They finally took pity on this poor fashion editor (or got sick of me blubbering in their virtual doorways, "Pleeeeaaaasseee") and relented.
Now for your reading pleasure, photos of the collection and the first published interview with the whole gang.
Eden Dawn: How/When did this collaboration come together?
Pendleton: Technically, Pendleton, The Portland Collection is not a collaboration. Pendleton engaged the designers to create a unique collection for the company that targets a contemporary consumer and exposes the brand to new specialty retailers. With all of the excitement around our collaborations it seemed appropriate to expand our reach. We do that in an aspirational way with the Portland Collection.
Current and past collaborations were joint projects between Pendleton and other brands to co-create collections, such as those with Opening Ceremony, Levis, Vans, Adidas, Hurley and Nike.
E.D: How was it designing in a threesome?
Rachel: Pretty great. Our personality types work really well together so we were able to talk through each decision and look at every angle. In the end, I think it allowed for the best design possible.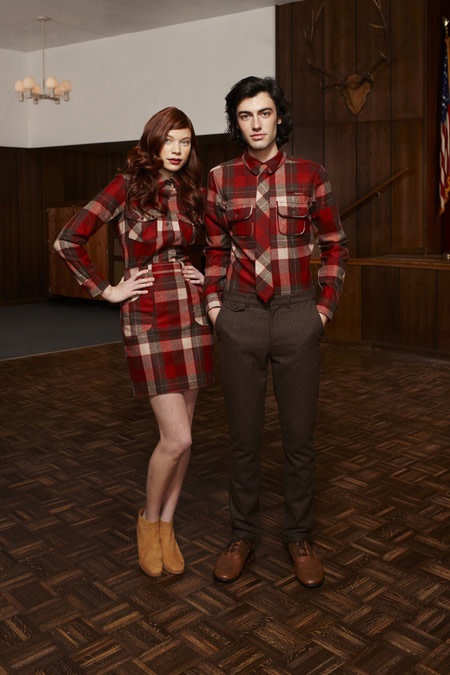 John: For me, it was a great experience getting to work with others in the design process. Having mostly worked alone, I really enjoyed being able to explore different ideas and directions. We ended up with strong, cohesive designs.
Nathaniel: I think it was pretty amazing. I think we all have complementary communication styles as well as a similar sense of what we thought the collection should be.
E.D: Do you think that Portland has an aesthetic?
Pendleton: Portland most definitely has its own urban design aesthetic and sensibility. It is becoming identified as that place in the nation where things are happening. There is innovation. There is excitement and this whole creative explosion – music, arts, fashion. It's attracting an identity; 'a place to watch'. But it also has a bit of an eclectic style. It's natural that The Portland Collection with these young designers would merge with Pendleton Woolen Mills – where else on earth could this have happened.
In fact, three of the last four Project Runway winners have been from the Portland area. That's pretty remarkable.
E.D: How do you feel that your background contributes to the Pendleton brand?
R, N: We have always loved Pendleton. We often look to them for fabrics for our own line, because there is just something so authentic about them. So we were already heading down the road of creating younger more contemporary designs out of their fabrics.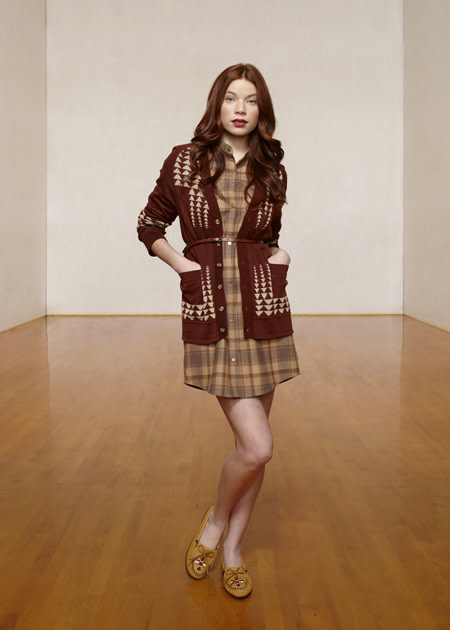 J: I strive to create well-made, timeless pieces and I think Pendleton has always represented that. Ever since moving here, I have always felt quite lucky working with Pendleton wools and having such an amazing resource based so close to home.
E.D: What are your hopes for the Portland Collection?
Pendleton: We believe this exciting new collection will bring Pendleton to a whole new generation of customers. It takes our iconic textiles and marries them with independent design. Rachel, Nathaniel and John have a vision for this collection that truly takes the best of what Pendleton has been, an iconic brand for decades, and interprets it for a young, vibrant and global audience.
E.D: Is this collection a one off or are you three already working on another collection?
Pendleton: Currently, we are evaluating the results of specialty store interest, represented by True Collaborative Fashion, as they introduce the marketplace to The Portland Collection. We should have a good handle on where we go from here after they complete the first set of trade shows.
In terms of Pendleton, we have enjoyed every minute of working with the design team and hope to be able to continue what we think will be a long and exciting relationship.