I'm Special
Portland Spa & Boutique
My one blissful day of getting nearly nude for strangers.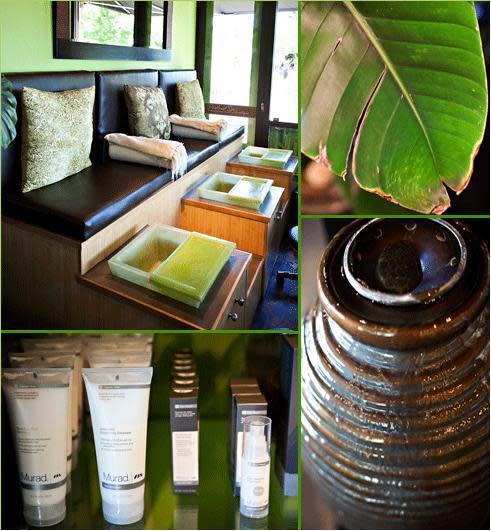 Between my jobs as a style editor and an adjunct fashion instructor, I spend a good portion of my life hunched over a computer. I don't want to sound whiny about a career I love, but the long hours, eye straining and semi-permanent Quasimodo humpback mean when I get a chance to feel pampered I fully succumb. And I did just that when I recently spent an afternoon at Portland Spa & Boutique.
My trip to the spa started off on the best note ever. I pulled up to the front doors of the Riverplace Hotel when a valet popped out and whisked away my car. No, I wasn't tricked by a ring of car thieves. The management at Portland Spa wants your visit to get started off on the right foot and arranged for free valet for all their weary clients. I stepped through the spa doors and was quickly ushered to the back lounge area with comfy couches and dim lighting. After being offered some tea or wine I dozed in the calm for a couple minutes before my masseur whisked me into a private room. I then spent an hour trying to contain the creepy noises attempting to escape my mouth while enjoying the pure bliss.
After the hour went by in a mere moment I tried to compose my jellied muscles into something of a respectable state. I had scheduled to try an organic tan, but couldn't figure out quite where that was happening. Turns out there is a little trifecta of style happening down on the waterfront. Portland Spa, the Pink & White Nail Salon and the Organic Bronze Bar are individual storefronts owned and operated all together. You can visit one or pop around to all.
Once I was escorted to the Organic Bronze Bar I got a little lesson in the ways of tanning. Instead of being covered in typical deathly chemicals to get my Snooki type glow I was getting sprayed down with a cocktail of caramel, walnuts, essential oils and botanicals. Yum! I wasn't aware before my visit that the tan is airbrushed on by a talented tanning specialist. Let me break that down for the more Puritanical reader. You get very nearly naked in a small space with a stranger who uses a device similar to a pressure washer to turn the palest skin to a sexier shade. In theory this sounds like it could be incredibly awkward, but tanning specialist Leah made it so natural I pretty much forgot I was almost nude as we chatted away.

By the time I left the salon I believed I was a relaxed golden goddess ready to sit upon a throne. My tan lasted about six days, but the thoughts of getting another massage linger on any given stressful day. I'm giving into my urges and joining the spa's Massage Club -one 60 minute massage a month for only $49. Portland Spa is fond of rewarding their returning customers with monthly packages for tanning, facials and massages. Somebody get me a Member's Only jacket, I'm ready to join.
Portland Spa & Boutique
0315 SW Montgomery Street,
Suite 390, Portland, OR
503-222-0105
www.portlandspa.net
Pink & White Nail Salon
503-222-2427
www.pinkandwhitenails.com
Organic Bronze Bar
503-222-0105
www.organicbronzebar.com