Boo
The Bubble has Burst
Local shop Bubble Boutique will shutter its doors this week.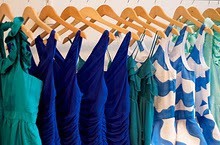 It is not my pleasure to announce that Bubble Boutique will be closing. The Pearl district boutique, owned by Jessica Munn, was a place you could pop by anytime you needed to add a little European elegance to your wardrobe. After five years of putting Portlanders in pretty cocktail dresses the end is here, but in true Munn style she is going out with a bang.
The mega closeout sale will go down this weekend Friday, Feb 11th – Sunday the 13th. Clearance prices on everything in store with discounts up to 80% off. Whoa. Plus, some fixtures, furniture, and display items will also be up for grabs.
Bubble Boutique
1100 NW Glisan, STE 1B
Portland, Or
Sale Hours
Friday 2/11: 10-7
Saturday 2/12: 10-7
Sunday 2/13: 11-5