Free Stuff
Happy Birthday Bishops!
Get a free cut today and get those shaggy bangs outta your eyes.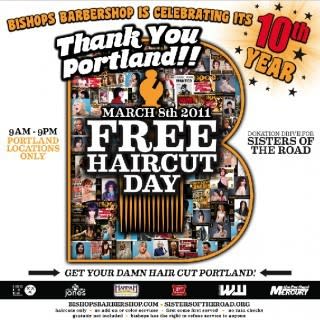 Today is Bishops Barbershops 10th birthday! Founder, Leo Rivera opened the first shop in my 'hood in2001 at 3742 SE Hawthorne in Portland, and has now expanded to seven shops throughout the city.
"Portland is a unique city, with a strong sense of community, and supporting local artists, musicians, designers and service organizations has always been an important part of the Bishops Barbershop culture," said Rivera.* "I want to thank everyone who has supported us and helped us grow, by giving away freehaircuts for a day.* We do ask our customers to make a voluntary donation in any amount they choose, that day, which will benefit the Sisters of the Road."
In the spirit of community participation, Cupcake Jones, Hannah's Signs, Miller Beer, the Portland Mercury and Willamette Week are sponsors of Bishop's anniversary celebration.
Participating Bishops Barbershop locations are as follows:

· Alberta – 2132 NE Alberta
· Downtown – 1031 SW Columbia Avenue
· Southeast – 3742 SE Hawthorne Boulevard
· Northeast – 210 NE 28th Street
· Northwest – 326 NW 21st Street
· The Pearl – 1011 NW Everett Street
· Sellwood – 7861 SE 13th Avenue
"Thank you, Portland," Rivera said. "It's been a terrific ten years, and we're looking forward to an even better time over the next ten."