I'm Special
Avalon Spa, I Think I Love Thee
When you need to be pampered, add this place to your list.
When life seems to get particularly rough, there is one sure-all cure for me: a spa day. It can scrape you off the bottom of the barrel and give you that little oomph you need to feel refreshed and recharged. Of course, that is completely dependent upon what spa you trust to spend your robed day with. I chose wisely last week and spent a blissful day at the Avalon Spa, part of the Avalon hotel on SW Macadam.
The way I know I'm in a top-notch spa is based on the experience from the second it starts. Avalon kicked it off right with free valet parking and some infused cinnamon-lemon-pear water while I was checked in. A brief tour of the massive space with curved hallways that had door after door leading to (I assume) magical little rooms, also bragged a female locker room with roomy dressing rooms, mini Jacuzzi, showers, lockers and a private entrance to the treatment rooms.
Once I stepped into my fluffy robe and locked my personals away in the provided locker, I was guided down another hallway to a room for my "Aromosoak." Since I wasn't entirely sure what that was, I didn't know I would walk into a scene from a movie. Inside my own little room was a Jacuzzi bath with bubbles and rose petals strewn about. Candles flickered in the dark room while soothing music played and the second I was alone I hopped in. I had thirty minutes to soak it up and spent a large portion of that time re-enacting a variety of scenes from my favorite 90's films that involved some kind of bubble bath scene – Pretty Woman, Clueless and (of course) Encino Man. It went by in a flash and before I knew it my esthetician, Kylene, was there to pick me up.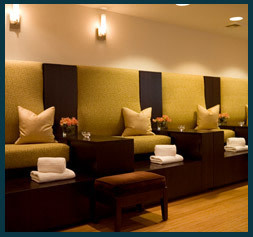 She took me into another room where we had a good old time chatting away while I had a fantastic facial. Steam, hot towels, creams and serums were slathered on my face while she told me all about the June Jacobs Skin Care products (plant based, parabin free) she was using without once ever pushing me to buy. I really thought from all the poking and sloughing that when we left the room my face would be neon red. A quick glance in the mirror honestly startled me when my skin looked calm and happy. I'm pretty convinced there must be a secret ingredient of unicorn magic or something, because my skin has been happy for days now.
One last stop before they had to drag me out kicking and screaming, "I want to stay! Please!" was at the DEX make up counter. The brand is an anti-aging, mineral make up line that was designed for photography. My now BFF, Kylene gave me a quick touch up with the mineral based collection so I was ready to head off to a dinner party. I'm already a fan of mineral make-up and was all for the natural finished look. And before I left she even stopped to grab me a sample of the wee bit spendy moisturizer I was hemming and hawing over to test out for a couple days before I committed.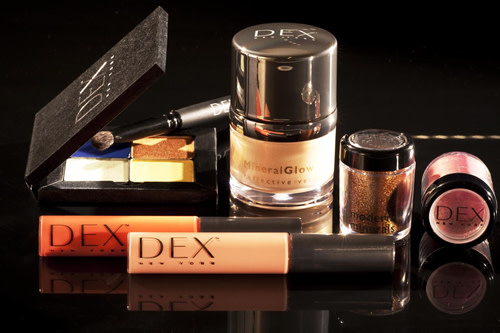 The next day I woke up and found an extra little spring in my step. It feels so good to indulge every now and again, trusting someone else to just take care of us while we sit there like a lazy blob. Avalon switched management somewhat recently and their big push now is to just make sure the client is as happy and relaxed as possible. Take a bow kiddos, it's working.
Earth Day Packages:
You can try out Avalon's indulgent services yourself right now with their special Earth Day Packages that are promoting the Waves for Water Organization. When you buy an Earth Day package Avalon will purchase a water filtration system for Waves for Water, an organization working in Brazil, Pakistan, Indonesia and Haiti to provide easy to implement Clean Water Filtration Solutions.
Couples Escape: Couples Rose Garden Soak & Couples Massage – $260
Purifying Massage – Hot Salt Soak & 90 Minute Massage – $184
Water & Rejuvenation – Aroma Soak & Signature Facial – $144 (what I got!)
Avalon Hotel & Spa
4650 SW Macadam Ave, Portland
503.802,5800
AvalonHotelandSpa.