I'm Special
Spider Veins Be Gone!
This little cream is getting me ready for some short-shorts.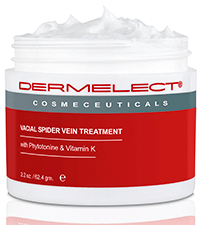 A little FYI: I do not care for spiders, or anything related to spiders. This includes the couple spider veins that have surfaced on my upper leg. While these ones won't bite, they are just as irritating and the sight also makes my skin crawl. So when cosmeceutical company, Dermelect sent me some of there Vacial Spider Vein Treatment cream to put to work, I was more than willing. It's light on smell which this non-perfume girl likes and has a nice feel to it. And after a few weeks of use, those blue squiggly lines of vein seem to be heading back to where they belong. A little tub is under $40 and will likely last you through all of swimsuit season and beyond. It's also probably a better route than swatting at your veins with a rolled up newspaper.
Ingredients:
Phytotonine: (Vitamin K) – is composed of concentrated hydroglycolic extracts of Arnica, Cypress and Solomon's Seal. The virtues of these plants, rich in flavonoids, saponosides and procyanidols, are close to the activity of vitamin P, important for the microcirculation and strengthening of vein walls.
Horse Chestnut- helps to increase blood flow, strengthen connective tissue, and decrease redness. One of its compounds, Aescin, has been found to close the small pores in the walls of the veins, making them less permeable thus strengthening the vein walls and reducing leakage of fluid into the surrounding tissues.
Hyaluronic Acid, Jojoba Seed Extract- hydrating and softening properties
Emu Oil, Willow Leaf Extract, Shea Butter, Allantoin, Aloe Leaf Juice, Sunflower Seed Oil- moisturizing, soothing, softening properties
Grape Seed Extract- potent anti-oxidant known for its wound healing properties