sensory overload
Fashion Calendar
Who has time to be bored? There are things to do!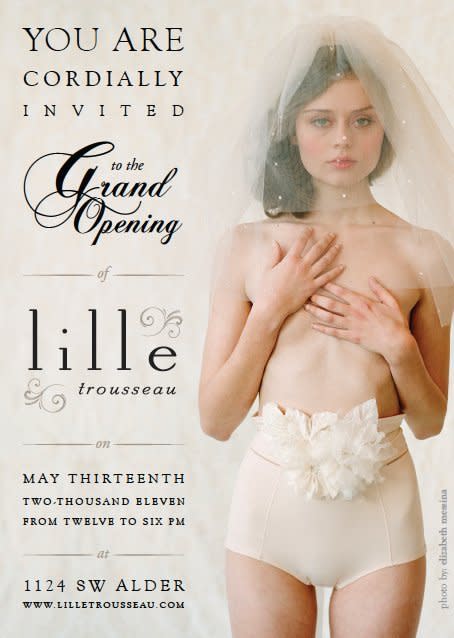 If you feel bored these days, then you are not listening. I am completely astounded at the onslaught of non-stop events happening every week in town. I feel like Portland was given a memo that said, "Step up your game," and we responded. The downside is…How to choose?
Lille Boutique
Lille gets first mention on the to-do list because they have a double dose of exciting news. The first being that they are opening a new location! On Friday, (May 13th) from 12pm to 6pm, Lille Boutique will be celebrating the Grand Opening of its second location, Lille Trousseau, at 1124 SW Alder, right next door to The English Department. Like its East Side outpost, the West End Lille will focus on high-end lingerie with an emphasis on vintage-inspired, independent design and natural fibers. But, the new location will be all about the brides. "Trousseau," refers to the custom of bundling honeymoon garments, linens, and lingerie, often in a hope chest, for a bride to bring into her marriage. Featured designers will include Stella McCartney, Eberjey, Zinke, Yasmine Eslami, Carine Gilson, Rituel, Huit, Wolford, Eres, Hanro, Brulee, La Perla, Stephanie Loungewear, Aloe Loungewear, Nina Ricci, Phillip Lim, and Remix Vintage Shoes. It's the perfect fit to nuzzle up to Elizabeth Dye's bridal wear.
Lille Trousseau will be open 11-6pm Tuesday through Saturday, with private appointments available upon advance request on Sunday. It will also be available for private bridal shower parties after hours. For more information, email in[email protected] with "Lille Trousseau" in the subject line.
Lille Trousseau Grand Opening
Friday, May 13th
1124 SW Alder St, Pdx
12-6pm
LilleBoutique.com
VPL

Trunk Show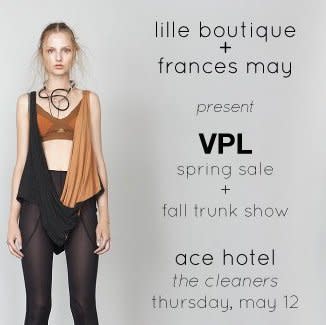 Ladies, we all know VPL stands for "Visible Panty Line," and usually that is a serious no-no. Except for in the case of VPL the clothing line. The brand that focuses on underwear and outerwear, anywhere is helmed by stylist-turned-designer Victoria Bartlett. It's grown from its early days of just apparel to include handbags, jewelry and shoes that are often devoted to a tongue in cheek theme. With celebrity clients like Gwen Stefani, Victoria Beckham and Jennifer Aniston you can be one-step away in the 6 Degrees of Kevin Bacon game by introducing yourself to Bartlett Thursday night. Lille Boutique and other local fav Frances May have teamed up together to bring Bartlett to town for one evening in a spring sale and fall trunk show at the Cleaners at The Ace. Shop from noon – 6pm and then stay after and have a cocktail with the Vogue darling designer from 6-8pm.
VPL Spring sale + fall trunk show
Presented by Lille Boutique + Frances May
Ace Hotel " the cleaners "
403 SW 10th Ave, Portland , Oregon
Thursday May 12th
12pm – 6pm sale and trunk show
6pm – 8pm drinks and meet Victoria Bartlett
VPLnyc.com
Breedom Grand Opening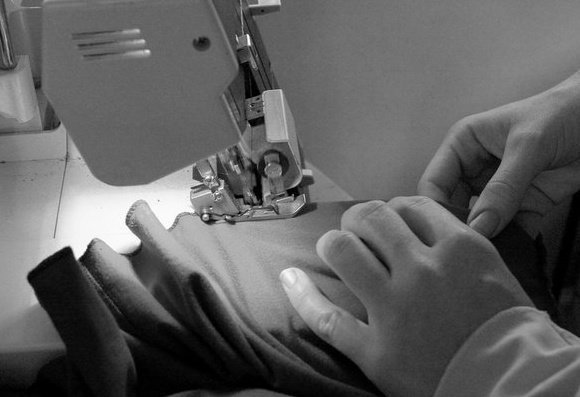 If you like to sew, but don't have the space, the effort to thread your machine or are just a little unsure about the whole thing Breedom Public Sewing House might be your magic genie. The space, just opened by former theater costumer Bree Perry, is a public workspace where you can walk in and use their machines, cutting tables, and sergers for just $10 dollars an hour. If you need some help on your project you can sign up for private sewing lessons at a mere $30 an hour. I think it's a fantastic idea for the crafter who isn't quite dedicated enough to owning all the expensive equipment or if you're like me, can't finish a project without your cat gleefully unraveling all your thread. Stop in and introduce yourself Saturday evening at the Grand Opening Party and Artist Mixer. Register for a class and get a free one-on-one private sewing lesson. Jump into Portland's new hub for our community of artists.
Breedom Grand Opening
Saturday, May 14
6pm – 9pm
Breedom Public Sewing House and Mag-Big
3279 SE Hawthorne, Pdx
BreedomSews.com
Lizard Lounge Made Here Accessory Show
In the City of Roses we like to give love to our locals. T*his Saturday Lizard Lounge has put together a whole show dedicated to some of our talented peeps*. Pop by the store from 1pm to 5pm to catch the Spring Accessory Show and have a mimosas or cupcake to celebrate. Brands include: Maya Moon handbags & accessories, Fennel handmade scarves, Stoned & Beautiful jewelry, and Feather Hair Extensions.
Made Here
Saturday, May 14
1pm – 5pm
Lizard Lounge
1323 NW Irving, Pdx
FB Event Page