Awesomeness
Kids Fashion Camp!
Don't let your kiddo sit in front of the TV all summer, send them to fashion camp.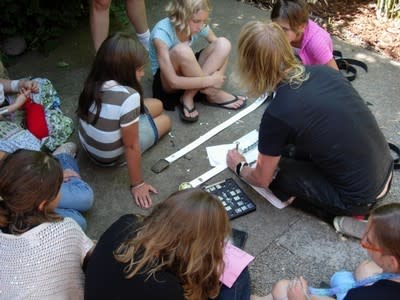 Calling all hip moms and dads! Looking for something to do with your creative kid this summer? Fashion camp is the answer. Send your wanna be Coco Chanels and Karl Lagerfelds between the ages of 10 and 16 to learn the trade July 25th through July 29th. The fun runs all day from 10am to 5pm and culminates in an evening fashion show on the 29th where you can see the results of a one week crash course in the design realm.
Campers will learn bits of an array of topics like Illustration, Fabric, History of Fashion, Silkscreen/stencil making, Reconstruction, Photo shoot, Sewing, Design and Patternmaking concepts. The instructors are pulled from our city's awesome fashion experts and in the past has included knitwear designer Laura Erwin, denim specialist Blake Nieman-Davis, designers Holly Stalder and Kate Towers and sewing guru Elizabeth Rohloff. Tuition for the whole week is $395, which seems pretty reasonable for a full week of classes from this level of instructors and a fashion show to boot. Scholarships are available through the website for four qualifying students.
Space is limited so get moving if you want your kid to be the next Project Runway star.
FashionDesignCamp.com