Runway Happiness
Portland Sewing: Fashion Show Review
A thorough look at a well run show.
Few things give me greater joy than a perfectly planned fashion show. I know from having produced them before, as with any live event, there will be hiccups. Models can trip, music can cut out, someone who has indulged in a tad too many martinis can make a fuss, and the list goes on. But, it gives me a big case of the warm and fuzzies to walk into a show that was well thought out and executed according to plan. And that is exactly what I got at the recent Portland Sewing Garden Party Fashion Show.
Portland Sewing is situated in a home-turned-sewing-school, which could potentially have posed some problems for the excited crowd in line outside when I arrived. But producer, Jasin Weiner, lined chairs through the whole bottom floor and choreographed the models walk to let everyone see the clothes up close and personal (and made a separate press section, which is an excellent choice because we like to be pampered). And clothes there were! When the last model left the runway I turned to my fellow fashion writers and declared that was my favorite sleeper secret fashion show of the year thus far. I love surprises.
The show began with Ms. Wood who I have been raving about since the moment I voted for her on my judging panel at Portland Fashion Week's Emerging Designer competition. She sent out a fall collection that was completely wearable and chic for the 30's something fashionable woman. I was already pleased as punch when "The Symphony Coat" came cruising out and I felt my cheeks get a little flush. That marvelous creation earned Ms. Wood extra style points.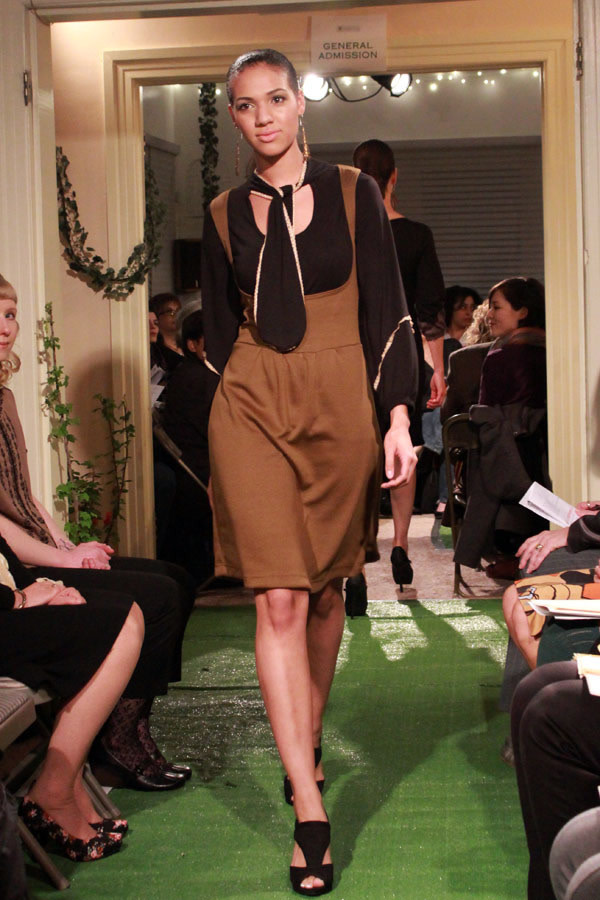 Following Wood was Alyson Clair with her Clair Vintage Inspired line. Clair is an exceedingly capable seamstress and patternmaker, which is evident in the fit of her clothing. Surprisingly these skills are not as evident in the design community as you would hope, so when her sexy secretary jumper fit like a glove, it means something.
Estate followed with its line by designer Robin Forsythe. I wasn't familiar with the line that showed mainly basics. It was not the most elaborate grouping, but it did have some pieces that are available for casual daywear looks. My one suggestion would be to let the basics be exactly what they are. It felt over styled which distracted from the clothes. I am perfectly content to see if a casual dress just fits well; it doesn't always need a lot of bells and whistles.
Stephanie D. Couture showed both her fine eveningwear and knitwear, which took me a moment to adjust to the intertwining. Especially because I think her bridal wear is fun and fancy. The bright blue in the collection is definitely for someone who is prepared to be noticed. But my favorite look was the long black Alena dress, appropriate for an opera or something awesome I'm not being invited to.
Tiffany Bean is the owner of Mabel & Zora boutique and a newbie to the design world. Her first jump in stuck to simple shift dresses and basic design lines. I think it was smart. Too many new designers get overambitious in comparison to their skill set and it rarely turns out well. While nothing was reinventing the wheel it was all wearable pieces geared 100% to her store's demographic, which she knows very well.
Next on the roster was Vien To, an Ai alumna who could obviously take the cake at a sewing contest. Her collection was not geared to my age range or aesthetic, but that doesn't mean I didn't completely appreciate it. Every stitch I saw was perfectly sewn, stripes were matched up in pleasing combinations and the overall tailoring was spot on.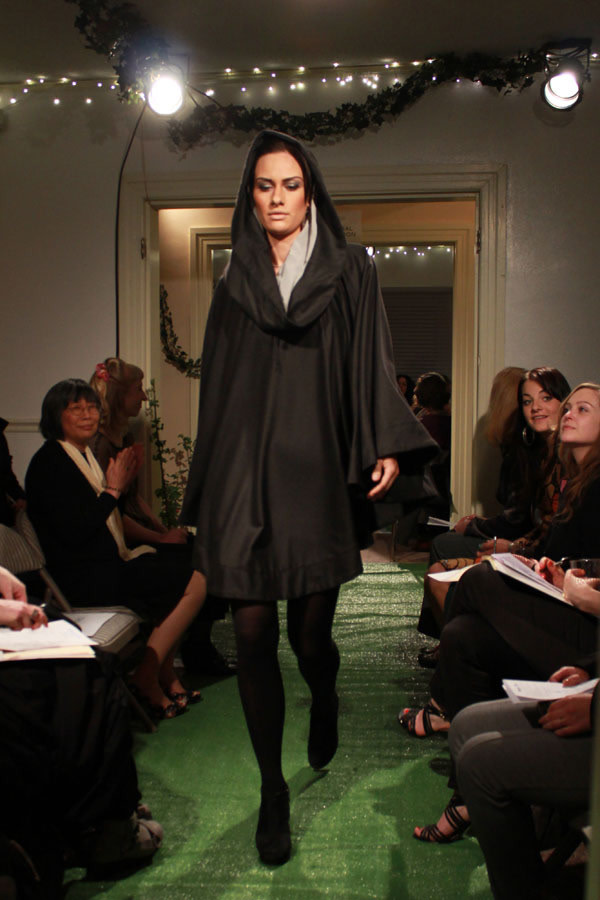 Finally the title act, Grey Gardens, by Bryce Black for Studio SKB strutted down the staircase and impromptu runway. The pieces were inspired by the 1975 documentary about two troubled reclusive socialites, a mother and daughter both named Edith Beale. Each piece was multi-purpose and represented the duality that came from Little Edie and Big Edie. To illustrate to the crowd how you transform a skirt into a cape, Black stood at the end of the runway and quickly shifted his models clothing from Look A to Look B right before our eyes. It was like the David Copperfield moment of fashion. I thought the pieces stood well on their own, but add the multi-use element to them and you've got me (and any penny pinchers) sold over.
Overall a big Brava to Portland Sewing teacher and creator Sharon Blair. If each show is going to be that well curated and produced, you can count me on the press list every time.