Awesomeness
Roller Derby Duds
A peek at the fashion of our own Rose City Rollers
Fishnets, eyeliner. and names like Shove Me Tender, Roller Eclipse, and Lt. Uhurta. That just about sums up all I knew about roller derby before I spent the day behind the scenes running around with some of Portland's most fearless women. I contacted Kim Stegeman (a.k.a. Rocket Mean), the executive director and one of the founders of the National Flat Track Roller Derby Association, after I saw a couple of girls looking fairly bad-ass walking down Hawthorne one day in roller derby tees. That initial e-mail was the beginning of a serious education.
We arranged for me to spend the day at the Memorial Coliseum while an eight-team bout featuring our Pdx squads Break Neck Betties, Guns n Rollers, Heartless Heathers, and the High Rollers would throw down. The name roller derby brings a defined aesthetic to mind, and I have a compulsion to investigate any fashion world I don't fully understand.
My escort was media associate Kelly Davis (a.k.a. Go-Go Kitty), who got me up to speed on the basics of the game. The pack starts four blockers from each team behind a starting line. One jammer from each team lines up at a different start line farther back. At the first whistle, the pack takes off. Then a double whistle blast sends the jammers to start fighting their way through the pack. The first jammer who dodges through the skating pack without fouling is called the "lead jammer" for that jam. After the initial pass through, jammers receive one point for each member of the opposing team they can get past while a troop of other skaters set out to seek and destroy.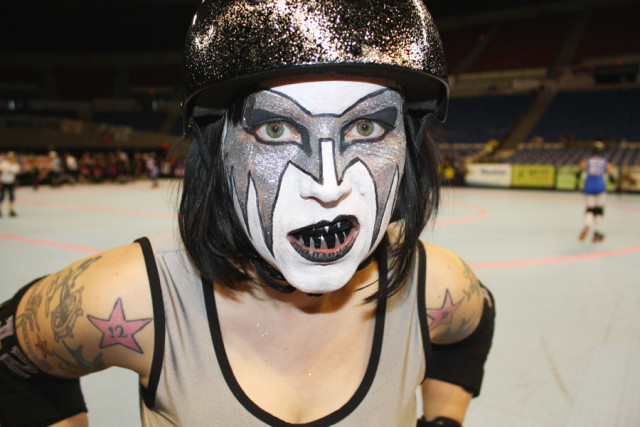 And contrary to some of the rumors I heard about roller derby being like cheesy fake wrestling moves, it is not. "This is a real sport," Davis told me, and ticked off the list of injuries from just this season. "We've had broken fibulas, tibias, concussions, busted knees, torn rotator cuff, uh….." And as she sat thinking I saw a pretty girl in uniform hobble by on crutches with a broken leg. I got the point. The skaters all have to buy into the insurance pool that the derby association was able to broker with their 10,000 members nationwide. It's mandatory.
So why then do they subject themselves to this inevitable pain, and why do they appear to be having so much fun in their spandex and glitter makeup? In one word: community. I heard over and over again from talking to the ladies that this was the one place they could put aside the other roles and just focus on letting go (and kicking ass). And the uniforms play a very important role in transferring into that alter ego. As Rocket Mean told me, when you put it on it says, "You are not a mom right now. You are not an executive director. You are You the Player."
In the same way I imagine police officers get into the proper state of mind when they put on a badge, the roller derby girls prep for possible pain when they put on their zebra-striped pink spandex—although the outfits have come along way from their starting point. When derby kicked off here in '05 after a group of 28 met in a hotel room in Chicago to form the national association, there weren't many guidelines in place for how to look. Teams dressed however they wanted with loose associations (everyone wear a band T-shirt!) that made it hard to spot your sister from the enemy on the track. Slowly teams began forming more cohesive looks and an aesthetic identity to match their team personas.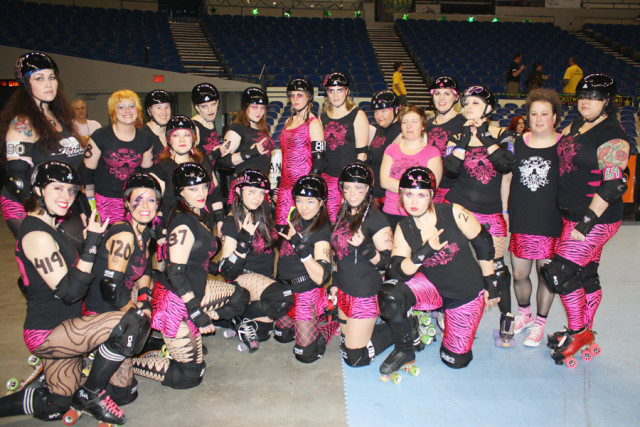 As with any fashion trend or niche, there were some growing pains. Guns n Rollers originally tried to skate in mini denim skirts until they realized the denim limited their movement. Some girls neglected to wear bodysuits under their miniskirts or T-shirts, forgetting that a massive collision at high speed can send clothing parts riding high and letting all kinds of things out for display. One of the biggest learning lessons involved fishnets. If you don't wear tights under your fishnets and go skidding down the track after a fall, you'll actually get that pattern burned into the flesh of your leg. Ouch!
After the end of a day seeing elbows thrown into faces, skaters whiz by with a look of sheer joy on their faces, and crazed fans screaming for their favorite player, I reached a conclusion with my thoughts on roller derby uniforms: the right fashion can turn anyone into a superhero.
Important Dates:
June 2 – Tryouts for their entry-level team, called "Fresh Meat."
June 18 – The championships, held at the Portland Expo Center.
For more info, RoseCityRollers.com