Q & A
Sticks & Stones Q & A
Did you know that three guys are making some of the coolest jewelry in town? I did.
I pride myself on being able to pick out designers that are going to blow up and mark my words on this one. Sticks & Stones are on their way to being the most popular kids at camp. Their collections began with a few items and now include tie bars, cufflinks, pendants and, of course, rings. The double finger, wood-based ring is the genius behind the company. I can spot a Sticks and Stones ring from a mile away and so can anyone else who has joined the secret club. Each piece is sanded by hand bringing the wood to a smooth state, then cured for three weeks in an oil blend that soaks into the wood and hardens, forming a shell.
The men behind the S&S curtain are marketing director Marc Ishida, designer Benjamin Posin and Creative Director Stephan Alexander. The three guys have turned the little idea that could into a train full steam ahead. With a recent mention in Women's Wear Daily and some serious love at their first industry trade show I predict big things in the near future. I caught up with Stephen Alexander for a little Q & A before they get too big and fancy for a lil' Pdx fashion editor like me.
Eden Dawn: How did you three meet?
Stephan Alexander: I have known Marc and Ben due to working together on various projects over the years. We all come from different backgrounds in design ranging from graphic to jewelry and fashion. We have grown to be best friends and love being able to collectively put our minds together to create products that people love. Living in a small city like Portland and having the same interest, Sticks & Stones was bound to happen.
E.D: What brought about the idea for Sticks & Stones?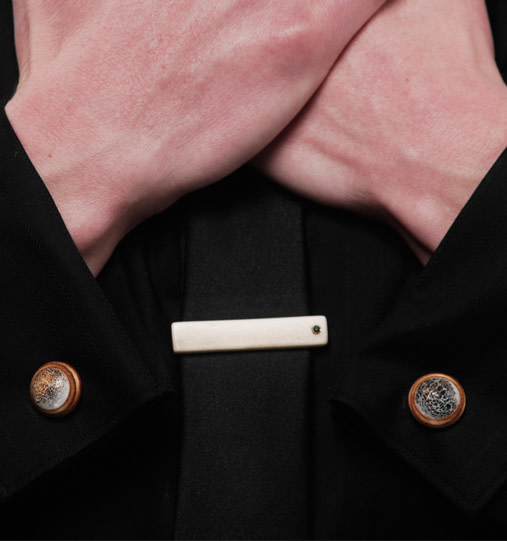 S.A: I had been drawing up simple designs that I thought would be cool made out of wood. So I took my ideas to Ben who has a background in jewelry, but he didn't know much about wood. I had been trying to figure out a way to put this designs together and then Ben eventually brought me a prototype (that a friend had helped him make) of the design I had drawn and it grew from there. I knew that my concept of well-constructed wood-based jewelry was possible.
E.D: Who does what?
S.A: My job as creative director consists of heading the design and overseeing the over all aesthetic of our designs. Ben is the manager as well as a jeweler, so he does the sourcing for our gemstones, metals and findings. He also does the setting of the stones as does the riveting on the metals we use on our rings. Marc is our marketing guy; he also did the branding for S&S as well creates the aesthetics for our website and social media outlets. We are all in the shop almost every day making our products ourselves. So if you own one of our products it was probably handmade by one of us.
E.D: You just went to your first trade show, how was the reception?
S.A: The reception was really really good! It was definitely an encouragement that we were doing something with a substantial market. We were fortunate enough to meet buyers from all over the world as well as important editors from Women's Wear Daily and GQ magazine. The highlight of the trade show was being able to chat with Neiman Marcus' Divisional Merchandise Manager.
E.D: What's your goal for S&S in 2011?
S.A: One of our focuses will be to collaborate with other like-minded designers outside of jewelry, starting with apparel. We also plan releasing a new collection that will bring in materials such as, fossils, Woolly Mammoth ivory and petrified wood.
To check out more about Sticks & Stones (or get yourself some goods) visit YeahWeWood.com