Q & A
Victoria Bartlett Interview
I hung out with the UK/NY designer yesterday to talk about how incredibly cool she and her clothing line are. And you can meet her today at a Lille and Frances May sponsored event.
I meet a lot of interesting people in my line of work. I like fashion people and I like to hear their stories, but it takes a lot to get me super worked up. About ten minutes into my interview (which was really a fun, relaxed hang out session) with Visible Panty Line designer Victoria Bartlett, I realized I had a complete girl crush. What is that? The Urban Dictionary sums it up pretty well with: Feelings of admiration and adoration which a girl has for another girl. A nonsexual attraction, usually based on veneration at some level.
The veteran designer and stylist from outside London transplanted to New York and has lived a textbook life of cool. Before our official interview got underway we talked about her styling one of Bjork's music videos that Spike Jonze shot in complete darkness, dressing Lady Gaga, hanging out with her friend Tilde Swinton and never once did it seem like any of those things were out of the ordinary. She's in town today for her trunk show at the Cleaners at the Ace organized by Lille Boutique and Frances May. Go see her, her clothes and beg for a story. You'll be glad you did.
Eden Dawn: I want to know a little bit more about your styling career?
Victoria Bartlett: I started in design, even prior [to styling] I did a label actually with Jeffrey Costello who launched VPL with me and now does his own line, Costello Tagliapietra. We did [a line] called BC. We were just so green…we didn't have money, we didn't know how to grow a business. …we sold to like, three stores in New York and we realized we were really not on top of running a business. So we folded it. …We were young, and we were like 'Great, let's just do it,' because we had all of these ideas, but actually we should have known how to manage it and run it. Then I was like 'I'm just going to enjoy myself,' and I actually did more things – I got into party promotions and I went completely away from fashion, and then I went into styling and I just fell into it. It was actually great because now it's over-saturated, [but] then there weren't so many people. You know, it was like Joe McKenna and me, Lori Goldstein…you know a handful, and we got really known. Actually that was a the time we were at the peak of when I took the first collection for Miu Miu. Miuccia Prada asked me to help her form the image of Miu Miu because they had tried and never made anything of it, so she had me come in a create an image for it.
E.D: When was this? (internally dying over her love of Miu Miu)
V.B: 96? Yeah, it was a LONG time ago. So I actually started quite well, I started doing a lot of really good things. I started working with Steven Klein.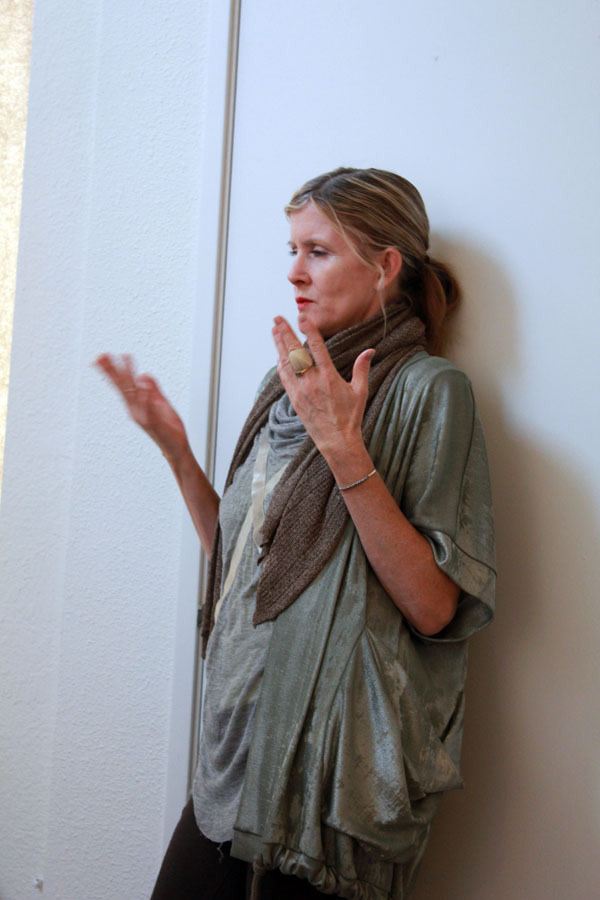 E.D: For shows or for editorial?
V.B: Both. For shows, [I worked with] Chloe Sevigny, and that was when Chloe had just done Kids, and she did the runway, and when she did that I think it was sort of like a starting point of Chloe going into fashion.
E.D: Man, Chloe has always been the Queen of Cool.
V.B: (nods) And then I was at Allure Magazine, I was on staff as an editor then, and I hated being in a magazine, so I left and went to Interview Magazine. They had a fashion department, but they never really had anything properly set up, so they asked me to really set an infrastrusture for the fashion department so that's when the Interview fashion department started.
E.D: That's amazing.
V.B: Yeah, it was great, and it was actually really fun – it was Richard Pandiscio, me, …Wolfgang Tillmans, … Bruce Weber…all really great photographers. And that was sort of like the peak of Interview being really cool and underground…And then I started design. Something made me want to go back now – I wanted to go back to the concept.
E.D: What triggered that?
V.B: I had this concept – at the time it was either just lingerie or sportswear, and I wanted to create a new divide, a bridge between the two. So it was almost like accessorizing – what you put on under would be seen, hence 'Visible Panty Line.' The straps are meant to be seen so if you want a color – gold or something – it's for that reason… you put it under a dress and you get another line – it's almost like adding another dimension of styling what you've got on.
I think being a stylist, I knew the art of laying and styling, and I think it helped to do that because it helped to understand the idea of redesigning the body and refiguring outfits and make something you've worn previously look new. And so that was part of it, was to fill this need which didn't exist, and it took a long time for people to get it, which is fine. Andrew Rosen, who I went in and consulted for Theory, …told me he tried to rip off my concept and he couldn't do it. He came back a few years later, maybe two years ago, and said, 'You know, you've done a niche, and it's a goldmine of a concept, but now everyone's doing it.' It's everywhere now and I've paved the way. I have a motto, 'underwear, outerwear, anywhere,' so now all of the design labels are doing it where it's more like a visible thing.
E.D: Your designs almost always feature asymmetry, is that important to you?
V.B: For me it's more balance – it's a balancing thing. I've always been obsessed with the body and the whole geography, so it's following the lines of the body, and it's shifting, moving – it's how it works on the body.
E.D: So you don't see it at asymmetry, you see it as balance?
V.B: Yes. I like the idea of changing the balance. It's like how gravity is: It's all imbalances that create balance, actually. So I think symmetry is sometimes actually not [balanced] because we're not symmetrical either. …So with me, I've always been fascinated with that, and I think there's ways of reinterpreting how the body looks by moving and shifting balance to see how it works. I've never thought of it as just asymmetry, because it's more of a balancing thing for me. It's like just rearranging and changing and seeing how things balance out.
E.D: Do you feel more like a stylist or designer at heart?
V:B: Designer. But even with styling people, you're looking at how things fall on people and playing with imbalances. It's all playing with differences and proportions. It's almost like you're painting a canvas; you're creating different perspectives. It's like someone doing a landscape – you have create different perspectives so you put a large object in and it's going to make everything else seem smaller, so it's really that thing from the eye – that visual thing – of how if you shift things, how it looks, how it reads.
E.D: I like that…I'm interested in who you think your customer is. Who do you envision to be the person that wears your line?
V.B: Well, Tilda [Swinton] is kind of my [customer] – because she's cool, she's masculine/feminine, she's smart. But we're not pigeonholed or typecast, which I think can be dangerous. We have kids – my friends' daughters – who are like 12 who wear it. …I have women who are 60 and 70 who wear it as well.
We try to obliterate those boundaries and actually to think of the idea of mixing and matching. Again, it's like building blocks – you can dress it up or dress it down. I also hate the classification of night and day. Living in modern times, all of that is a blur. If you want to wear a long dress during the day – with sandals, with boots, why not?
By pigeonholing, to me it's like a dated thing – it's not a modern way of thinking. The whole thing is being able to redress what you've got.
E.D: Is that why you stay in the neutrals so much?
V.B: I love neutrals with accents. I've always been obsessed the the '20's and '30's and the paintings of that time, and those colors all somehow come from that, from that world. Colors in pops and then a whole series of neutrals. But yes, it's having these tonalities that work on different skin colors, and then you do a pop [of color] that's an accent.
E.D: So, what do you want to do next? You've already diversified – you have shoes, and accessories…
V.B: The thing that I don't like, and as a designer I've always said that I'm not a theme park – I'm not someone who likes to do different themes. Like ruffles one season, flowers, etc. It's a continual thing and it has to make sense and it has to be the dialogue. So with VPL, even though there's ideas, it all goes back to the body, anatomy, and body geography, so you know, I'm working on a concept now but I'm basically still researching what I want to do. I love research and for me, a lot of stuff comes from things around me – nature, social things, you know, things throughout the world. Things that are important to me always come into my world of design.
TODAY
VPL Spring sale + fall trunk show
Presented by Lille Boutique + Frances May
Ace Hotel " the cleaners "
403 SW 10th Ave, Portland , Oregon
Thursday May 12th
12pm – 6pm sale and trunk show
6pm – 8pm drinks and meet Victoria Bartlett
VPLnyc.com