5 Questions
Picnic Q & A with Sarah Lonsdale of Remodelista
Designing the ultimate picnic with Remodelista design afficionado and writer, Sarah Lonsdale is a joy. Find out her summer secrets for enjoying the great outdoors simply and with style.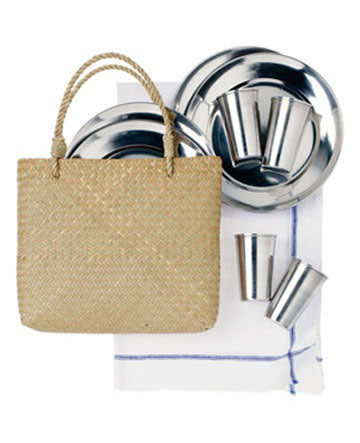 TG: Is there a dream picnic basket out there, and do you own it?
SL: I have tried various picnic-specific baskets, but always come back to a traditional wicker basket that I picked up in a garage sale for $1! You can lie everything flat on the bottom then throw a blanket over the top. It's actually what all the grannies use for shopping in England but works for me. If I have lots of bottles to carry, I use the Tsukiji market fish basket that I picked up in Japan. They are deep and are great for holding bottles upright. My friend Matt from Matocreative sells them.
TG: What is your favorite picnic menu?
SL: Being a Brit, it's all about sandwiches…..cheese and onion are my stand-by but egg salad are another favorite. I like to wrap them in wax paper with string like parcels which makes them easy to serve.
Heidi Swanson's White Bean Spread with Rosemary and Toasted Almonds is delicious. It's from her recent book, Super Natural Every Day and is my go-to appetizer this summer.
Lots of fruit - preferably berries, but whatever is in season.
A good bottle of rose wine for summer, but I always bring a couple of bottles of water mixed with some of June Taylor's syrups. I'm currently drinking Meyer Lemon and Rose Geranium as well as Wild Fennel. I fill clear wine bottles with water and syrup then push in old corks on top, they look really pretty.
TG: Do you prefer plastic or real cutlery?
SL: I have tried to banish plastic from my life. I stocked up on Seletti wooden cutlery and just wash them when done even though they are disposable.
TG: Which wine glasses do you bring on an outdoor outing?
SL: I love these Spanish glasses. They're low and don't tip easily so perfect for a picnic. They are also stackable so very easy to carry – I just roll them in a tea towel.
TG: Your picnic must is??
SL: Aside from a picnic blanket for the ground, I like to bring a couple of large linen towels that double up as blankets if the weather turns. I particularly like the colored selection from Deck Towels.