I'm special
Boutique Spotlight: Cassidy
New(ish) boutique on Hawthorne offers up chunky, hip jewelry for reasonable prices.
While out lazily strolling down Hawthorne on one of our few sunny days, my jewelry radar unexpectedly sounded off. I spotted a fantastic chunky clock pendent bold enough to turn my stroll into a march inside. The boutique is Cassidy, owned by two sisters who have "very different taste in jewelry" and long roots in Portland.
Both Portland-born, retail-bred sisters are daughters of Mary Sellin (retired owner of Portland clothing institution M. Sellin Ltd). Sarah Sellin-Eiler and Carey Sellin-Vetter decided to rebuke the bad economy by going back to their retail roots and opening a store devoted to their love of jewelry but committed to recession-friendly prices. The idea of the store was born while both sisters were (unhappily) working the professional world – one in New York City, and one in LA – and decided that they were not much longer meant for either the rat race or the East and West Coast capitals.
Inhabiting part of the same building that their mother's store occupied for 20 years, the space itself has a warm and inviting boudoir atmosphere, with jewelry displayed on antique furniture, salvaged windows, and vintage dressing tables. The surroundings, however, belie the low prices of the necklaces, bracelets, rings, and earrings that fill the store. The older sister, Carey, remains mostly a resident of New York City and combs the streets of Soho and Brooklyn bringing local New York jewelry to the people of Portland. Many of the lines they carry can't be found anywhere else on the West Coast. The younger sister Sarah runs the store and travels the rest of the country scouting out new unique and affordable jewelry lines.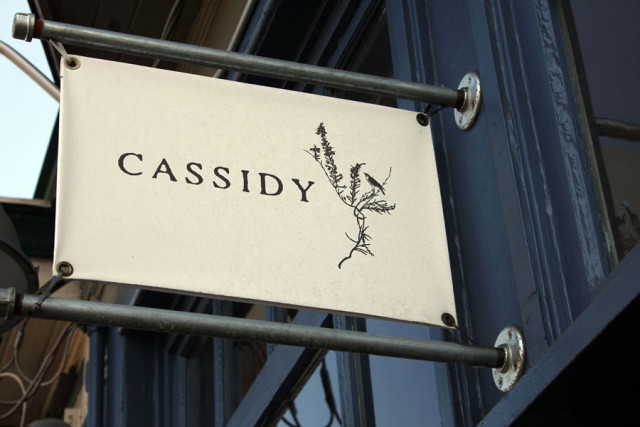 Beyond the astute visual merchandising Cassidy has stocked the store with a commitment to our local community. They hold trunk shows from local talent regularly while also thinking about the wallet of the average Portlander. Most items are under $60, and you can score a great pair of statement earrings for $15-$30. Super score. In addition to the immense selection of jewelry framed photography, handbags, wallets and beauty products are also available for snapping up.
In brief, Cassidy's is a very welcome addition to the neighborhood and to the local scene as a whole. Pop in and tell these girls to stay put for a while.
Cassidy
3562 SE Hawthorne Blvd, Portland, OR 9721
Mon: 12-6pm
Wed-Sat: 12-6pm
Sun: 12-5pm
Cassidy's FB Page