Famous Folks
Leanne Marshall & Paula Abdul
Our sweet former Pdx-er has become a fancy celebrity designer.

I first met Leanne Marshall backstage at Portland Fashion Week several years ago (05? 06?) sharing a rack with her. Then she went on to win season 5 of Project Runway, move from Portland to NYC and work her butt off to be a successful designer. She came home last month to show a collection at Mercury's Open Season and we caught up pre-show in our judge's area. She's still just as sweet and level headed as I remember her being back pre-fancy days and we talked about her line, her new business manager and some exciting things coming soon.
However, what Marshall failed to tell me is that she has become total BFF lately with Miss Paula Abdul! Straight up now tell me Leanne, are you going to dress her for every X-Factor show? Abdul has a long and well-documented critical bull's-eye on her red carpet looks and Marshall gussied her up to a zenith of chic for the premier of Abdul's return to television as an X-Factor judge.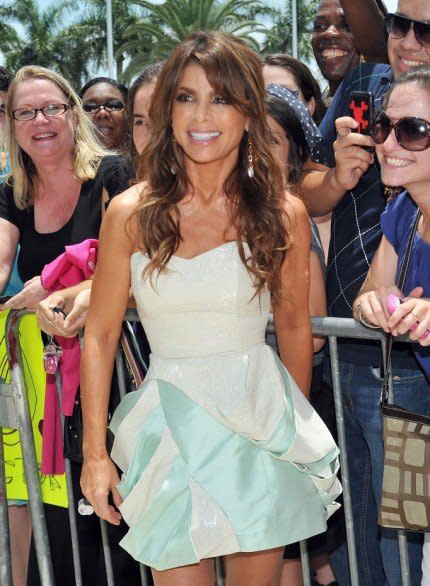 Abdul looked gorgeous in a hot pink mini with Marshall's signature petal embellishments for her Simon Cowell reunion. The next evening she continued to work on bringing sexy back with a second Marshall dress, and with its perfectly fitted bodice and splash of color it tells me that the combo of an introverted designer and extraverted performer means opposites do attract.
Paula, keep letting Leanne dress you up and things can't go wrong.
The all important proof of an outfits success: The Access Hollywood's Fab or Flub meter with Abdul highly in the Fab
Until Marshall's web site gets an update, pick up come custom gear or a lovely fashion sketch on her good old fashioned Etsy page.