Market Watch
Wild and Wonderful Local Honey
Think of all the vegetables, trees, flowers, herbs, and fruit that produce blossoms for the bees. Boyco Foods has a hive in as many fields as they can find, and a honey for your every mood.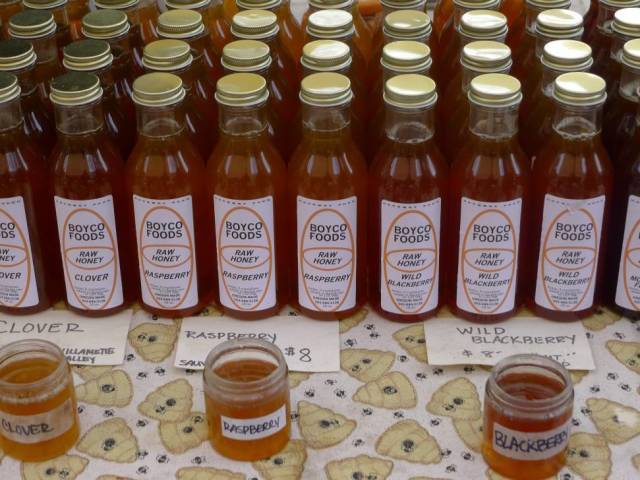 I hoarde honey. There's so many different flavors to try out there, I can't help myself. If I had to live with just one, my morning toast would get very dull, very fast. I love to open my pantry in the morning and decide which honey mood I'm in. Royal organic lehua from Hawaii. Orange blossom from Santa Ynez Valley. Wildflower from Wild Things Farm near Portland. Lately, I've been reaching for one of my many Boyco honey bottles, sold at Portland farmers markets.
Years ago, I got hooked on their honey when my friend, Nancy Davis, offered her carrot honey with a slice of Manchego cheese. It had a slight vegetal note that was really unique. At the time, I had a collection of honeys from all over the world, but this was my first encounter with carrot honey. That week, I dashed to the farmer's market at PSU to get my own bottle. I use the hard-to-find buckwheat honey for certain baked goods that need a darker color or for dishes that call out for earthy flavors. Strong and masculine, it's supposed to have the highest amount of minerals and anti-oxidants. The berry varieties, such as raspberry or wild blackberry, have a little fruity tang in the aftertaste.
The owner is usually at the stand most days and will tell you more details about his twelve varieties of honey than you ever thought you needed to know, along with the health benefits of this golden elixer, like fighting off local allergies. Be sure to sample the generous selection to find out which one suits your taste. You'll be amazed how each one has its own personality. Honey is my cure-all, no matter what mood.
Boyco Foods
Beaverton, Oregon
503-646-5138