sensory overload
Eden Opens & Nau There is a Sale
Who needs first Thursday when third Thursday has this much going on?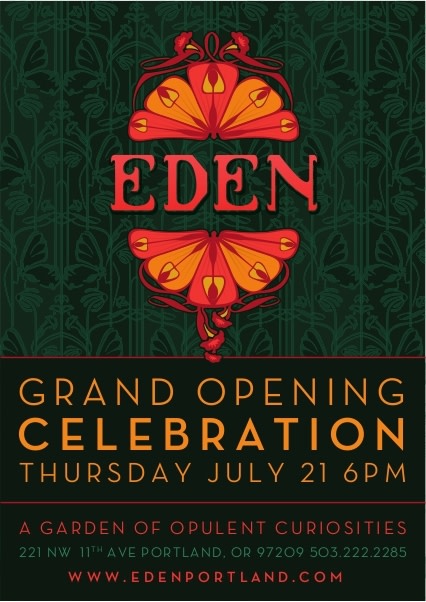 Thursday night is Pearl-a-Palooza!
Eden's Grand Opening
Newbie shop Eden (best name ever) fling their doors wide for a Grand Opening Celebration. The "garden of opulent curiosities" has a bevy of pretty objects ranging from peacock prints to a fabulous book collection (David Bowie in the 70's!) and topped off with a small, but colorful vintage clothing selection. Give yourself some time to pick through all the garden has to offer while you sib some bubbly.
Eden's Grand Opening
Thursday, July 21, 6-10pm
221 NW 11th Ave, Pdx
EdenPortland.com
Nau Warehouse Sale
And once you've picked through a puu puu platter of pretty things and tossed back a glass of champagne, what better time than to think of buying sustainable street wear? Portland company Nau, known for their love of the environment and design invite you to an unbelievable sale. Starting on Thursday and running through the weekend Nau's warehouse is open to the pubic with items up to 80% off. For the non-math people out there, that means a whole lotta sale..
Nau Warehouse Sale
July 21 – July 24
525 NW 10th Ave, Pdx
Nau.com