awesomeness
Harry Potter Jewelry
Get an owl necklace sent straight from Hogwarts.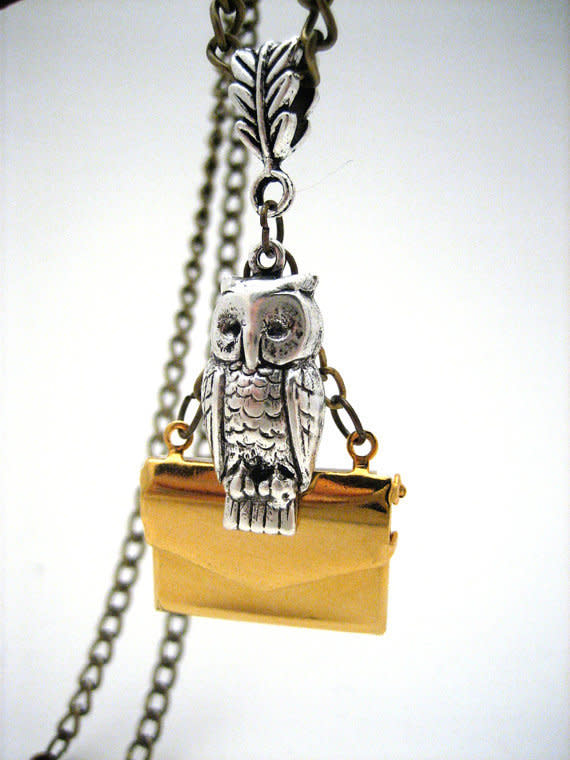 Don't go and act like you're too cool for Hogwarts school. In honor of Harry Potter's final film week let the Shop Talk spotlight shine down on Wolfbird Studio's fantastic creations. The Etsy shop features a whole host of Potter inspired jewelry including a messenger owl necklace with an acceptance letter from the wizardry school.
Check out the description and get your own for just $27! (My birthday is tomorrow, who is going to buy me one?!)
This fantastic owl post necklace features an owl 'carrying' an envelope that actually opens and closes! Inside is your very own small Hogwarts Acceptance letter signed by Professor McGonagall.
The letter is printed on thick archival paper with archival pigment inks and will not bleed, but do not immerse in water. Please let us know what name you would like the letter to be addressed to upon checkout. If you don't we will address the letter to the buyer (you).
The total length of the pendant from the top of the bail to the bottom of the envelope is almost 2 inches. The widest point is 3/4 of an inch.
This pendant is hung from a detailed bail on a sturdy 18 inch chain with a lobster clasp closure.
If you would prefer a different length chain please let us know upon checkout or message us before purchase. Any length of chain longer than 24" will require an additional fee.
In the Harry Potter series, Owl post is a system of sending messages or items using owls as the carriers. Besides the Owl Post Office, individuals and organisations with their own owls use them as their mail bearers. Harry Potter's owl, Hedwig, was used as his primary means of communicating with his friends and his godfather, Sirius Black. Hogwarts School of Witchcraft and Wizardry had a number of owls that anyone at the school could use. They, along with students' personal owls, were kept in the Owlery.
Now you can have your own post owl. Delivering you a letter from Hogwarts!
To purchase this or other H.P. quirkiness visit Wolfbird Studios