Reality Rundown
Project Runway Recap!
Portland Monthly's viewing party brought out designers and friends to watch the whole circus begin again.
It's here! Last night was the Season 9 premier of Project Runway including our two Pdx contestants Bryce Black and Becky Ross. Ross and Black were both in attendance for our Portland Monthly viewing party, as well as a billion other people and we crammed in together to watch the drama unfold.
The show opened with a particularly fierce twist. 20 designers made it to New York to present their work in front of Heidi Klum, Tim Gunn, Nina Garcia and Michael Kors who instantly cut 4. Not only did our Portland peeps make it through the cut, but Heidi Klum hopped out of her chair to take Black's feather cape and stomp around. I watched Black, watch it on screen and I have never seen him look happier in my life.
After the selected designers made the cut, they moved into their living quarters and hunkered down for a nights rest after the adrenaline gave way. But before they could finish resting Tim Gunn came pounding down on their door at 5am commanding them to get up at once and head to the Parson's workroom just as they were. Ross was even denied putting on her bra! (An unfair advantage to the male designers.)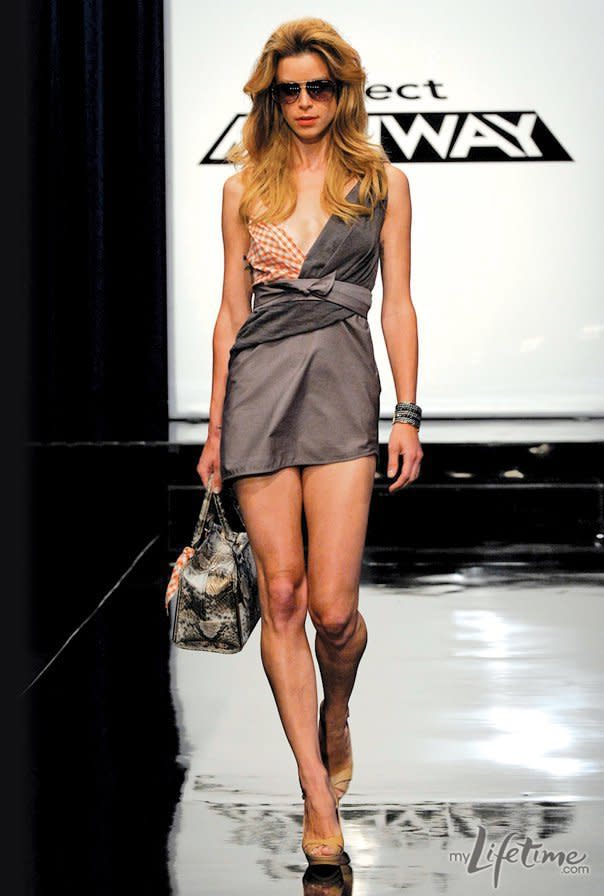 The challenge given to the sleepy contestants was to immediately design an outfit using only the pajamas they were in and the one bed sheet they just carried from the hotel to the workspace. As to be expected some controlled chaos ensued and we saw bits and pieces of other personalities as well as garments. Right now there are still far too many people running around to keep track or pick out this seasons' darlings and demons.
The runway show started with my total teen girl crush Christina Ricci as a judge looking super fabu. Our own contestants easily made it through the first round of cuts, though methinks Black was completely robbed of a top 3 spot. Designer Bert Keeter won the first round with his asymmetrical cocktail dress made from his checked boxers, a tee and sheet. The guillotine fell on Rafael Cox and his awkward camel-toe inducing legging and split open shirt. And it might just be due to, what I call, "The Curse of the Goatee."
All in all I'm pleased to see Heidi & Co still trying to shake up the game this many seasons in. Looking at the teasers for what happens this season looks like a very strange ride to come. I'll be blogging weekly so check back in for the rundown on fashion Friday's and any insider gossip I can squeeze out of Black and Ross. In the meantime you can support these two by voting them as fan favorites. The winner with the most votes at the end of the season gets a cool $10,000 and it should be one of our kids. Check out the Lifetime.com fan page to vote and do it often.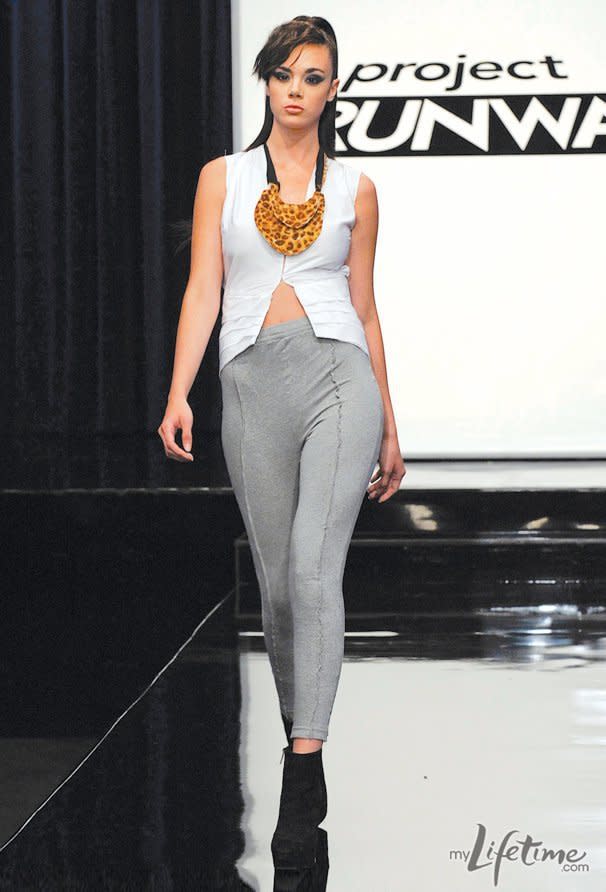 To vote for fan favorite and check out all the runway looks visit Lifetime.com
View the slideshow to see more runway looks and party pics!