Sensory Overload
Weekend Picks!
Idom, Grayling and the new Blackbox can fill your time this weekend.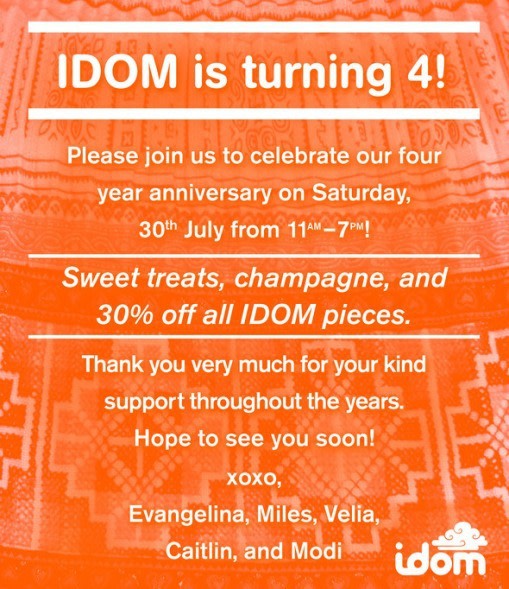 In what seems to be the summer trend in our fair fashion city, this weekend is packed with things to do. If you haven't already over-committed yourself too much, consider popping by any and all of these shin-digs.
IDOM

Turns 4
The little local shop on NW 23rd has been keeping us all fancy for four whole years now. Shop owner Modi Soondarotok wants to share the love with all day discounts of 30%, plus champagne and smiles.
IDOM
827 NW 23rd Pdx
11am-7pm
Idom's Blog
Grayling's Anniversary Sale
Before you can get to that big 4th anniversary you have to hit those that come before. Katy Kippen's fabulous line of jewelry celebrate its big day by giving the shoppers a big ol' break. Tomorrow for one day only the summer inventory is up to 60% off. You know you need to accessorize that maxi dress.
Grayling Studio
107 SE Washington St., Pdx
10am-4pm
GraylingJewelry.com
Blackbox Grand Opening
It's finally time for the official unveiling of the Blackbox Building, cousin to the 811 Burnside Mall featured in our July issue. The west side square box contains many a wonder inside.
The shopping destination includes Tanner Goods with lovely leather accessories from belts to bags, Blackbird, the successful Seattle shop that always puts men in pants. Next door is Dunderdon specializing in Euro-chic workwear inspired clothing. Word is Solestruck shoes will be moving in sooner than you can say "Jeffrey Campbell." And finally, Isaac Hers women's boutique takes up a good chunk of fashionable space with both designer Barbara Seipp's design studio and the shop's retail space all in one open room. The store carries both the local Isaac Hers brand and other top apparel and accessory designers.
If you haven't wandered into this funky little compound of cool it's probably because you were waiting for music and drinks. The time has come. Tomorrow stop by and say hello to the new kids on the block with gift bags, food and drinks organized by Blackbird and Isaac Hers.
Blackbox Grand Opening
Saturday July 30
13 and West Burnside
1-6pm
Music by Secret Shoppers & Orca Team
FB Event Page