Desirables
Playing with a Full Deck of Portland Places
Aaron Voronoff Trotter's Portland playing cards depict the everyday icons of our city.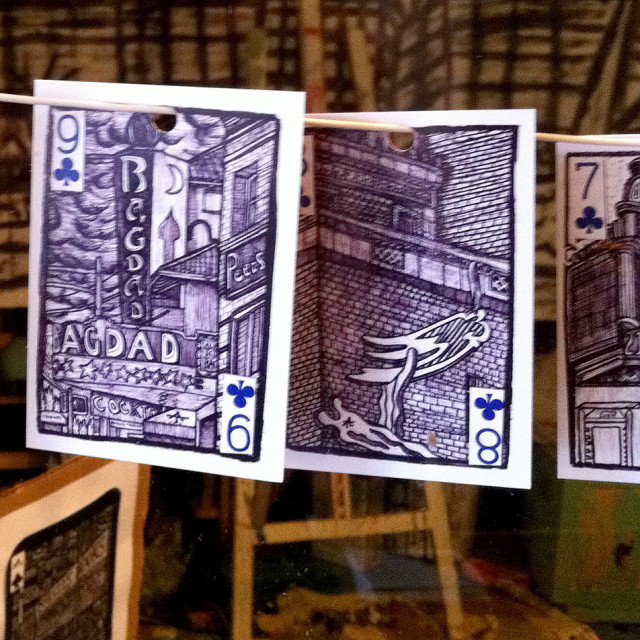 The Bagdad. The old Portland theater sign at the Schnitz. Pioneer Square. Powell's. The "Go By Train" neon sign flashing on the Union Station tower. Portland has a quirky collection of places that symbolize the city as a whole. Usually we run by them in our daily routine. Occasionally we show them off to visitors who snap a few shots with their I-phone. But Aaron Voronoff Trotter is documenting these and other landmarks of Portland with detailed, finely-observed pen and ink drawings that he sketches on site.
Trotter is a 30-something Evergreen State graduate who has been a Portlander since age five; a painter/illustrator/performer who fancies himself a 21st century Renaissance man; and a world traveler who keeps returning home to Portland. To the great benefit of the rest of us who call Portland home, he's also a talented documentarian of our city.
His deck of playing cards is that historical document. Actually, he's made two decks: Landmarks of Portland, and Portland Neighborhood Places. It's a project he's been working on for more than a year, and he keeps having to redo certain images as the city keeps changing. For instance, the White Stag "Made in Oregon" sign got reworded and relocated. Cafes and bars come and go. Trotter likes to keep his deck of cards not only full but current, so with each limited printing of 100, he's made some updates.
What results is a great way to appreciate what Portland is, what it has to offer, and how it is evolving. Most of his neighborhood cards are of places in the northeast quadrant, because that's where he lives. He draws on location in a big notebook, then goes back to his messy studio on NE Alberta and completes the finely detailed 8 × 10 sketches with pen and ink. They're printed into playing cards at a local print shop and hand-boxed by Trotter himself, with a guidebook listing the actual addresses of all the places illustrated.
He'd love to do other Portland neighborhoods, and has drawn decks depicting Seattle, Astoria, and Vancouver (BC, I presume?). The decks of cards are $20. Individual images are available as prints for $10.
In our digital age of snap-a-shot-with-your-phone-and-immediately-post-to-Facebook, Trotter's playing cards are a wonderful alternative way to record today's Portland – and while you're at it, hang out at home and play some poker with your buddies.
You can buy Trotter's Portland playing cards on line (at his website or etsy), or at Local Discoveries on NE Alberta; his studio is right next door, so drop in if he's there.
Local Discoveries
1627 NE Alberta St.
Portland, Or 97211
503.209.3956
Mon – Sun
11am to 7pm