Product Pick
A Sandal That Feels Good
ABEO are shoes to hug your tired feet.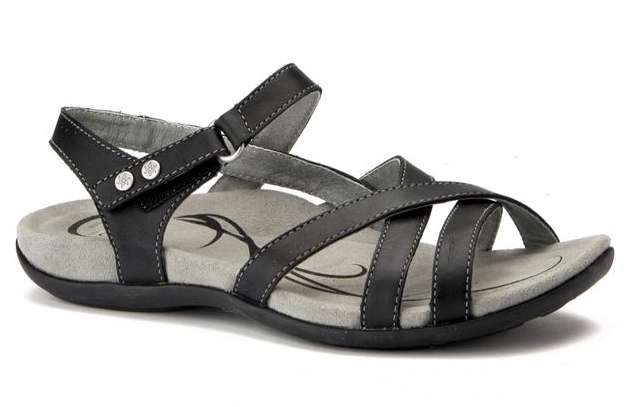 In a slightly unexpected twist for Shop Talk we draw attention to a shoe that is…..comfortable. Yes, it's unorthodox, but let's explore a bit. The Walking Company offers the ABEO line of shoes specializing in footwear made for moving.
The company offered me a free foot scan and pair of sandles to briefly lure me out of my high heels and boots for a moment and out of curiosity I accepted. After I stood on what looked like a scale to get a digital reading of my "super high arches" and had an associate show me a selection of shoes geared to my particular foot issues, I settled on the Lauguna sandal.
While admittedly not my go to shoe for a fashion show or anything fancy, when thrown on with cuffed jeans it's kind of cute. And most importantly, for the summer city walkers it's like a little vacation for the feet. Yes, it might be geared a little bit more to your mom, but what's wrong with that? You've got a present in your back pocket for her now.
The Walking Company
located in Pioneer Place Mall
Details on the Laguna Sandal:
The women's Abeo Laguna sandal blends casual style, "all-day" comfort and a customized fit. Abeo's commitment to biomechanical footwear has revolutionized the sandal and your feet will feel the progress. Digitally fit to your foot, Abeo Premium sandals incorporate state-of-the-art digital foot scanning technology which calculates the optimum Abeo premium sandal footbed construction for your individual foot.
Premium full grain leather with hook in loop adjustable velcro strap.
Microsuede footbed with Aegis microbe shield gives long lasting protection against odor, staining and deterioration of the footbed.
Dual-density EVA insole with memory foam that conforms to your foot, allowing equal distribution of pressure.  Rubber outsole absorbs shock and is slip resistant.
Non-skid and slip resistant bottom.
Supports your feet and aligns your body.
Balances weight distribution.
Increases stability and reduces foot fatigue.
Reduces shock and stress on your joints.