SEW TOUGH
A Stitch in Time
For 91 years, the Portland apparel company Dehen mostly made cheerleader uniforms and letterman jackets. Now it hopes to weave history, branding savvy, and Japanese fashionistas into a bold new chapter.
ON A SPRING DAY IN THE OFFICE OF DEHEN, a small Portland clothing company, Jim Artaiz pulls out a cardboard box recently unearthed at a venerable Boise sporting goods store. An ivory-colored wool cardigan lies inside, carefully folded. A burnt-orange "A" adorns the left breast, and the label of Dehen, a firm founded in 1920 by Artaiz's wife's grandfather, is sewn inside the collar. "This is from the early '60s, maybe the late '50s," says the tall 53-year-old. "Someone paid a deposit, but never picked it up. It's been in a basement for 50 years."
Outside Artaiz's office, just a couple of sewing machines whir beneath the skylights of the former Fred Meyer warehouse that houses Dehen's small factory, tucked between I-84 and the posh Laurelhurst neighborhood. Even though it's a half-century old, the accidentally archived sweater looks like it could just have rolled off the hulking old knitting machines that stand in the center of the workshop. A quick touch reveals why: the thing is constructed like a battleship, with a dense weave of virgin Oregon wool that creates a stiff, indestructible texture from a time before comfort as we know it was invented.
Though several generations have passed since the last time a high school football hero wanted a letterman cardigan, to Artaiz and the rest of this family firm, the sweater is as much a prototype as a relic. Dehen is about to bet a sizable chunk of its future on convincing 21st-century fashion fans to buy garments pretty much exactly like it.
"You could say they don't make 'em like that anymore," Artaiz says, replacing the box's lid. "But actually, we can."
DEHEN BEGAN in the glory days of Portland garment-making, when knitting assembly lines and sewing factories employed thousands, and landmark local companies like Jantzen and White Stag pioneered casual apparel and sportswear. In the '60s, Dehen, while smaller than the big names, nonetheless occupied three-quarters of a block in what is now the Pearl District, with more than 100 employees and a shop full of unionized technicians.
Every major change in America's apparel industry—manufacturing's en masse move to Asia; big-box retail; consumers' gravitation to cheap and disposable goods—buffeted the company. Today Dehen consists of a tight-knit handful of owners and veteran employees and a largely seasonal staff of about 35. The firm's core trade of cheerleader gear and letterman jackets is steady but hardly growing. As Artaiz drily notes: "Other than Glee, it's not really the cool thing for kids to wear right now." The "cheer" business grows ever more complicated as increasingly competitive and athletic participants demand more color varieties and technical fabrics; the anemic economy has squeezed demand for $400 leather-sleeved letterman jackets.
In search of a future, Dehen is turning to its own past. This fall, the company will launch a spin-off brand, Dehen 1920, based on designs produced half a century ago for high school jocks, big men on campus, and 1950s motorcycle clubs. The new line will roll off the factory's old machines—archaic industrial beasts made of heavy black iron and gleaming brass, built just after World War II and controlled with player piano–style punch cards.
Those knitters create garments, like that letterman sweater from Boise, that are both luxurious and brawny. A single sweater from Dehen 1920's new collection might contain $40 worth of raw wool and retail for over $300.
"The cloth is the same as things we did decades ago," says Gary Hilde, Dehen's president, chief knitter, and probably one of the last people in the country capable of operating those ancient machines. "We're aiming for someone who knows clothes and recognizes craft. So we've said, what's the best thing we ever did, back in the day? Let's bring it back, because there are people who want that quality."
For all of its throwback trappings, however, Dehen 1920 arises from Portland's 21st-century apparel industry. The effort unites Dehen's long-time owner-operators—Artaiz, Hilde, and Mike Dehen, the last direct descendent of the Dehen clan serving as a partner—with unlikely collaborators: James Clark, a former Nike branding specialist; Sonny Okamoto, a Japanese retail entrepreneur; and consultants seasoned at modern companies, like Nau and Nike itself, that define Portland as the global capital of activewear.
In the grand scheme of the city's apparel industry, which fuels at least 17,000 jobs and underpins Portland's "creative economy," the Dehen gambit is microscopic. Still, this small effort confronts a couple of Portland's major economic questions: Can a soggy old logging town prosper by selling style to a global audience? And can Portlanders still prosper by making things?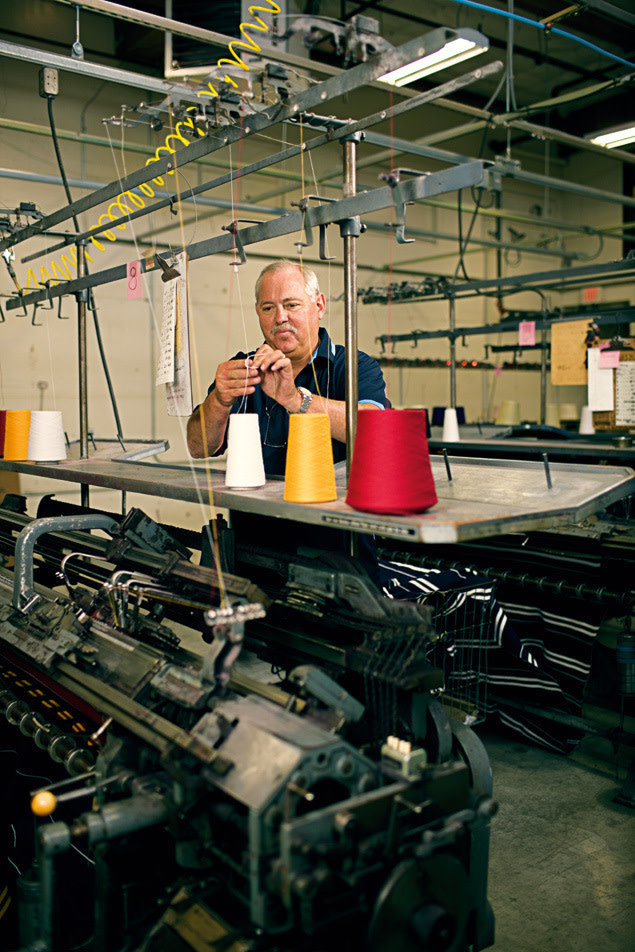 IN MAY 2009, with the economy in nuclear winter, James Clark knew he was about to be fired. So he rose from his desk at Nike, donned an orange University of Texas football helmet with a full face mask and plastic shield, and headed to a meeting with his boss.
"It was like a storm that was moving around," he says now of the 1,750 layoffs. "I knew I was out. Unlike most of the people who were going to lose their jobs, I was actually kind of stoked. I figured I'd lighten things up a bit."
First, Clark bought a declaration of independence in the form of Nike rival Adidas's Superstar sneakers. Then, armed with his severance pay and 18 months of health insurance, the now-43-year-old father of two began figuring out what to do with the rest of his life. (Disclosure: Clark and the writer are friends.)
Over the next year, he tinkered with entrepreneurial ideas. He looked around for small companies he could buy or invest in, and worked on a plan to manufacture bags and accessories with a partner in Asia. He discovered Dehen when looking for a local company that could potentially apply finishing touches to these products.
Besides jackets and pleated skirts for cheerleaders, Dehen operates in a number of niches, like knitting sweaters for Portland's Flying Fifteen Motorcycle Club and sewing faux-antique uniforms for baseball players who insist on playing by the rules (and in the gear) of the 1860s. Dehen also makes samples and small-batch products for Portland's indie fashion-design scene; on one recent afternoon, Seth Aaron Henderson, the Vancouver-based Project Runway champ, glowered gothically in Dehen's offices as he awaited a meeting.
Clark saw potential beyond these marginal enterprises. "I kept thinking, 'Man, this is the coolest thing I've seen so far,'" he says. "We've been conditioned to buy a sweater at the Gap and just expect it to fall apart in six months. Dehen makes things in a fundamentally different way. And as someone who can barely trace my genealogy past my dad, the idea that this family has been making stuff in Portland for three generations struck me. Not like I want to be adopted by the Dehens, but I was jealous.
"I told Jim and Mike, look, people spend a fortune on branding to try to fake this kind of identity. You've got it. You're real. You have an opportunity."
AMONG THE GREAT RECESSION'S MANY strange machinations, the fashion world responded to teetering banks and imploding home prices by obsessing over "heritage"—antique styling, handcrafted materials, ancestral companies, and American (or sometimes British) manufacturing. The trend put men back in high-necked, old-fashioned shawl collars, and landed $600 shoes from the 127-year-old Massachusetts boot-maker Alden in the J. Crew catalog. A subculture of blogs, magazines, buzzy pop-up markets, and painstakingly "curated" retail shops developed. Portland's own Pendleton and Seattle's Filson both launched new lines to tailor their rural Northwestern workwear to urban tastemakers' hunger for authenticity.
Clark convinced Dehen's principals they could pull off a similar coup.
Creating Dehen 1920, however, was in many ways less than straightforward. The company archives held great old designs, but Dehen lacked the semimystical name recognition enjoyed by the likes of Pendleton. And unlike Nike, which maintains an in-house history department, the company possessed few actual artifacts of its saga.
"We never saw inherent value in brand heritage, or whatever you want to call it," says president and master weaver Hilde. "We were just about making a living and making stuff for other people. Back in the day, you didn't hold on to anything if you could help it. You sold it."
For much of a year, Clark combed eBay and the West Coast's best flea markets for old Dehen merchandise. He experimented with the new product line, struggling to translate the history and quality he loved into sellable clothes. New ideas started to crowd the original, archival inspirations. In an industry where designers routinely work two or three seasons in advance, time slipped by.
Clark called in Bob Smith, a freelance Portland designer and 11-year veteran of Nike, where he bucked the company's innovation-first culture to launch a successful vintage product line in the early '00s. ("They told me no one would buy a Nike shirt that said 'Beaverton, Oregon,'" Smith says. "But I'd seen a kid in Paris wearing a shirt that said 'Beaverton, Oregon.'") Smith brought his scalpel.
"I told them, look, what's cool here is the story. Let's get to the story," Smith says. "Pare it down to the essentials."
The resulting line, which hits Japan this month and debuts in the US in October, consists of just seven basic designs: thick, darkly colored sweaters and jackets, some emblazoned with "DEHEN" or "1920," many made with wool sourced from Pendleton. The lead catalog item is a virtual clone of the letterman cardigan from Boise; another features, yes, a shawl collar. Judging by samples that Hilde and the Dehen staff produced this spring, the 1920 clothes are as crisply finished as they are grandfatherly in design.
"The world doesn't really need any more stupid retro shit," Smith says. "I was drawn to Dehen because they make really good stuff. When I first watched them knit the letterman sweater—my God. The thing came off the machine and almost stood up and walked around. Nobody makes clothes like that anymore."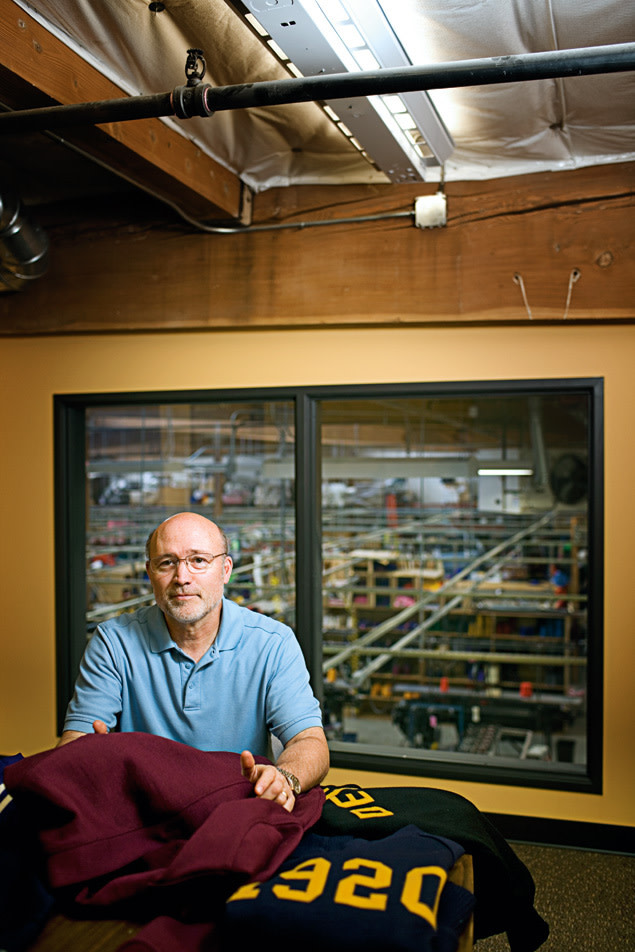 VAGUE BUT fervent desires for our country to "make stuff" periodically seize Americans. Dehen's fashion makeover coincides with such a moment, as President Obama urges a manufacturing "renaissance." (His 2012 rivals will certainly make sad-faced tours of dying Rust Belt widget factories to insist there's no such thing.) On a boutique level, organizations like San Francisco's SFMade and places like Brooklyn's Navy Yard, where hundreds of light industrial firms operate cheek-by-jowl, constitute a craft-oriented equivalent of food's locavore movement.
Judging by recent employment stats—in June, the Canadian province of Alberta created more new jobs than the entire United States—this renaissance has a long way to go. Still, manufacturing is a bright spot for beleaguered Oregon. A Brookings Institution report hailed Portland as one of the nation's leading export cities. Alongside giants like Precision Castparts and Intel, Portland has spawned a diverse galaxy of smaller companies that assemble everything from the predictable (cycling bags) to the surreal (lifelike sex toys). Elsewhere, a firefighting apparel company—Portland's Nine 1 One Gear—recently shifted production from China to Salem. (See our photo feature City of Industry for a portrait of some local builders, makers, and assemblers.)
But none of this energy addresses the nostalgia for the lost industrial golden age evoked by Dehen's history. The tale—recounted, with definite marketing spin, on Dehen 1920's website—goes back to German brothers who immigrated to the West Coast in 1903. The brothers (so the story goes) settled in San Francisco, smuggled liquor, and did some prison time before one—trained knitter William Peter Dehen—stole the other's girlfriend and moved to Portland.
"We all grew up with the family legends," Mike Dehen, William Peter's grandson, says now. "In retrospect, there was probably fuzzy gloss on some of them."
Prewar Portland's woodsy culture and economic base meant a thriving market for outdoor gear and workwear—a market served largely by the city's Germans. Carl Jantzen made uniforms for the Willamette Rowing Club before building the era's most recognizable and innovative sportswear brand. The Hirsch brothers bought a company that sewed ships' sails, switched to making logging clothes, renamed their firm White Stag, and eventually pioneered ski apparel. Refugees fleeing the Nazi regime took over a local hatmaker and transformed it into Columbia Sportswear.
Today, it's tempting to consider these primordial companies merely the genetic blueprint for Nike, Adidas, and the rest of Portland's modern apparel sector. "Jantzen and Columbia meant that when Nike started, there was already a cluster here," says Tom Gillpatrick, a marketing professor at Portland State. "Design, manufacturing, marketing—all that know-how was in Portland already." At the time, however, garment-making was just one thriving industrial trade among many, in a city where a high school grad could step into a decently paid career.
Gary Hilde comes from that largely vanished world. The affable 62-year-old started as a knitting mechanic just after graduating from Benson, inner Portland's technical high school, in 1967. Hilde remembers when Jantzen's 3,000 or so employees anchored a whole industrial culture. "They were the core of the supply line," he says. "They trained the mechanics, the designers, everyone. My first job was at Columbiaknit, which had its facility on East Burnside and 18th. When we needed a part, we walked over to Jantzen's factory at 20th and Sandy." 
Hilde joined Dehen in 1974 and worked his way up the company's ranks to his current position, helping to run the firm as its president. But his career path—from machinist to executive—is gone, unlikely to return. Today, when Portland's economic development specialists talk about creating more apparel jobs, they mean designers, textile scientists, and brand managers, not knitting mechanics. Jantzen maintains a small office here but manufactures overseas. White Stag is a Wal-Mart house brand. Large apparel companies that manufacture in Portland, like Keen and Danner Boots, are noteworthy exceptions.
Like a remote Swiss hill village where the peasants speak Latin, however, Dehen keeps the the old ways alive. To a visitor, the company seems to run as much on stubborn passion as logic. As Hilde puts it: "I don't really care about high tech. I like to make things."
Mike Dehen, a soft-spoken 62-year-old, stuck around even as his nine siblings bowed out. The Greek and Italian workers of his childhood gave way to Southeast Asian seamstresses; Wal-Mart decimated the sporting goods stores Dehen once relied on for distribution. The Northwest's formerly robust supply chain shriveled as companies like Eastern Oregon's Jefferson Woolen Mills died out, leaving Dehen at the mercies of global markets—snarled this spring, for example, by an Australian wool shortage.
Still, he soldiered on, alongside his brother-in-law (Artaiz) and the guy who came on board to run the knitting machines nearly 40 years ago (Hilde). He seems both excited and somewhat bemused that his grandfather's company might be about to enjoy a high-fashion moment.
"It's like the stopped clock that's right twice a day," Dehen says. "And it gives us a chance that people, at least a few, will get a new appreciation for what we do."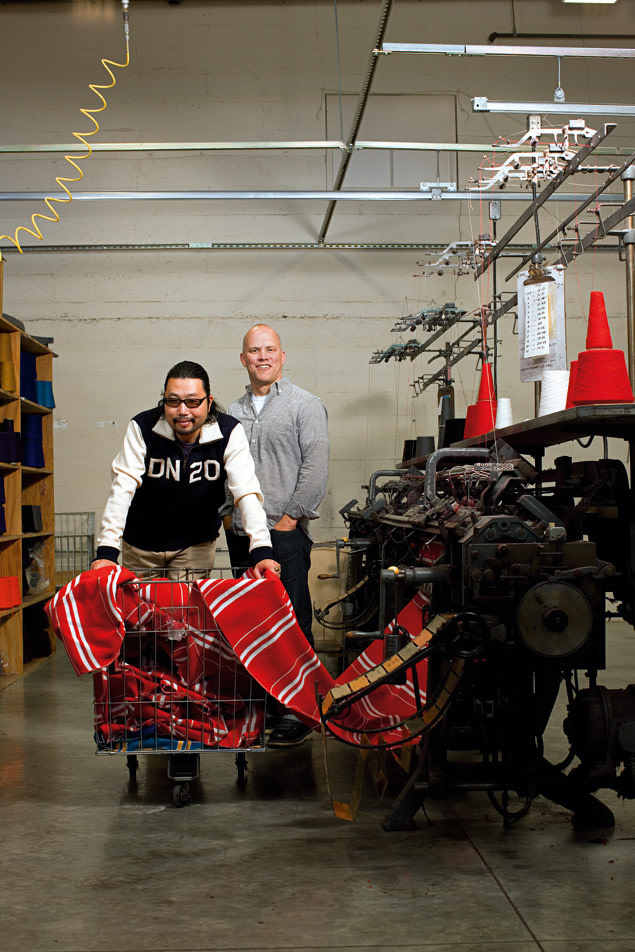 SONNY OKAMOTO relaxes in Dehen's offices on the third day of a weeklong trip to Oregon from Japan. He wears a tan leather jacket, an array of huge rings, and Ray-Bans propped above pulled-back hair, and is fresh from a raid on Pendleton's outlet store.
The 45-year-old fifth member of the Dehen 1920 team embodies the new-old brand's most intriguing angle: Japan loves American stuff. The worldwide heritage vogue essentially began there, where American archetypes that are nearly extinct here—rockabilly bad boys, or '60s outlaw motorcyclists—can rally entire youth-culture movements.
Okamoto has seen the power of this strange global trade niche firsthand. Seven years ago, he helped Wesco, a bootmaker founded in 1918 in the noted fashion hotbed of Scappose, launch its premium motorcycle and logging boots in Japan. He now runs two Wesco retail shops in Tokyo, where stompers built for clear-cutting the Coast Range sell for as much as $1,000.
This spring, Okamoto opened a Dehen shop next door to one of his Wesco outlets. In the absence of any actual Dehen 1920 product, he displayed, under glass, vintage letterman jackets and motorcycle club sweaters. The brand has already started to draw positive press from hyper-hip Japanese periodicals with titles like Hotbike: The Magazine for Human Beings Who Ride Harley-Davidsons.
To hear Okamoto tell it, his nation's cockeyed Americana fixation stems from a desire for styles as un-Japanese as possible. "These things are not Asian," he said via translator. "The cowboy, the motorcycle rider—these are Anglo-Saxon, not Japanese, images, and they express something that Japanese culture does not.
"But it has to be real American," he adds. "Dehen is one of the few small American companies that you can say is making things in a real way."
On the other hand, Dehen's Japan strategy also leverages a very Japanese ethic: a reverence for family-based craft. In a country where a grand-master traditional musician will take the same stage name used by the past dozen generations of her ancestors, the Dehen saga resonates.
"People will love a company that is still in business, still in the family, and still made in Oregon," Okamoto says.
"IF YOU STARTED five years ago, you could have done this almost accidentally," observes Bob Davis, creative director at Lizard Lounge, a retail store affiliated with the small (but acclaimed) Portland-based activewear brand Nau. Clark brought Davis in as an adviser in the early days of Dehen 1920's creation.
"An old-time company could have stumbled into a new following because people were out there looking for these kinds of products, but the larger world hadn't caught on," Davis says. "Now there's more competition for attention, even in this little niche."
By fashion's attention-deficient standards, the heritage trend is already long in the tooth. It's possible that an unknown Oregon company, with expensive and rather particular products, is showing up at the party five minutes before it ends.
"There will always be an audience for high-quality goods," Davis says. "But the guys wearing suspenders and going to retro barbershops? I don't know how long that will last." Dehen, he notes, isn't known as a stand-alone brand like Filson, Pendleton, Woolrich, or many of the other "heritage" labels that have prospered of late. When asked to rate the company's branding and marketing challenge on a scale of 1 to 10, Davis pauses. "They're in the 7s, for sure."
Still, as their fall debut looms, Clark and his partners feel bullish. A West Coast sales trip went well, and 1920 landed an invitation to an exclusive vintage fashion showcase curated by Michael Williams, a New Yorker whose blog, A Continuous Lean, has made him possibly the most influential arbiter of old-school, American-made style.
"What they're doing, as soon as I saw it, I knew it was real," Williams says. "The product is great, and the story is compelling. It seems like there's a great partnership. I think they have a good shot."
The future of Dehen as a whole is far from clear. "My kids aren't really that interested in apparel manufacturing," Artaiz says. "I think it's hard for them to see a future there." But Clark and the Dehen partners hope they've found a way to write a new chapter for a 91-year-old company—and that if they succeed, they'll join a select pantheon.
"My eyes have been opened a little bit," Artaiz says. "Now, I see that there are people who make the best moccasins in the world, or whatever. And when you hold those moccasins, you can tell. I think to myself, whoa, I'd really like to do that.
"And then I think—wait, I am kind of doing that."
Will it work? The market—for clothes that recall vanished eras, for ineffable American cool, for something made to last in an ephemeral world—will decide.