Reali-TV
Project Runway Recap: E.2
Episode two of the season and the designers have to unleash their aesthetic in a pet store challenge.
"This isn't like fashion, this is like Trashion." –Anthony Ryan Auld
This weeks' Project Runway began with the first glimpse of this season's opening credits. Last week it was still hidden as they narrowed down the finalists. Instead of the traditional bit with the actual the opening sequence is an off-putting display of Heidi Klum, Michael Kors, Nina Garcia and even my beloved Tim Gunn in a narcissistic display of themselves talking about "Working It" while the contestant are barely visible. What the bleep?!
Once the show began, in a (not so) surprisingly rude twist this week the crew of designers had themselves an unconventional materials challenge this week. Tim Gunn threw them into a pet store for 30 minutes with a budget of $300 and told them to get materials for an ensemble. The P.R. people love to make the designers create things out of weird stuff. Last year there was the party store challenge, before that we have seen potato sack challenges, car parts challenges, the list goes on. I've never been sold that making things out weird stuff equates being a fabulous designer, but I admit it's entertaining.
Looking around the workroom this week, I'm finally able to begin keeping track of the designers and I've fallen head over heels for the hilarious Joshua McKinley who says, "Some people think less is more, but more is better." And the looks he gives during his camera interviews (including one where he gets a little bitchy about Bryce Black) are priceless. Plus, the blouse he created out of dazzling neon aquarium rocks this week completely "rocked" my world (pun intended).
Laura Kathleen is another contestant that keeps popping up on my radar, and not for good reasons. Last week her "Are you guys speaking foreign?" coupled with this weeks "I've been shopping at Neiman's since I was in single digits." is enough to make me quite certain we would not get along during an interview (or high school). And when she created a skirt out of a cone dog collar that completely revealed a models bare booty, I (in an uncharacteristically snarky move) wished she would send it down the runway and go home. But, she realized cheeks chilling out on the runway was a no-go and fixed it. Harumph.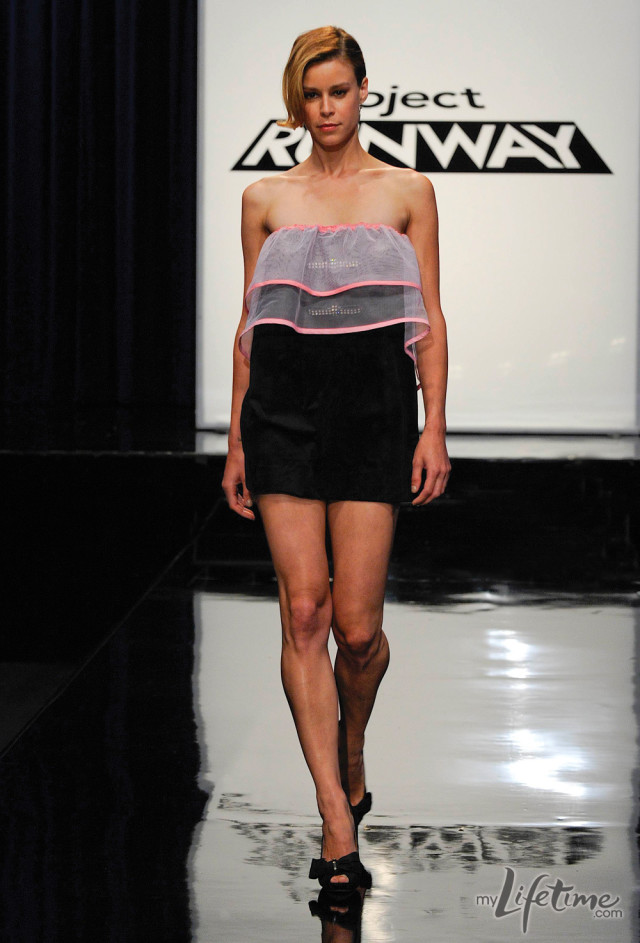 As Tim Gunn made his way around for the first round of workroom critiques it was a total crapshoot of what was working and what wasn't. Last week's favorite and challenge winner Bert Keeter completely phoned in a half-assed garment that I have no problems with calling atrocious, because he knew it too. I cannot even figure out how to describe it. Our own Bryce Black said the word "Wee-Wee Pads" at least 10 times and the more times he said it, the more I worried for my old friend. As comedian Joshua M said, "The top is interesting, but where is she going? Why is she going there?….in that?" (ouch.)
They can show the workroom for hours, but the truth is you never know how it's going until the models hit the runway. The judges called out the top 3 with Anthony Ryan and his s-t-u-n-n-i-n-g creation of birdseed into a fantastic beaded cocktail dress, Olivier Green and his chic combo of dog and hamster bedding into an ombré effect and Joshua McKinley for the aforementioned rock top. The bottom 3 included Fallene Wells with an unfortunate orange/brown color combo, Josh Christensen with a bit of a ho-hum creation and our own Bryce Black who clearly let the wee-wee pads get the best of him.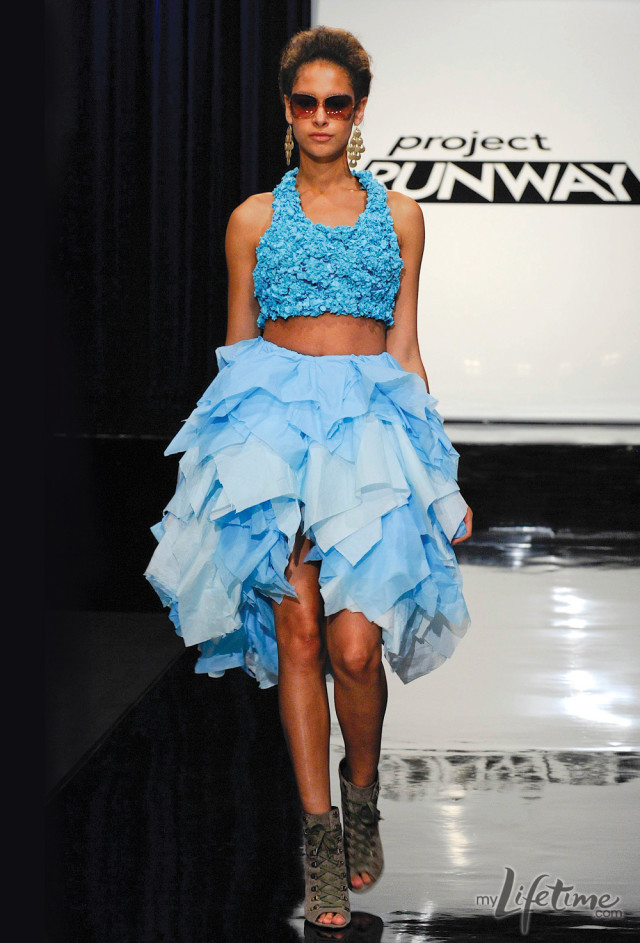 During the judging critiques Joshua M. dropped the amazing bombshell of noting that the mirror hanging from his skirt "It's for your parrot to look at itself" and Nina only gave a disappointing "Oh." That's it Nina? I laughed until a tear slipped down my cheek at that and nothing from you but an "Oh"?
My poor Bryce was ripped apart for his ensemble. The judges stated they had seen the skirt over and over and when I thought about it, it's true. I remember Amy from Season 7 in the potato sack challenge, Valerie from Season 8 in the party store challenge and so on. Eeeks.
Joshua C. broke one of the absolute cardinal rules of the unconventional materials challenge: He used materials that were like fabric. His umbrella top was a chunk of fabric. I know from watching every season they really hate when you do this. And this was an awkward judging because he seems like a particularly nice guy and I was cringing a bit at his crestfallen look.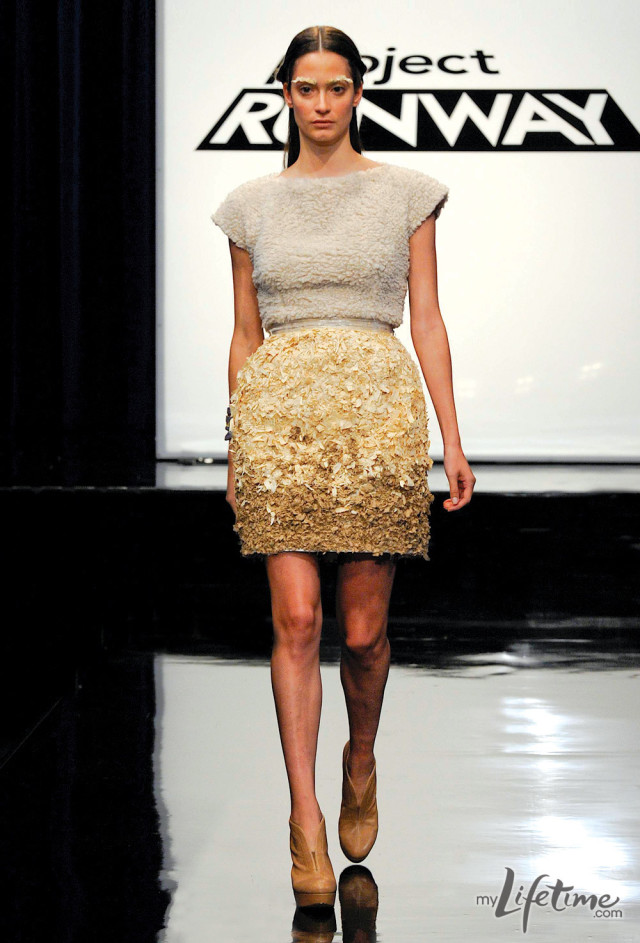 Fallene broke the second commandment of Project Runway commandments: Thou shalt not trash thine own work. As the judges tore apart her simple strapless top and color combo she nodded along and put down her work with them. You cannot do this to the judges. It's one thing to admit you understand their critique, but it's another to tell them you also hate your own garment.
The judges battled it out for who the winner would be and I flat out disagree with their choice. Though I think Oliver is a little cutie pie and his look was good, the dress both used fabric and made the model look sizes larger than she actually was. Anthony Ryan's dress used no fabric at all and looked incredibly chic. I am horrified to say that I think Nina Garcia is losing some of her touchstone with what is cool, and I predict many more fights between her and Heidi to come this season.
To wrap it all up, this week can provide advice to any future contestants for the show. Watch every episode of the show before you start filming, learn what has already been made and, most importantly, memorize the Judging Commandments of Project Runway.
See the slideshow for all the designer's looks.