Reali-TV
Project Runway Recap: E.4
The designers have to create something for the scariest client of all…. A fashion editor.
I spent all week excited about what would inevitably transpire in this week's "Nina Challenge!" Finally, it's a chance to see the designers actually get to design for a real client, like they do out in the non-reality television world. I like it because Nina was very opinionated and up front from the beginning about her likes and dislikes. Well, mainly her dislikes. Anyone who has ever had an opinionated boss can relate to that situation.
The designers had the luxury this time of meeting with the client to show their proposed sketches. Once again, Nina was quite vocal about what she wanted (telling Kimberly to scrap the dress she sketched and give her pants) and what she didn't want (telling Bryce "I hate cowl"). Cecilia seemed dazed and confused (and not in the cool Matthew McConaughey way) from the first second of the consultation.
Once they headed off to Mood, the questionable decisions came rolling in. Anya went with a bright shiny mustard color despite Nina voicing her dislike of bright colors. Somehow, both Anthony and Becky ended up with the same fabulous fabric and there were veiled hints of possible copying. For the record, if either copied the other, they did a really good job hiding it to the cameras because they both seemed pretty surprised. Finally, we saw a whole lot of gray tones before Nina came cruising through the workroom and nixed a whole lot of ideas.
The editors of the show secretly let you in on how it's all going early on. You'll notice people like Bert and Becky barely get a second of screen time during the sketches or critiques. Interpretation: We know they are going to be safe. The folks that start getting a lot of screen time like Cecilia I start to worry about. The most interesting thing about her is that she knew her garment was not good, but instead of trying to fix it she pitched in and started working on Julie's coat dress. And out of left field, my wary eye sees Laura pitch in and work on Anya's jumpsuit.
This brings on a whole tangent worth discussing. What do we think about designers helping other designers? I have mixed feelings about it. Obviously, the camaraderie is admirable. It's nice that people have become attached to each other enough to help a competitor. Additionally, out in the real world of design projects are usually made with many helping hands. However, part of the challenge of this particular show is showing what you can do under the limited time constraints and budgeting accordingly. And it's not very fair that some people might get a Good Samaritan to help out, but others are left in the cold. It had me all abuzz and the next second the looks were sashaying down the runway.
Josh M had an orange color blocked body-con dress that I poo-poo'd for Nina instantly. Bert sent a perfectly wearable, chic dress down the runway that you could also already buy many places. Olivier had an interesting idea that seemed to have a few fit issues. I normally really like Anthony's stuff, but the skirt he tried to ruche in an "interesting" way just looked like a skirt that had static cling issues. Of course, to pump up the drama the producers lined up Becky's dress in the same fabric to come out right after Anthony's. Those little instigators. I actually liked this dress best of what we've seen from Becky so far and definitely more than its Anthony Ryan counter-part.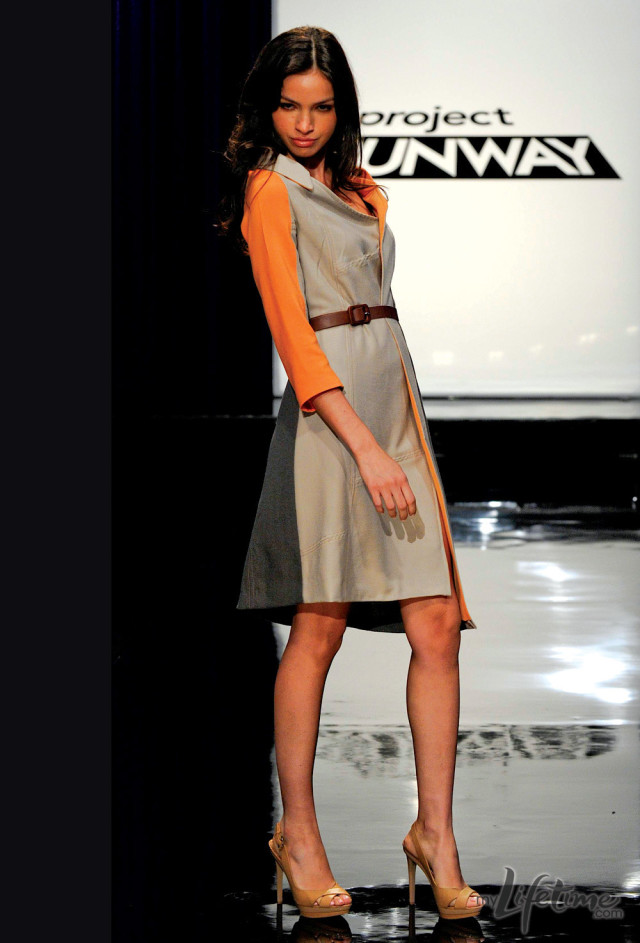 Moving on, Kimberly made a pair of her awesome pants that give every wearer a great butt, but I was worried about her gold metallic fabric choice for the top. I thought it would be too flashy for Nina to get into. Cecilia's one shoulder dress looked like it was from Forever 21 and in the color of my grandma's pantyhose. It was a long fall from the sewing expectations I had for her. And the shoe choice was just like pouring lemon juice into a paper cut. Anya's jumpsuit she wisely dyed a darker color was good, but I didn't love it as much as other's seemed to. Danielle's outfit looked like another Kohl's purchase, though again very well made. Julie's coatdress was an interesting idea. I thought there was too much orange for it to be up Nina's alley. People need to listen when a client says they don't like bright colors!
Bryce Black created a cool color-blocked dress with a puffed sleeve that I would wear in a second. Laura's shiny green suit was actually beautifully made. I just think the Christmas green color became overwhelming. In a different color, I think this could have been in the top. Viktor's slightly futuristic take on the LBD was freaking fabulous. Those shoulders slimmed the waist and the proportions were spot on.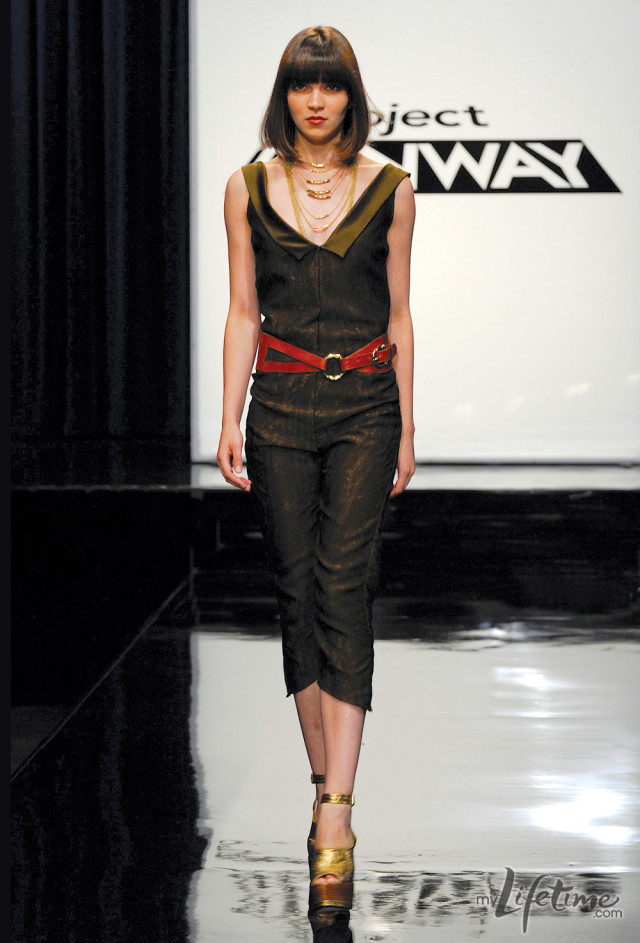 In some expected and some unexpected moves the top designers, (including a particularly snarky Marie Clair editor-in-chief Joanna Coles) placed Viktor's LBD, Anya's formerly mustard jumpsuit and Kimberly's ensemble into the top three. That left Danielle's department store pieces, Cecilia's sad affair and Julie's color blocked coatdress in the bottom. I thought they actually were harder on Julie than necessary (and she handled it pretty well). The color wasn't working, but I thought that the design had potential. If it was just in crisp black and white and a black patent leather belt, I believe it could work.
After the deliberations were over, little Julie was sent home instead of the more confused (but previously stronger) Cecilia. Kimberly's tailored ensemble received top honors a bit to my surprise. Not because I didn't like it, but Nina seems to steer clear of anything a little flashy. However, when they showed Nina wearing it in an epilogue, the outfit was perfect for her.
It was fabulous to have a design heavy related challenge for a welcome change. It looks like next week were back to more craziness with designers running down a track. What? Don't the producers know running in stilettos is dangerous?