Fashion News
PFW Designer Spotlight
An in depth look at who is showing what, and why you should go.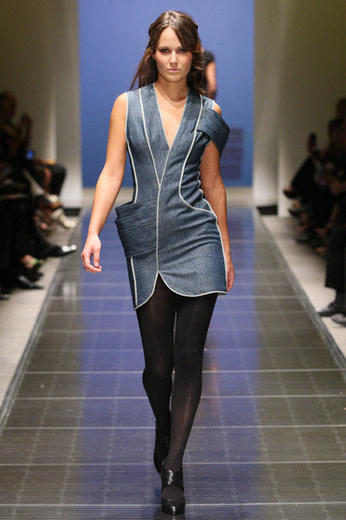 Portland Fashion Week is almost here. The time of year Pdx fashion writers, photogs and designers quit sleeping for a few days and just try and keep up with the mad house. Since this ain't my first time at the rodeo (I've never missed a show since its inception), I've got the insider run down on why you should be buying your ticket right now and heading down to the ship yards next week. Reason number one? You get to wear your prettiest shoes.
Wed Oct 5th, Catapult; The Emerging Designers Competition
What we're excited about: It's the night of the emerging designer competition with judges like myself, Seth Aaron from P.R. and a host of others scanning the rising talent in this town. Last year's winner Ms. Wood has gone on to have an impressive year and you can be part of the decision with your audience vote. Designers include House of Gunter, Grishley, Michelle is Well, Silkwood Collection, Chicago Harper by Studio SKB, AM Renegade, Moontess, Lizz Basinger Designs, Becky Ross for Wicked Quick (Project Runway Season 9).
Thurs Oct 6, Leaders in Athletic-Wear:
What to get excited about: Earthtec is a team that consists of designers who develop sustainable lifestyle apparel made from cutting-edge recycled or renewable fabrics like recycled PET (plastic water bottles), organic cotton, and natural wool. The latest addition to this group? Local peeps Seth Aaron and Anna Cohen will debut their collections for the company this night. Considering this is a massive east coast company taking big interest in Pdx designers, I'd file this under "big deal."
Fri Oct 7, Local Loves
What to get excited about: If you want to see what our local scene has to offer, this is the perfect show for you. Long time designer Amai Unmei, evening wear from Stephanie D. Couture, tailored menswear from Collier and the first line post Emerging Designer win from Ms. Wood!
Sat Oct 8, Project Runway Peeps
What to get excited about:If you're a reality TV junkie this is the night you need to be at. Not only are past P.R. designers Jay Sario and Michael Costello flying in to show off their goods, they're actually debuting their collections here. That means anyone in the audience gets to see them before the rest of the world. Cool (And, word on the street is Bryce Black will show one avant garde piece too!)
Details: Ticket purchase and all other info can be found at PortlandFashionWeek.net