Q & A
Portlandia Stylist Wins an Emmy
Local wardrobe stylist Amanda Needham gets a gold statue.
Cult members, punk rockers, insane bike messengers, Japanese club kids. These are but a few of the gem characters local wardrobe stylist Amanda Needham has had to conjure up for Portlandia stars Carrie Brownstein and Fred Armisen. The sketch show has multiple characters per episode that leave the costume department in a constant fashion frenzy to develop the visual aesthetic for each. Wardrobe styling is often an unsung hero on a set, but in a sketch type show with mere seconds to get to know the characters, costuming is the quickest visual reference to fill you in on what type of "Portlander" we're seeing.
Looks like a little organization called the Emmy's recognized the massive workload in this area too. Costume designer Amanda Needham received a juried Emmy prize last month for their contributions to "styling Portland weird." We caught up with Needham to ask her a few questions and promise she'll always be labeled now as "Emmy winning stylist, Amanda Needham."
Eden Dawn: How did you become the costume designer for the show?
Amanda Needham: Carrie and I worked with each other on Matt McCormick's film "Somedays are Better Than Others", and stayed in touch. I knew about Thunderant and really loved what Fred and Carrie were doing with some of the characters. Carrie and I saw each other at SXSW, and she asked me if I would be interested in designing her and Fred's show.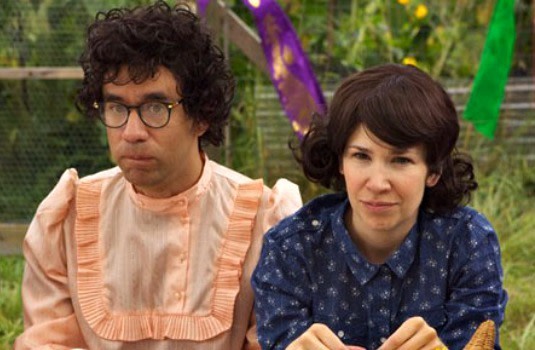 E.D: How did you find out you were nominated? Was it a complete surprise?
A.N: Carrie casually told me that the producers submitted Portlandia for an Emmy; this includes camera, art, wardrobe, sound, etc. I didn't really think about winning an award. iIt went in one ear and out the other. We were shooting Portlandia season 2 and everyone was like "Hey congratulations!" with huge smiles. I was so confused. My sister (Jessica Needham) the make-up artist on the show was like, "Holy s***, did you hear you won Emmy?" I had no idea what she was talking about. Carrie, Fred and the producers knew I won something, but with the Emmy's there are so many categories and awards that it's hard to be sure.
Then I got a call the next morning, a woman from the Costume Design Guild called and said "Amanda Needham, I am honored to be the one to tell you that a jury got together watched a series of shows and voted for your work on Portlandia, you won." I said, "This is great, what did I win?" She said you won an EMMY!" I said, "You mean one of those statues??" She laughed and said YES.
I blacked out!!
E.D: What's are some of your favorite looks you've put together for the show?
A.N: I have a few: Peter and Nance, Kath and Dave and the feminine bookstore. Generally, what ever is the grossest thing ever makes me happiest.
E.D: Have they ever handed you a character you couldn't figure out how to style?
A.N: Honestly, not really!!
Visit Amanda's web site at LoveProperStyle.com