Reali-TV
Project Runway Recap: E.6
The designers go all out this week with an avant garde challenge. Or do they?
In a rare, but welcome moment in this season of Project Runway, the producers actually (theoretically) had a challenge I respected. The designers teamed up with tweens and teens from the Harlem School of the Arts to do shared paintings that would ultimately inspire an Avant Garde runway look. Some of the young artists were a little more vocal than others. Skyy, 12 cracked me up with the constant peppering of questions for Viktor, including, "What's your favorite activity?" Who says that at age 12? Awesome Skyy does. Most of the paintings were really quite impressive, offering up a sky's-the-limit kind of inspiration for everyone to work from.
At this point in the show, we can see the stress starting to take its toll on some of the kiddos. Olivier admits that sometime after the second challenge, he started to get lost, and he seems more so than ever here. I think that kid needs a hug, a pep talk and a strong espresso. Everything is a little subdued and sad. Poor Josh C. has more pressure than anyone does on him after being eliminated and brought back.
The producers tried to revive my long lost love for Josh M with his heartfelt revelations about losing his mom to cancer. I was just slowly warming back up to him when he goes on camera and talked about his ruthless bullying of Becky helped improve her design skills. Uh what?? We also got to see Bert talk about his partner that passed and again I felt a lump in my throat. Those editors really know how to manipulate your emotions.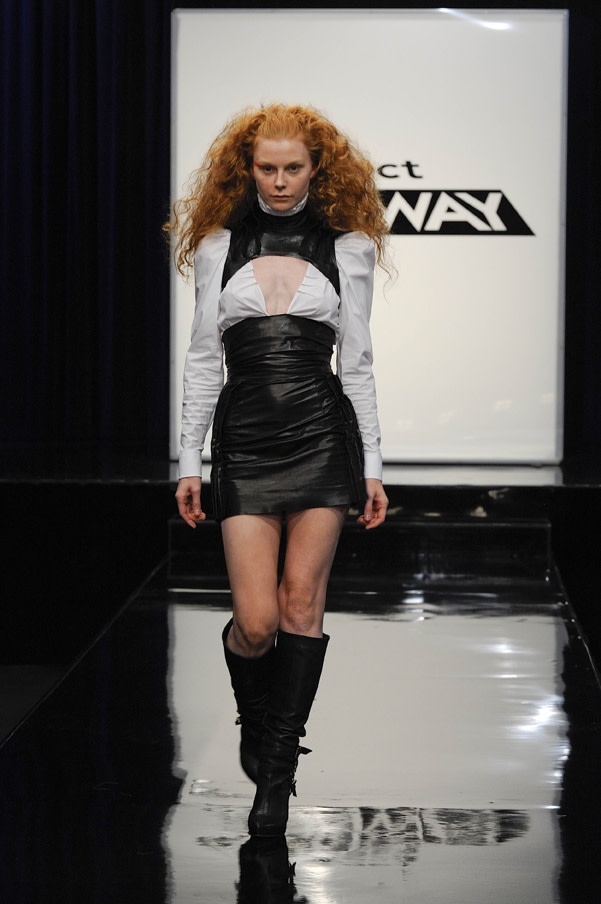 All that mumbo jumbo aside, let's talk about what really matter: The runway show. Kimberly's began with her pleather interpretation of the wild eagle. I thought it looked pretty cool considering the potential to make it into a giant bird costume. Becky Ross was up next with her solar system dress. Overall, I thought this dress was pretty rad. The idea was great and the execution was well done. My one critique is I think the dress being made from denim held it back from looking couture.
Olivier's ensemble was just a sad mess from top to toe. The model even looked sad in her messy hair and the dress that seemed half finished and was glue to one of her breasts. This was obviously a hard challenge for him with his minimalist style, but I had hoped for more from him. Then Josh M sent out his tree concoction, which seemed a little literal for my taste, but that skirt was really quite flattering. And he created his own textile by painting neoprene (scuba diving material) and the judges love when anyone does that.
Bert's Humpty Dumpty insanity deserves an entire blog post unto itself. Those high waisted Jodhpur pants are officially the most unflattering pant I have ever seen in my life. Then it appears he stole several of my cat's toys and glued them to the front of a bustier. Avant Garde means forward thinking, not hilarious funny pant. Translation error perhaps?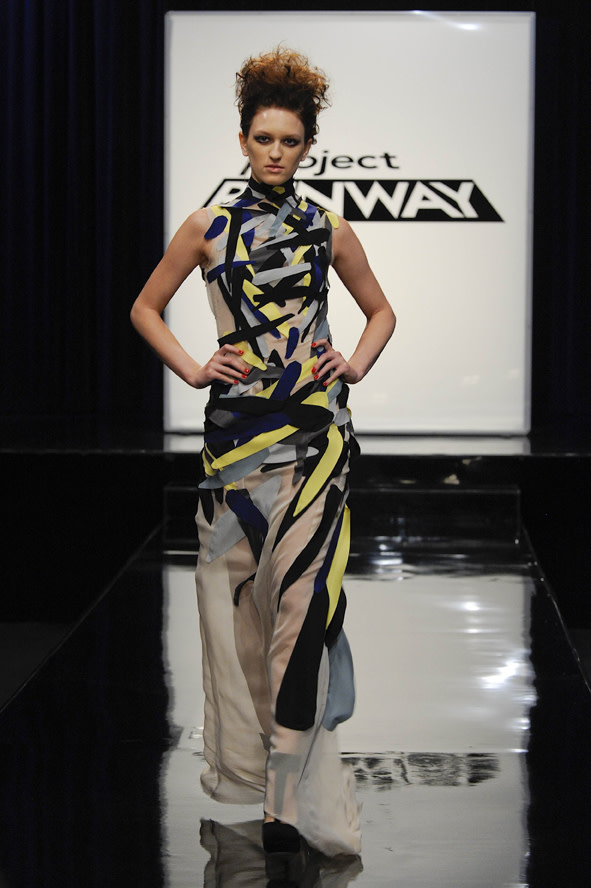 Viktor's look appeared to have the most work put into it with his hand shredding each piece and all the complex roughing. I wanted to like it so much more with all that effort, but the heart wants what it wants, and mine didn't want this. Before I could finish the thought, Laura's giant peach concoction came out from behind the screen. Initially, I was adamantly opposed to this dress. It seemed very Southern Belle/Blanche Devereaux/Huge Prom Dress to me. The next day I was looking at the runway pics up close and it sort of dawned on me, I kind of love all those things. And with that realization, I did a full pendulum swing into the "love it" category. Sometimes, I even surprise myself.
Bryce was next with his straightjacket insanity look. It turned out well, but after seeing the original sketch I wish he had gone through with that idea. It had a full matching orange creepy face cover with jagged eye slits and the arms were actually tied behind the model. I think that would have turned this look up a notch into full cool cray-cray territory. However, it was still far more dramatic than Josh C's look. The vampire huntress concoction seemed to be the result of frazzled nerves and you knew the judges were going to have issues with it the second it appeared.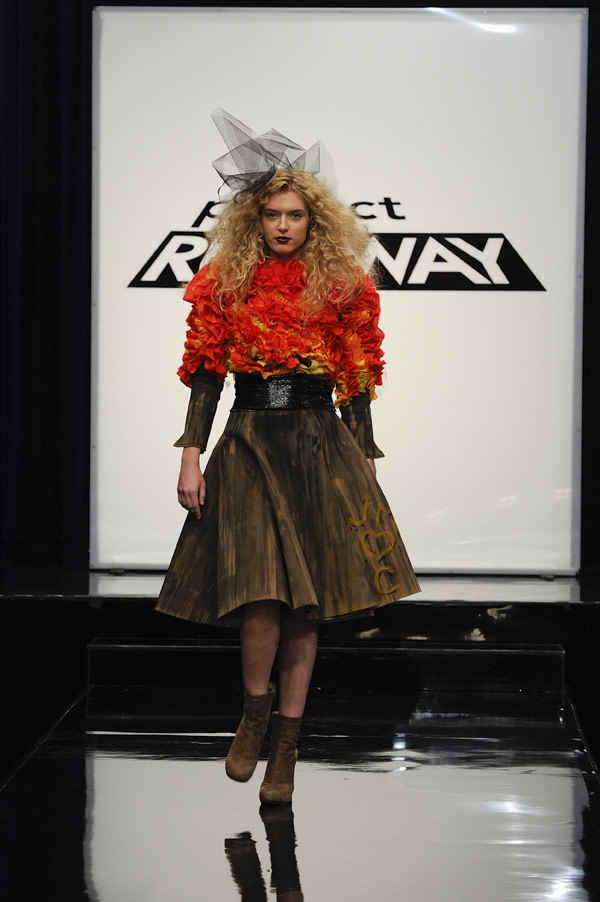 Anthony Ryan's brush stroke inspired dress initially was one of my favs, but as time wore on it seemed to grow increasingly familiar. Methinks that's because it had many similarities to his birdseed dress challenge. The neckline, the way the embellishments cascaded down from the top, the form-fitting silhouette…. And the dress wasn't even hemmed! When Anya's came our after, it looked like it had a lot more actual sewing work in it, though I felt pretty Switzerland about the whole ensemble in general. It was cool, but a few tweaks and it probably could actually go towards ready to wear.
So once again, we have the designers out on the track and not a clear-cut winner in sight. After some awkward deliberations with Heidi claiming to actually like Bert's look (Really? Did a producer make you say that?) and discussion of Olivier's Valium clothing, the results were in. Anthon Ryan won which I think he definitely deserved to be a challenge winner by this point, but it should have been for the bird seed dress – not this one. We also said good-bye to Josh C. again. Perhaps proving that nice guys finish last, then not last, then last again….