Reali-TV
Project Runway Recap: E.8
This week is a bad week for Portland.
This week kicked off tugging at my heartstrings right away. Poor Bryce speaks on his frustration with not having won a challenge. Thanks to my long training by the producers of Project Runway I know this instant attention means he is either going to come out and win or go home.
The designers head down to Parson's where they initially believe they will be doing a menswear challenge and pick from the men on stage based on their body frames. And quiet little Olivier drops this gem, "We're left with only fat people, and that's fine. But not when I'm making clothes." Eeesh. What they don't know is they have just picked their clients and they will actually be making outfits for their ladies, while trying to please both parties.
Once we see the designers actually begin to sketch, we learn that the boys know…_nothing_. One has no idea what colors she likes; another dude won't stop talk about his wife's boobs. We get it, you like them. It's just getting creepy. Continuing on the breast train Olivier pops out another insightful statement. "I don't like women having boobs, I just like them to be flat." So for those keeping track Olivier doesn't like fat people or women with boobs.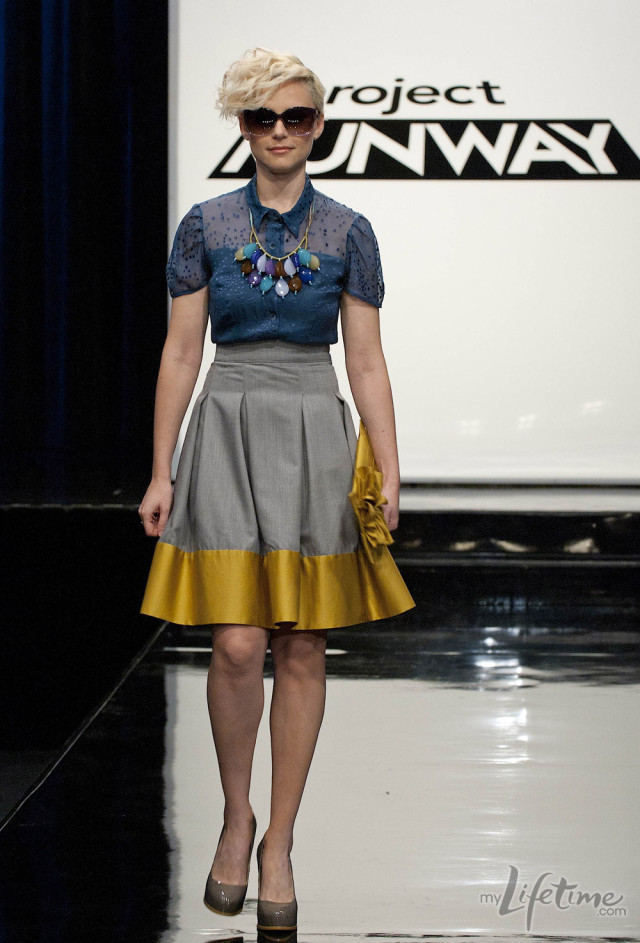 The thing about challenges like this is it all depends what kind of person you get lined up with. Not unlike the "Real world." Designers are hired by clients, sometimes it's an amazing fit and sometimes things go bust. And sometime you get the boob obsessed guy who motor boated a dress form.
Things got harder for me to watch when I saw how much Bryce was struggling. Not just from the dilemma to use the hot pink his client loved, but to see him emotionally cracking. I've known him for years and when I saw him questioning his every move I could see the stress, coupled with the deep homesickness had finally worn him down to one half of his normal self. After a lot of self-doubt he scrapped the first dress he had made and fit to the model and quickly whipped up a new one with no time left to properly fit the model. By the time the designers headed down to the runway challenge, I knew what was going to happen.
The runway show began with Laura's Barbie doll dress that was deja vu of a million other dresses. Anthony Ryan's little cheerleading outfit was actually cute and his could was ridiculously adorable. Bert took a woman with great curves and made her look pregnant. I blame that one on the fact he had to deal with the annoying husband and am cutting him some slack. Josh M.'s pretty black dress was lovely, and though I am a fan of a color pop, those blue shoes with the black were not doing it for me. Bryce's pink dress had a bunch of fit issues after scrapping the original dress. Kimberly's outfit had a lovely color and the rest went into club gear territory. Olivier managed to pull off his outfit for the most part despite lots of drama with his clients and all his mouthy comments. Anya created a silhouette I was into, but kept flip-flopping on the print. And Viktor's oh-so-Portland looking ensemble was both wearable and adorable.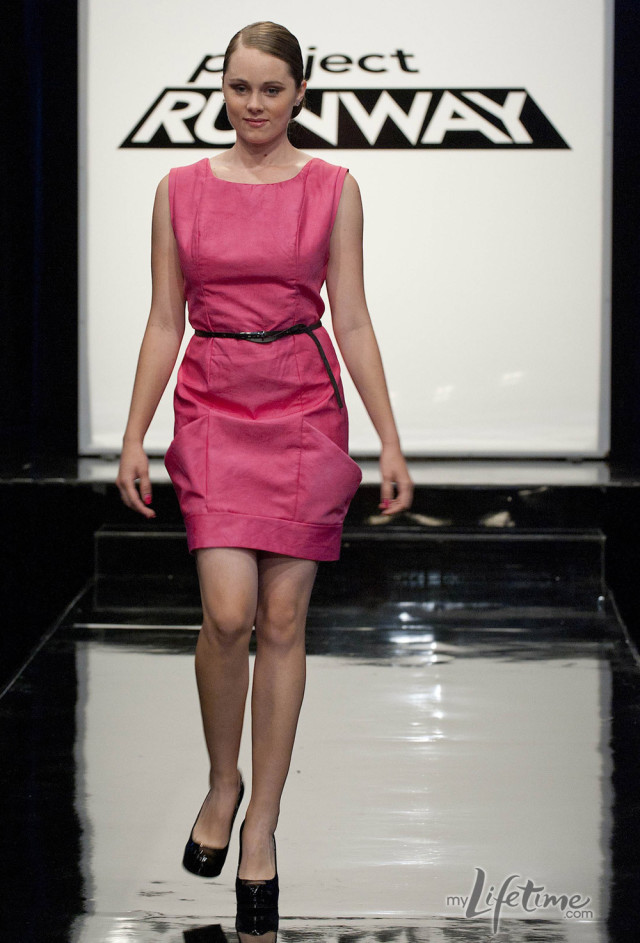 Once the show was complete, the judges praised Josh M. for finally embracing simplicity (though it was his client that actually did), Viktor for the aforementioned adorable outfit and Anya for the asymmetrical kimono dress. Anthony Ryan's vintage inspired number, Bert's unflattering cocktail dress and Bryce's unfit frock landed in the bottom. After the deliberations the judges granted the winning title to volatile Josh M (out of fear?) and our last piece of Pdx was sent home (in a moment I couldn't actually watch).
And since it's already very evident that I am a completely biased writer, I will go ahead and take it one step further. We all saw Bryce lost his footing along the way and didn't get to show nearly all the design work I have seen from him in the past couple of years. On the very first challenge, he should have been in the top. It was by far a stronger outfit than some of the others up there and was one of the top voted in the fan favorites online. I think if he had made it there when he should have, that confidence would have helped him jump off on a better note. But, it's unimportant now and I have said my piece.
Next up? The remaining designers are put to the task of making menswear for a rock band. The recaps shall continue!