Reali-TV
Project Runway Recap: E.9
Too bad our designers are gone, we could've "rocked" this week's band fashion challenge.
I have to admit with the lost of Becky Ross and Bryce Black, my interest in this season of Project Runway has officially died down some. It's really a lot more fun to watch when you have someone to root for. But, I think we're all invested enough to ride this whole thing out and see who makes it to the top.
In this week's quirky challenge the judges arranged for a product endorsement, er, teamed up with Rolling Stone to design an image for unsigned band, The Sheepdogs.
It did not go well.
Most of the designers took the bold stance of taking the 70's era looking rockers into different 70's era looking rockers. Unexpected! And once again, Olivier made a series of comments they were incredibly uncomfortable pointing out over and over again how "big" the lead singer was (who wasn't that big). Olivier, I have a hunch you aren't purposefully mean, but I think the phrase "Sensitivity Training" could come in handy for you.
Let's just cut right to the heart of it and talk about the actual final looks from the runway show. Which was actually a 2-song concert that somehow I think guest judge glam rocker Adam Lambert wasn't that into (despite his head bobbing).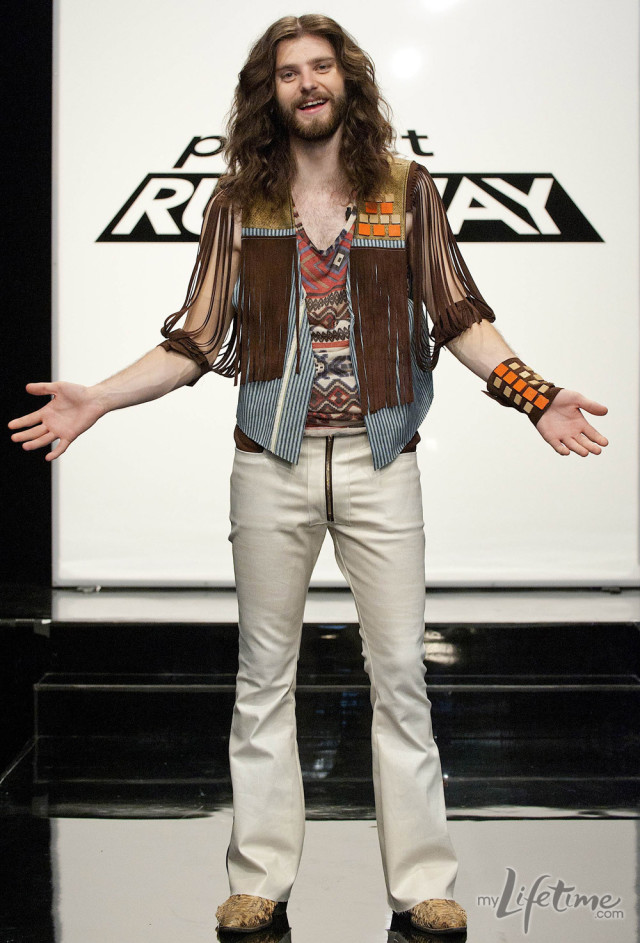 Anthony Ryan created a "Rock Jesus" look for the bass player that had promise, but something about it seemed a little more lady like than it should. Anya's limited sewing stint has finally caught up with her because the only thing successful on that drummer was the headband. That tunic thing probably doesn't even qualify legally as a shirt. Laura put together jeans, and tie-dyed shirt jacket combo for the guitar player and it wasn't on my bad list. At least it fit. And Bert put the lead singer into shades of a dirty purple and gave him some braids and I actually thought it was the hippest thing he's done n a long time. Way to take advantage of having lived the scene Bert.
The second round of looks kicked off with Josh M's crotch focused pant and an odd fringed vest, Kimberly made a rad pair of cords and the most awful Scooby Doo shirt. I am willing to bet after seeing this episode she hates it more than any of us. Viktor had a fully conceived outfit with distressed jeans and an out there fringy faux leather top. Then Olivier's karma set in. After making the singer probably feel bad about himself by constantly talking about his size he put out a shirt that was made from antique French drapes and looked like it was for someone a foot shorter. I don't think that was a happy pairing.
After the deliberations, word was back. Viktor won the challenge with his cohesive look. Olivier and Kimberly ended up in the bottom before Heidi dramatically gave Olivier the Auf Weidersen. And despite the hassle some people have given him on the internet, I have this to say: I think his accent is real, and I'll kind of miss it…