Market Watch
Sending Portland Love to Far-off Places
Give Portland gathers the local goodies and gets them in the mail too!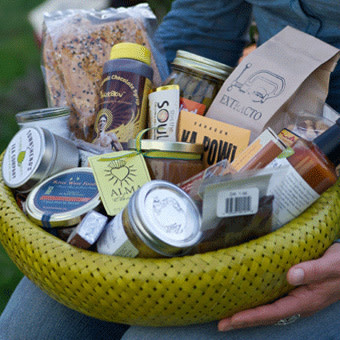 When it comes to gifts, we all know it's the thought that counts. But if that were truly the case, then my friends and family would be overwhelmed with my thoughtful gifts. Unfortunately, I do more thinking of giving wonderful goodies than actual giving of them, and thus my "gifts" may have gone unnoticed.
Chances are my far-flung loved ones would appreciate some actual dark chocolate covered cherries, dry roasted hazelnuts and spicy Moroccan Dulcet grilling sauce in lieu of my "oh I should send Mom some of that delicious (insert delicious local food item here)."
To remedy this, Give Portland is there to back up my thoughts with deeds. As in Alma's chocolate salted caramel sauce, espresso, and Secret Aardvark's habanero hot sauce. Give Portland is a small local company that gathers locally-sourced, often unique-to-Portland artisan-crafted items and arranges them into lovely themed goodie baskets. Think of old school Harry and David a few generations removed.
Choices include sweet themes, savory, and non-edible "bliss-filled" baskets (lotions and potions like raw body butter from Stirs the Soul, Casper's beeswax candles, and Wild Carrot Herbal's cocoa kiss lip balm). And the Omnivore's option mixes in charcuterie from Olympic Provisions with the sweet stuff (though they're all in the same basket, simultaneous consumption of all items is not necessarily recommended).
The baskets range in size and price as well as offerings. "Petite" sets you back about $40-$50. Standard and Deluxe sizes run about double or triple that. In keeping with the local spirit that any of these baskets provide, Give Portland donates a percentage of its proceeds to Ecotrust's Farm to School program – a nice way to spread the local love even further than just to the in-laws in North Carolina.
Give Portland
(503) 719-3196
[email protected]