Portland Fashion Week
PFW – Catapult: The Emerging Designers Competition
How do you kick off an annual fashion week? With a competitive bang.
Has it already been a year since the last whirlwind of Portland Fashion Week? My ankles have just barely healed from traipsing in 5" heels around the Swan Island shipyards, so the answer must be yes.
Last night was the kick off to the annual runway extravaganza with the Catapult: Emerging Designer competition. Nine newbie designers produced collections for the show with the hopes of being selected for this year's prize package. Included in that prize package is a little coverage in this here magazine by moi, which is why I was on the judging panel and why I am keeping it real in the constructive critique area. The truth is all have some amazing promise and I'm quite proud that our city has a constant stream of talent bubbling from it, but there was also evidence of some growing pains. It's the reality of being new and starting out. You don't even want to see some of the first fashion articles I wrote….
The show began with a little speech from Mayor Sam Adams and then Sue Bonde, director of the fashion departments of The Art Institute, introduced the panel of judges. Finally 90 minutes after scheduled (thanks to a broken projector) the show began!
House of Summer
What I loved: Designer Summer Gunter took her 60's mod inspired line to the next level by designing her own prints and creating one-of-a-kind layered outerwear pieces held with magnetic closures.
Hoping to be helpful: The jumpsuits weren't particularly flattering on a size 2 model, potential customers are going to be all sizes and everyone wants to look slim and feel good in their clothes.
Silkwood Boutique
What I loved: Sandy Varzarschi knows how to create lux looks. The fabric looked expensive and the color palette and line were completely cohesive.
Hoping to be helpful: Some pieces reminded me so much of other designers (i.e. a Chanel boucle top) it made me momentarily lapse on who I was watching.
Michelle Is Well
What I loved: Michelle Franklin makes cool coats. The effort she puts into the detailing and pieces are impressive. Plus, her last little shift dress was something I would wear in a heartbeat.
Hoping to be helpful: Without a consistent fabric, color or theme the pieces felt like good individual pieces, but not like a collection.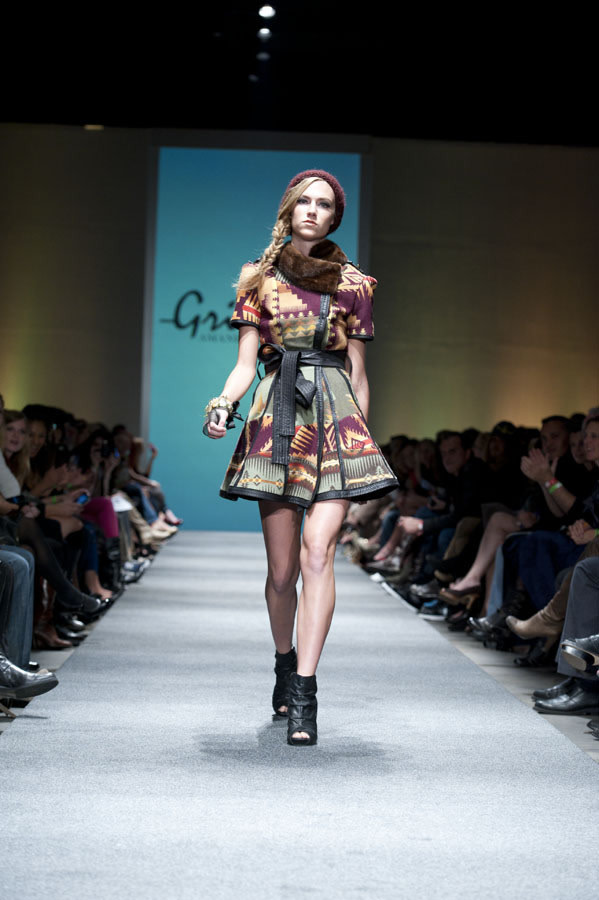 Grishley
What I loved: Amanda Grisham conceived a line that both caught on the Pendleton craze, but would also look great in a variety of other prints. And the styling of the outfits was hands down some of the strongest of the show.
Hoping to be helpful: Ditch that tulle. It caps off the demographic younger than necessary and looks like a newbie designer move. Women in their 30's would happily wear these, but tulle scares them off.
Chicago Harper
What I loved: This line Joshua Buck designed for Sharon Blair's Studio SKB company featured impeccable tailoring. I have one word for the pants: amazing.
Hoping to be helpful: If the goal is to hit up the Portland market, I'm worried the innovation will be a tough sell, but simultaneously I don't want discourage creativity. It's a tough one.
AM Renegade
What I loved: The blue and white dress. I really loved the ease and movement of that bold stripe little dress. And that huge fringe necklace? Come to me!
Hoping to be helpful: The same suggestion I had for MichelleisWell. The pieces never gelled into a collection for me. It needed a consistent story to draw the viewer/buyer in.
Moontess
What I loved: Designer Mihaela Munteanu knows how to work swimsuit and lingerie. Those pieces aren't easy to fit or sew and she has real strength in that area.
Hoping to be helpful: Please ditch the props. If I never see another umbrella on the runways of a fashion show, I would be thrilled. In addition, pursue the swim/lingerie route. You're much stronger here and not many people are good at those things.
Lizz Basinger Designs
What I loved: Ms. Basinger had no shortage of interesting designer details that had my fashion editor eye looking up down and all around. The finale jacket was so well done with the pleating and princess seams, it's the first hooded coat I've ever wanted to own.
Hoping to be helpful: That yellow killed it (not in a good way) for a lot of folks. Color is the first thing you see about a garment and if it's not flattering you'll lose them before they even look to see how cool the clothing actually might be.

Becky Ross for Wicked Quick
What I loved: The dip-dyed ombre pants were an unexpected delight and something I actually can't remember seeing before. The finale dress was both cool and the comfiest looking "gown" ever.
Hoping to be helpful: This one is tough. Ross designed the collection for Wicked Quick, which is a T-shirt line, but the tees were the things throwing me off the outfits. I wished there were cute little blouses or something in its place.
With all that massive amount of thought, praise, suggestions and confusion in my head I went into the longest judging deliberation we've ever had for Catapult. With panel members ranging from educators, to other designers, writers and shop owners there were a lot of conflicting opinions. After it was all said and done, we agreed with the audience vote and chose Amanda Grisham and her Pendleton based coatdresses to be the next Emerging Designer. We also wanted to make a special acknowledgement of the innovation we saw Joshua Buck making with menswear.
Congratulations Amanda, I am excited to see what you do next!
(And we're back on to the races. Night two of PFW devotes itself to activewear and rumor is a couple of hunky Timbers will take the runway.)