Desirables
Getting Carded
Personalize your holiday hellos with Dear Ida's colorful customized drawings.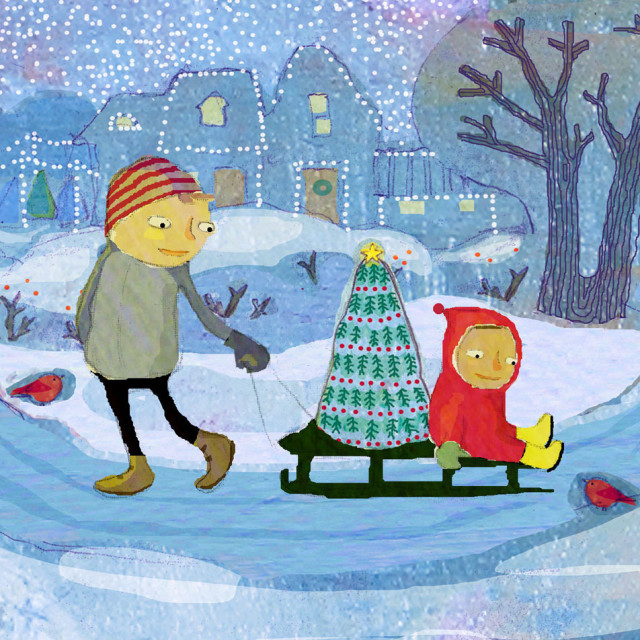 God knows, the holiday of spooky orange and black hasn't even passed, but is it ever too early to ponder those late December special days of ho-ho-ho-ing, parties, presents and hellos from far away? Those days, lovely as they are, engender multiple to-do lists for most of us. Some of those lists are lists: whom to write your annual holiday greetings to. Although to say "write" is perhaps to use that word generously.
Many a Xeroxed family newsletter has morphed into an e-card sent via cyberspace, perhaps with a photo attachment of family on fabulous vacation. But paper cards sent thanks to that ailing institution, the US Postal Service, still exist, and not just in generic photo-card form. In fact, Dear Ida is making sure of it.
Four friends in Irvington (two couples) have launched a personalized greeting card service, Dear Ida. One of the friends is artist and children's book illustrator Lisa Mundorff. She's painted beautiful winter wonderland scenes into which she'll add an illustration of you and your posse. Kids, dogs, mom and dad, mom and mom – you provide the photo and details (particular scarf, hat, etc.) of whom you'd like the scene to include. Maybe little Jeanie wearing the sweater Aunt Joan gave her last year? Or Sophie and Anton frolicking with the new puppy, Beatrice?
The Dear Ida website walks you through the process of choosing a background scene (trust me, it will be hard to choose, but not because it's complicated; it's not), uploading a photo of your "characters" and other instructions for personalization of the holiday illustration. You write the greeting you want printed inside the card, and choose one of three fonts. From the looks of the website, it could be page one of a beautifully-illustrated family fable.
Lisa's holiday scenes include classic cold weather winter activities like sledding, skating, tree decorating, and shopping on a holiday-bedecked Main Street. Oh, and one bit of holiday fun I haven't (yet) experienced: an Arctic boat excursion past polar bears to the North Pole. The paintings are multi-media, colorful, collage-y, and utterly joy-filled. Children – of all ages – will love them, especially when they see themselves in the picture.
The cards come in sets starting with 20 for $80, 35 for $105, and so on; i.e., with a larger order, you pay less per card. But even at the smallest order, $4 for a beautiful personal, custom-art card is not a bad deal at all.