Reali-TV
Project Runway Recap: E.10
The "That's sew 70's" challenge is sew played out.
In this week's Project Runway déjà vu challenge the head buyer for Piperlime showed up and told them to create a 70's inspired outfit…like they did last week. Instantly Josh M. started panicking and trying to blame it on not being alive in the 70's. Hmmm, I think most people can name some seventies trends without having been born in that decade, and especially those of us who have to have an extensive knowledge of fashion history. Because, hey, that's our job!
Things got a little frazzled during the fabric trip to mood. For the first time in show history, a designer lost their money. Anya had no pockets (we've all been there) and searched high and low to no avail. Anthony Ryan graciously gave up his leftover $11 for her to get one small piece of fabric, a zipper and buttons. Everything else had to be made from the show provided muslin (thin, cheap cotton).
The workroom was abuzz with the normal stress, plus some catty accusations of copying. And Bert seemed more jovial than usual making some naught jokes about his time at Studio 54 back in the day. Then, shocking surprise, Tim Gunn comes in to announce they will be required to make a companion look. At nine season into the show, the designer know when Gunn makes an unexpected appearance in the workroom it means additional outfit.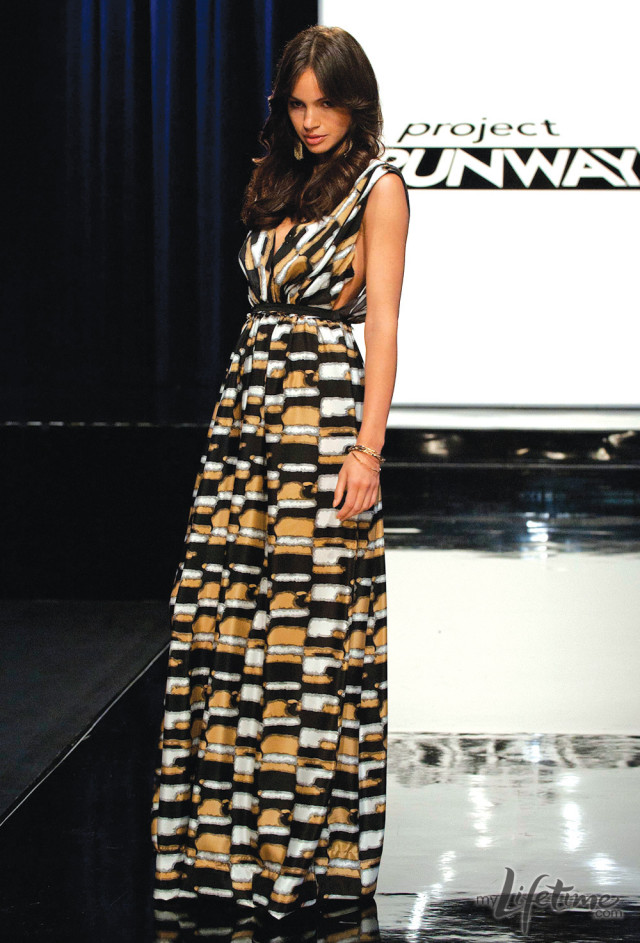 In the blink of an eye it was time to head to the runway and the tour de 70's commenced (again). This time around, Kimberly had a mediocre first outfit and a potentially cool jumper with some big time fit issues. Anthony Ryan's Country Fair looking duo was far below his past taste levels. And the styling? Plain, not good. Bert had a yin-yang combo of sparkly fun disco gal and minimalist cool. I thought they were both super cool. Laura must have got a little weirded out knowing Nina was after her because that atrocious print combo, followed by a grandma outfit seems completely off her game.
None of that compares though to the sheer awfulness of Josh M.'s outfits. I mean 80's sort of punk plaid pants with a color blocked tuxedo top, followed by an acid print maxi dress? None of that was 70's and none of it was something I would touch with a ten-foot poll. Then Anya's print perfect outfits came out and blew away the other competition. That jumper was killer. Viktor's excellent tailoring skills are impressive, but neither outfit triggered that much excitement, despite the additional work put in.
Deliberations consisted of some taste bashing and it's true Nina does seem out for Laura a bit. Wonder which thing Laura did irritated her? Lucky for her Anthony Ryan and Josh's outfit were far worse and after they flipped the "Who will cause more drama if they stay?" coin Anthony Ryan was sent packing. In a happy twist for Anya, she won the challenge despite losing her money initially and Bert's minimalist ensemble helped him score another win as well.
*Maybe next week we'll be able to move from the 70's to the 80's?