Reali-TV
Project Runway Recap: E.11
In this week's American Gladiator fashion challenge, the six tired designers break into pairs of two to design looks based off of pretty birdies. But wait! That pairing off isn't in the friendly, let's-help-each-other out kind of way. It's a head to head team mini-challenge. As in the designers who are finally at a buddy-buddy state are now thrown into a pit of death where only one victor (Viktor?) emerges.
Laura and Anya are both working on creating their best raven looks, while Josh and Bert have a bright green Amazon parrot take inspiration from. The final duo of Viktor and Kimberly needed to get cuckoo for cockatoos. Uh, good luck with all that everyone.
Once the designers were knee deep in their work Monsieur Gunn arrived to tell them they would (surprise surprise) need to complete a second look. At this point it appeared sweet Kimberly was going down in flames. She sewed through her finger, couldn't work with the fabric she chose and eventually also burned through her dress. That's just plain not a good day. Add on Viktor doing an occasional bitchy glance and you've got the recipe for a full breakdown. Thank goodness Papa Gunn gave her a big cheer up hug. Awwwww….
In the other corner, we see Josh and Bert have miraculously become all kinds of chummy. Hmmm it appears they put the infamous "clocks n' swearing" issue behind them. But Josh… another circle skirt? Those are the easiest things to pattern and we've seen about a million from you.
We also see Laura and Anya have a major eye on each other. Laura's got the skill set, with a couple decades of sewing under her belt, but the taste level keeps edging towards matronly. On the other side of the pendulum, Anya has amazing ideas coming out every which way, but has classic signs of a newbie designer flashing. If I had a nickel for every time I've asked a new designer, "How are they going to get in that?" I would have at least $4.35.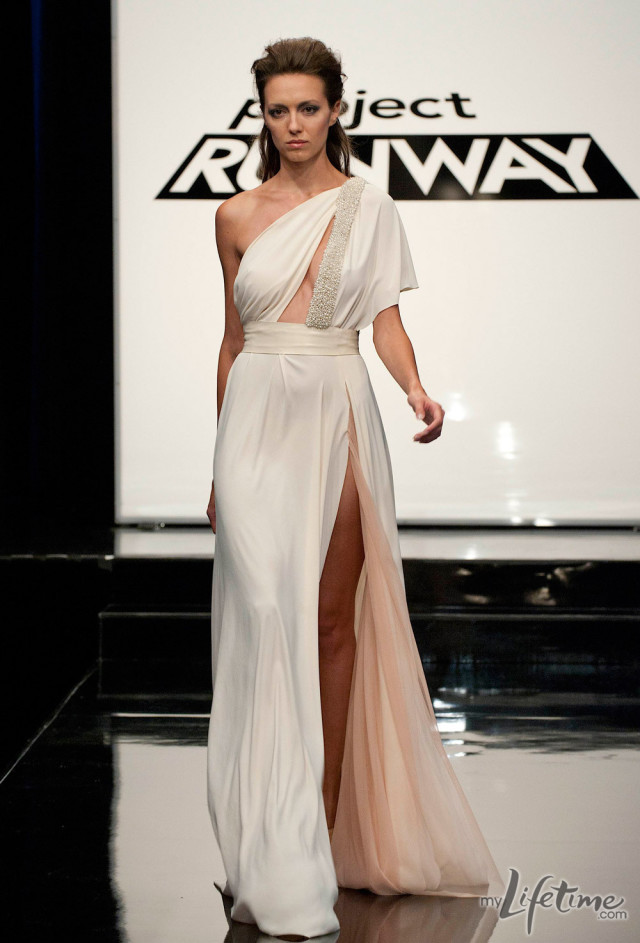 The designers were forced to pick only one of the outfits they'd spent the last two days laboring over for the runway show and then we were off. Viktor's Grecian and feathered gown was lovely, though a touch on the full side. Kimberly pulled a rabbit out of her hat with an amazingly draped, modern white gown. And no one in a million years would guess that was made from a polyester lining. Nice job Kim. Bert's drab gray gown with the too short hem just wasn't as cool as some other things he's done. In contrast, Josh's mini draped orange cocktail dress was fun and sassy. Finally Anya's sculptured look she managed to squeeze a model into after seam ripping was a cool interpretation of the mysterious raven, while Laura's more literal look with actual feathers fell a little short of the "it" factor.
After deliberations, turned out for once the judges and I pretty much agreed. Kimberly got her confidence boost over Viktor's ego; Josh's color won over Bert and Anya's ideas took home the overall victory over Laura's tailoring. Though, for the record, if I was designing on the show and saw some of the stuff she's getting away with I'd be mad as hell too. But, the fact is, her actual design was better, the construction wasn't. Which is more important?
But sadly, we had to say good-bye to Bert, whom I'd become quite fond of for his sassy little comments. Who else will keep those kids in place now?