Reali-TV
Project Runway Recap: E.12
Our Pdx designers are back in action for one night only.
We're reaching the end of the race in Project Runway land. This week's challenge determined who would get to be part of the final group showing in New York Fashion Week. At this point (9 seasons in) the show is down to a tight formula. While that sometimes stinks (predictable vote offs) it is also awesome because I knew our Portland designers would rise from the dead to help their former backstabbers cast mates.
The final five spent the day roaming around Governor's island for inspiration and developing a three-piece mini collection that could show their range as a designer. Once they nailed down their concepts (and they all seemed like they were reaching a little), they hit the fabric store where a series of unfortunate choices unfolded. Kimberly that orange is in the bio-hazard category and Laura that circle business is like robots, great in theory, but in reality it can turn on you.
However good news came when the crew got their own design assistants, which happened to be the former voted off cast mates, so we got to see Bryce and Becky one more time. Kimberly matched up with Becky, Viktor picked attitude Olivier, Laura snagged Anthony Ryan, Anya picked Bert and old roomies Josh M and Bryce were reunited. Which then instantly led to Bryce playing the role of critic (trying to tame the over designed elements), therapist (letting Josh M have a bitchy venting session and parent (taming the temper). He got more face time on this episode as puppet master than he did when he was on the show!
In the room visits, you see some bad things happening. I get that everyone is extremely fatigued and just plain out of ideas. After running on 4 hours of sleep, Red Bull and anxiety for weeks and weeks, pulling out your best design work seems near impossible. But, we still have to judge it for what it is and by the looks of it all coming together, nothing was bowling me over. By the time we head to the runway show, things felt potentially bleak.
Josh M began the show with a cool white mini-mod dress. The netting was an interesting twist on a basic. His following look was the 800th circle skirt we've seen from him with a miserably ill-fitting vest over a potentially cute tank. I still question why he didn't just rip that vest off her before she walked down the runway. Finally, his final gown was a gorgeously draped one-shoulder gown in American Apparel type shiny polyester fabric. If it had been in anything luxurious like a floaty silk chiffon, it would've been killer. However, as it was, a little on the costumey side.
Kimberly gets an A for effort in attempting to do a wider range of clothing than the other designer. However, that coat was ill fitting and the separates look in that shiny bad skirt fabric combined with a sort of hoochy hunter's hazard orange top was one of the worst looks I've seen from her. Methinks Kim saved her butt with that final cocktail dress. It was edgy and cool and flattering at the same time. Third time is a charm,…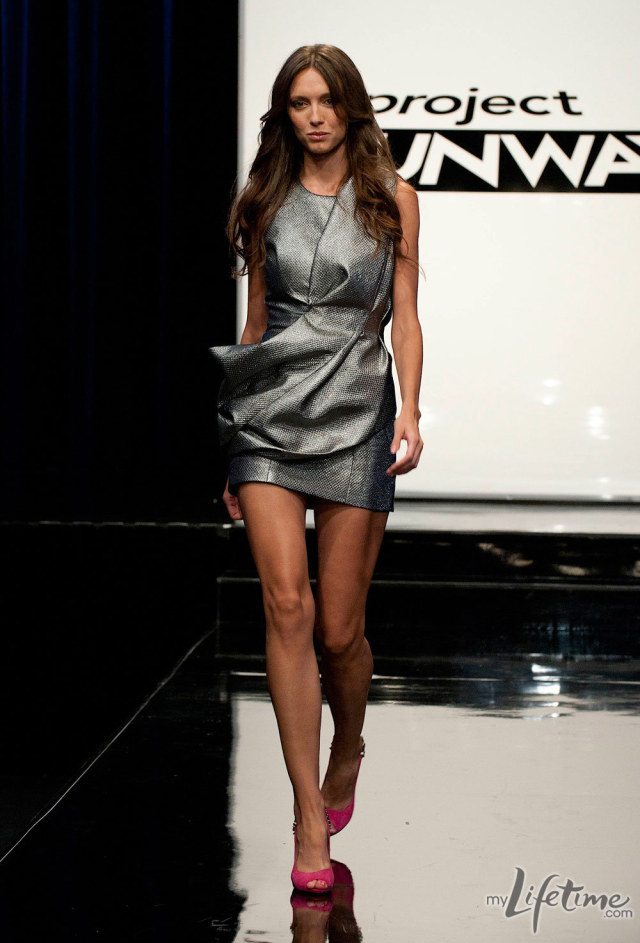 Then we come to Laura's confused collection. The blazer with the little slip skirt looks like outerwear and lingerie paired up and that second dress that looks right off the clearance rack of a Saturday Market booth had nothing tying it in with the other pieces. Where was the similar line, fabric, detailing, concept, any of it? It just plain didn't go. And her third outfit was oh-so-close to being good, but never quite made it. The circular fabric didn't lay right on the body and the white underneath came off a little bedspread like. A swing and a miss.
Anya's first take on the little black dress was a new twist on the LBD. I loved the front handkerchief hem and the flow of the fabric. Her rust piece resort wear pantsuit floated down the runway on her red-head model in a picturesque moment and finally the white dress with a slit up to there still entertained despite construction issues. Overall, the collection was one of the most interesting ones on the runway easily. However, as far as showing a range, there was none. No sleeves, no jackets, no tailoring, no zippers, no buttons, no anything. She does what she does very well, but it's quite obvious that is all she can do.
Finally, Viktor the reliable workhorse in the bunch sent a ready to wear collection with pants, jackets, skirts and all kinds of range. But that final black dress with a weird hoop skirt at the hip was a little cringe inducing. I spend most of my life trying to make my hips look smaller, not putting a circle around them. And as far as a wow factor, I might have yawned a little, but the judges were right in saying it was extremely sellable. That is the goal, right?
After the show, the awkward pleas from designers to make it to fashion week always makes me squirm in my seat. We know they want to be there, making them cry seems cruel. The final reveal sent Laura home with her off the target collection and Kimberly just barely squeaked by thanks to that cocktail dress. I actually felt really bad for Laura, it has to be hard to be that close and then leave. But such is life in the reality television world.
And we're off to the final lap!