DIY
Farmers Are Us
It's easy being cheesy, with a little help from our friends at Urban Cheesecraft.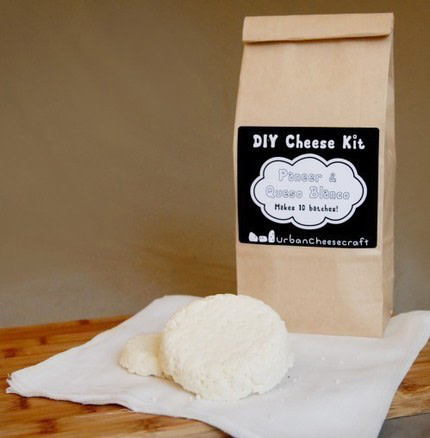 There are countless cheeses in the marketplace, from plastic-like cheese products (Kraft singles and Cheez Whiz) to imported masterworks from France and Italy. And from close to home, there are trusty traditional offerings from Tillamook Creamery on the Oregon coast, and small batch artisan-made cheeses from bucolic spots in the Willamette Valley.
But what about ultra local cheese? As in, cheese that you produce and enjoy without stepping out your own front door? Urban Cheesecraft has the answer: with their DIY cheese kit you can turn your kitchen into a creamery, Probably the scale of your operations won't attract eager tourists like the Tillamook factory does, but the taste just might.
Urban Cheesecraft helps you maximize your consumption of fresh made cheese while reducing your carbon footprint – i.e., no trucks delivering cheese from far away, though you do have to provide the milk somehow. Extra points for those who have cows or goats in the backyard for that!
The selection of cheeses runs from a basic farmer's cheese (common in Mexican cooking as "queso blanco" and in Indian dishes as "paneer") to mozzarella, ricotta, or chevre. Not bad for a home production.
The paneer/queso blanco kit is the easiest to start with (and the biggest bargain, at $19 for all the supplies you need for 10 batches of just under 2 lbs/batch). It creates a delicious spreadable cheese in under an hour; when you let it sit an hour or two, it firms up into the familiar crumbly chunks of queso blanco for Mexican dishes or cubes of paneer for Indian meals like saag paneer.
Urban cheese maven and company founder Claudia Lucero made the farmers' style cheese at a recent demo at Williams-Sonoma; it really did look easy, and like it would be a good cooking adventure to do with kids. That's the way to teach children (or adults) about science – let them see the curd magically separating from the whey, and then enjoy the tasty results. Sure beats the chemistry experiments I did in high school.
Urban Cheesecraft sells locally at grocery stores (New Seasons, Whole Foods, Alberta Co-op and Food Front, among others), at cheese shops (Foster and Dobbs, the Cheese Bar), and online at their storefront and through Etsy. The kits range from $19 to $29, and include all the items you'll need but probably don't have (i.e., a dairy thermometer); kits make ten batches of about 1 ½ to 2 lbs each, depending on the cheese.