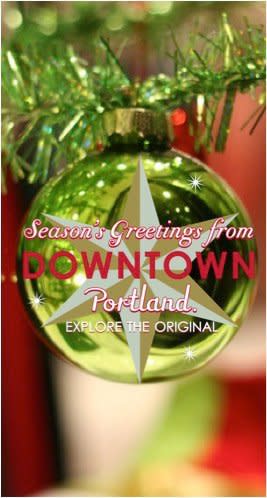 This week's Quick Picks devotes itself to downtown's Holi-date Thursday. Cross things off your to-do list and have some fun with special events, free parking at SmartPark garages (enter between 4-6 p.m.) and live merry music.
Shopping Events:
• Ace Hotel Portland: all day
Ace collaboration with Incase products and live music in lobby
• Artists Repertory Theatre: all day
Receive 20% off your tickets to "Sherlock Holmes and the Case of the Christmas Carol"
• Ben & Jerry's on the Square: all day
Enjoy their BOGO holiday menu, including treats such as a Hot Fudge Mint Chocolate Sundae
• Downtown Artistry: all day
Holiday party with music
• Flora: 6-8pm
10% off storewide (excluding Tatine)
• Jelly Bean: 6-8 p.m.
Two bumper stickers for only $3.99
• Lucky Spoon Frozen Yogurt: all day
Holiday Flavored frozen yogurt offerings
• Macy's: all day
Last Minute Gift Sale
• Made in Oregon: 2-4 p.m.
Betty Gimarelli signing event
• Mario's: all day
Enjoy complimentary holiday refreshments while you shop
• Mercantile Portland: 4-7 p.m.
Celebrate holiday happy hour with light refreshments while you shop
• Oregon Ballet Theatre: all day
Holiday Revue – two-for-one tickets and pre-show cocktail specials
• Pedal Bike Tours: 4-8 p.m.
Get your free copy of our newest version of Pedal's Picks- Portland's only Bike Map and City Guide, chock full of delicious, obscure and fantastic places to pedal in our fair city. Plus, enjoy refreshments while you shop
• Peoples Art of Portland Art Gallery: all day
Big 200 Art Show Gift Night – discounts, wine and beer tastings
• Portland Art Museum: all day
Enjoy a two-for-one admission to the museum
• Portland Center Stage: all day
Every Thursday in December, use "HOLIDATE" code and safe $10 off "A Christmas Story" tickets plus receive a free collectable poster.
• Trillium Artisans: 5-7 p.m.
10% off everything in the store and free eco-friendly gift wrapping
• Y-Chrome: all day
20% off all retail products
Free entertainment:
4:30-5:30 p.m. Duo Con Brio at SW Yamhill (between SW 9th and 10th)
5:30-6:30 p.m. Brass at Four at SW Morrison (under Nordstrom overhang)
For a full listing of activities, visit DowntownPortland.org