Compassion is Fashion
For the Animals…
Show some love for the little furry guys.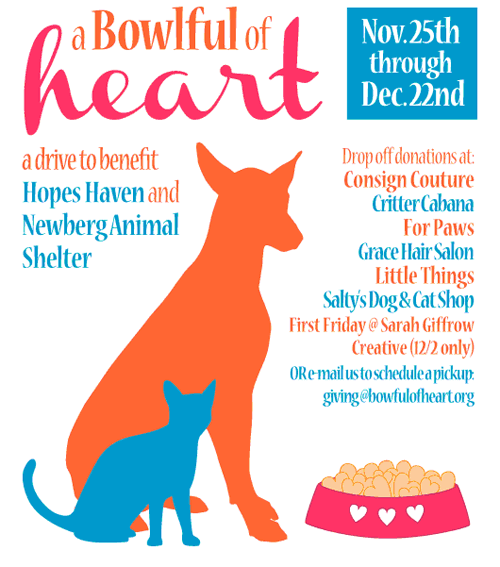 Perhaps the greatest accessory of all time is the furry friend at your side. If you're in the giving holiday spirit take a looksee at what you can do in the fashion/animal loving world.

Give a little back for the holidays by helping animals in need. A Bowlful of Heart is collecting donations all over the city, to benefit Hopes Haven and Newberg Animal Shelter. Take a look at the Donation Needs list, and bring a donation to any of the Pdx shops they've partnered with
Drop Locations:
Consign Couture – 7400 N Lombard
Critter Cabana – 516 E First St., Newberg
CrowninGLori Hats – 2057 SE 122nd Ave.
For Paws – 3029 SE Division St.
Grace Hair Salon – 906 NW Irving St.
Little Things – 1720 NW Lovejoy St.
Salty's Dog & Cat Shop – 4039 N Mississippi Ave.
Sarah Giffrow Creative – 2505 SE 11th Ave. Suite B29 **by appointment only
Donation Needs: dog food / small bites dog food / kitten food / adult cat food / cat litter (non-clumping) / paper towels / bark mulch & cedar chips / bleach & Lysol for cleaning / monetary donations to help with spay, neuter, and other medical needs.
For additional info visit ABowlfulofHeart.com

If you recently decided to take the fur-free pledge or you inherited some random pelts when your great-aunt Bessie passed on, there is something helpful you can do with those old items. Buffalo Exchange clothing stores and the Humane Society have teamed up with a program called Coats for Cubs. You take your old fur items, including coats with trims, ripped items, etc. to Buffalo Exchange and they make their way to lining beds for injured wildlife. The program runs now through April 22nd and all Buffalo Exchanges are participating; just specify your donation is part of the Coats for Cubs program.
Buffalo Exchange – Downtown
036 W. Burnside
Portland, OR 97209
(503) 222-3418
Location: across from Powell's at 11th
Buffalo Exchange – Hawthorne
1420 SE 37th Avenue
Portland, OR 97214
(503) 234-1302
For more information visit Coats for Cubs Program