Desirables
Wooly Wonders
Felt never felt, or looked, so good; Moufelt, please.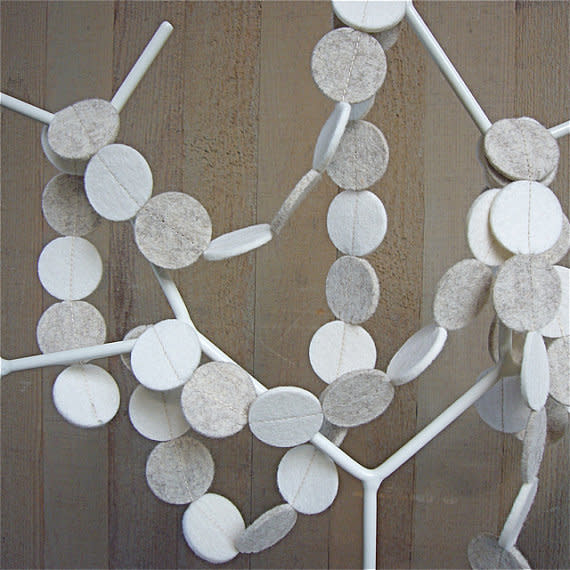 Jeanie Lai was browsing in Kinokuniya when she felt the touch. Which is to say, she was in Beaverton, where the Japanese bookstore chain has an outpost in the Uwajimaya Asian emporium, when she came across some craft books about felting. She realized that the industrial felt she'd always been fascinated with (she's an architect by day) was something you could make yourself. As she puts it, "I got totally obsessed and haven't stopped since."
The felt she started making initially became jewelry – not the usual clattery hard gold or silver, but soft little felt discs, balls, and twists sewn simply into dangly earrings or necklaces. The lightness of the pieces is unexpected, but inherent in the felt material, as are the vibrant colors and combinations she created.
From jewelry, which she started giving and selling to friends, Jeanie moved on to using felt in a way that takes advantage of its softness: as the transition between plates and table. That is, instead of connecting small simple shapes made of felt, she cut a gridded pattern of circles in larger pieces of felt: cool, simple, modernist-looking trivets, table runners and coasters.
By now, about four years since her felt epiphany, Jeanie has a full line of tableware, jewelry and accessories under the Moufelt moniker. Etsy, Supermarket, and her website serve as storefronts, but you can find her at Crafty Wonderland this weekend as well. Several Portland shops also stock her items (Tilde, Noun, and Relish among them).
She's a perfect example of the Portland craft community at work in the 21st century: a creative, energetic design-minded (and talented) person who comes up with ideas and makes them. Still a small company (though her husband helps make coasters during the busy season), she's gotten accounts in Michigan, Kentucky and even South Carolina, mostly through storeowners discovering her work on etsy or Supermarket.
The simplicity of design and the quirky but tasteful color palette Lai uses make Moufelt table accessories special. They look like they were born in a mid-century modernist house – which, actually, they were: her home studio is in the Rumer house where she lives in Beaverton. I have a feeling Charles and Ray Eames would have a lot of Moufelt around their famous Santa Monica house. If only they could stop by Crafty Wonderland