Bridal Bliss
A Novel Romance Bridal Show
Schedule out some time this Sunday to see some girly gowns.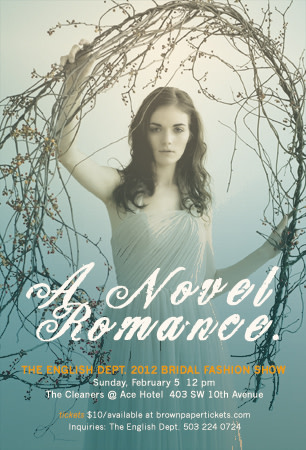 The English Department, one of our beloved bridal boutiques, hosts A Novel Romance fashion show this Sunday. The 7th annual festive affair gives you a chance to ogle lovely dresses, check out some pretty shoes and embrace your girly-girl side. Designer Elizabeth Dye, owner of the English Dept, will lay some of her newest and undoubtedly gorgeous dresses on us. Plus we'll get a glimpse into new collections by Jenny Yoo, Ivy & Aster and Nicole Miller. If you are a bride-to-be, know a bride-to-be or want to be a bride someday, this is a fun day Sunday waiting to happen
A Novel Romance Fashion Show
Sunday, February 5 at Noon
The Cleaners @ the Ace Hotel,
430 SW 10th Avenue
Portland, Or
Tickets are $10 and available online through Brown Paper Tickets.
Or if you can't make it, visit
The English Department
1124 SW Alder St.
Portland, OR
11 am – 6 pm Tue – Sat
Saturdays by appointment only